On August 24, Friday,  I woke up with the news that there was a huge fire happening on West Maui. What?  Around this time we were watching out for Hurricane Lane. But a fire? Oh that was unexpected!  And the fire was very destructive. Many of our friends had to evacuate from their homes. I felt so sad when I saw this Instagram post by my friend James (also known as Kimo), owner of Simpli-fresh Farm: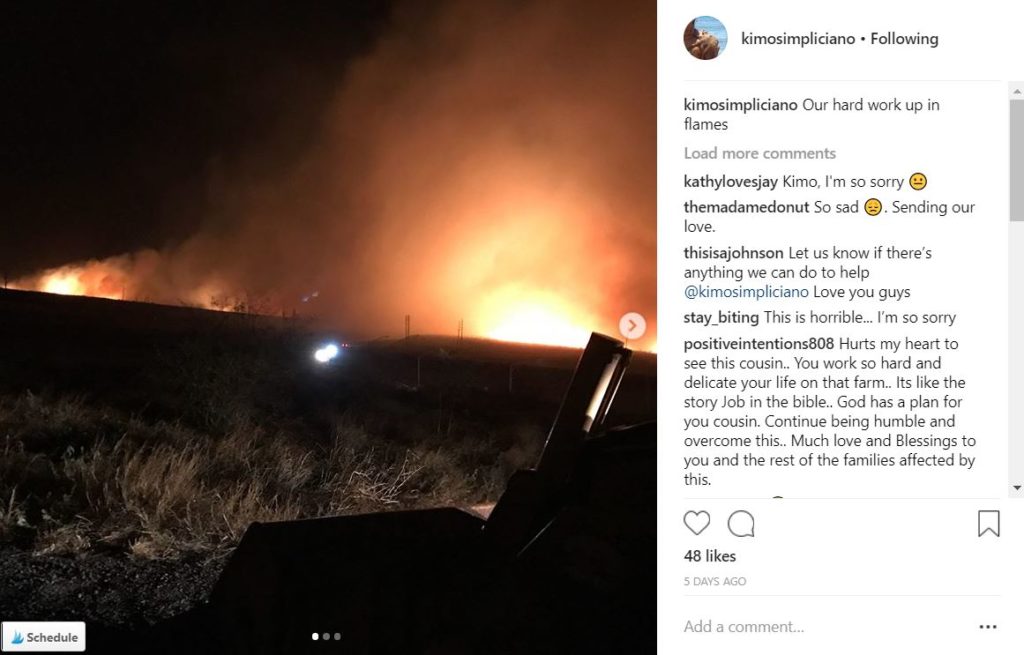 "Our hard work up in flames" – that post by James/Kimo touched me deeply. I come from a family of farmers (my dad's side) and I can just imagine what James was feeling at that time.
Family and friends (or as we call it in Hawaii, our OHANA) gathered quickly to support James and Janell.  A GO FUND ME was set up by friends of SimpliFresh Farm to help rebuild the farm.   I encourage you all to donate to this great cause.  Here is the link to contribute to the rebuilding of Simpli-Fresh Farm: https://www.gofundme.com/wdswp-rebuild-the-farm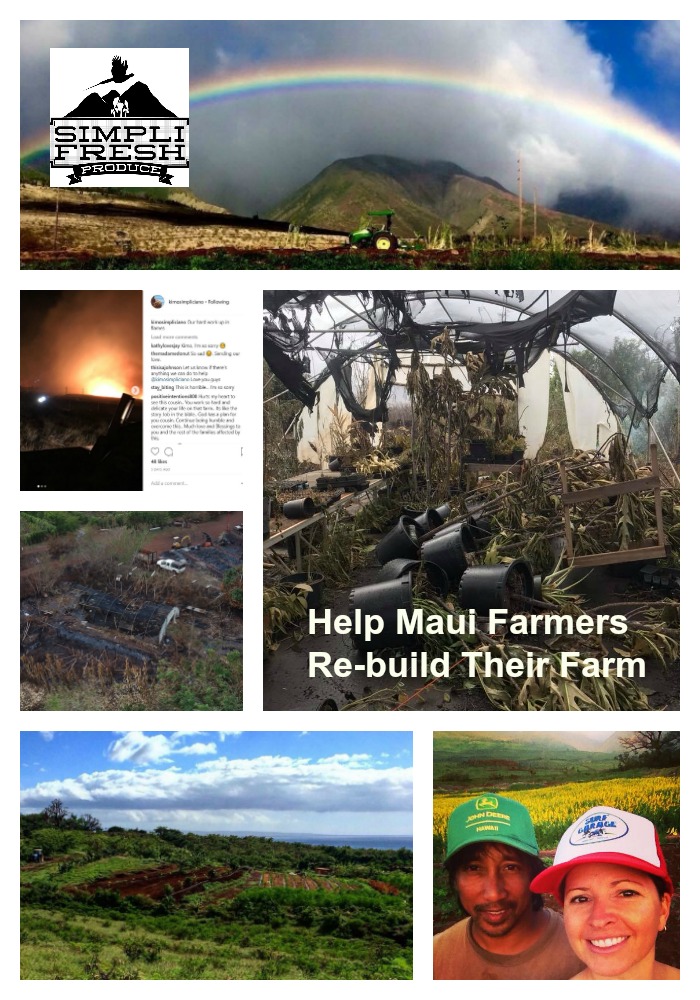 Here is what the friends who initiated the Go Fund Me said:
James and Janell Simpliciano lost their farm, Simpli-Fresh Farms and Farmers Market, in a tragic fire in Lahaina, Maui on August 23.
As we pray for ALL the families devastated by the fires, this loss hits particularly hard to the community as a whole. Janell and James have worked very hard for the last several years creating an amazing organic farm. They have continuously advocated in raising awareness of the need for all to have fresh, quality, pesticide-free food to eat, and for Maui to have a self-sustaining food production. Both are solid contributors to Maui Nui! They are our ohana.  Please support James and Janell Simpliciano.  Mahalo!
Don't have money to support but have the time to help? (or maybe you want to do both) Here is an Opportunity: 
Post Fire Volunteer Opportunity Simpli Fresh Farms Clean-up in Lahaina
This Saturday, September 1 at 7am (start early because it gets hot)
Meet James Simpliciano and group at Maui Grown Coffee Store at the base of Lahainaluna Rd., near the Lahaina smokestack, off Hwy 30.
Wear jeans, covered shoes, hat, sunscreen, and bring a water canteen with lots of water! Bring your own garden/work gloves to protect your hands. Be prepared to pick up plastic pieces, clean-up misc debris, and get dusty/dirty.
If you have a rake, shovel, or wheelbarrow at home, pls bring them. If you have a dust mask, please bring one.
Bring your family & friends to join in on the group effort. Spread the word on social media. Tell people you know. Anyone and everyone willing to work are welcome. Stay as short or as long as you like. See you then.  Aloha & Mahalo! – James
Update. I saw this FB Live by James today and decided to embed this here too: