Aloha! My name is Liza and  I am the blogger behind A Maui Blog.  I am what they call a "Kama'aina". I have been living on Maui since 1994 and consider Maui as my home. I am a 40 something mom who likes exploring Maui with my family. My life is full and exciting here on the island of Maui, Hawaii.
I started blogging in 2006 at Liza's Eyeview (now the url is changed to www.lizapierce.com because I let it expired 🙁 –  long story...). I blogged about my family life and parenting. I also blogged as a ministry, helping friends in crisis connect with their family and friends. I found that blogging is an easy way to get the needed support. It was fulfilling to be able to use blogging to help others.
My interest grew in social media grew as I experience lot of wonderful benefits of blogging both serious and fun. I thought blogging is like "talking story online"! ('cause you know, here in Hawaii, we love to talk story) and I enjoyed it immensely.
I do not have a journalism degree. I majored in Psychology. English is my second language. If you are looking for an eloquent writer, who is always grammatically correct and a wiz in spelling, you are in the wrong blog. But if you want to read the ramblings of a Kama'aina (and local kine mom) talking story online, you're on the right blog. To Maui visitors checking out this blog, here is where you get the inside scoop 😉
More about Liza
I am available to train, consult and coach everyone who is willing to learn about blogging and social networking such as Facebook and Twitter.  Private tutoring is an option. E-mail lizamaui (at)yahoo(dot)com.
Mahalo Peter Liu Photography for the many profile pics you've taken of me that I had been using with A Maui Blog.
ABOUT THE BLOG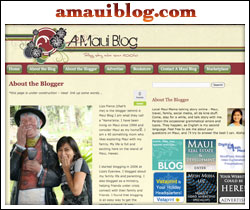 A Maui Blog is a web log created to promote Maui's beautiful island, unique culture and aloha spirit. I This mission is fulfilled byby talking story online.I invite everyone to join me in my passion to promote Maui by leaving comments on the blog and by sharing the posts about Maui by liking us on facebook, and tweeting about us on twitter, etc.
A Maui Blog also seeks to help promote the local Maui businesses especially in this time of economic crisis.  It  is here to assist the local businesses gain a strong presence in the internet and attain maximum exposure online. By creating a hub where the readers can find reliable information on Maui's happenings & local events, word of mouth recommendations of the best of the best on the island, anecdotes, fun stories and ramblings, everyone would find A Maui Blog an enjoyable daily read. Make sure to bookmark it or subscribe to its feed.
More about A Maui Blog
EVOLUTION OF A MAUI BLOG HEADER: