Popular Art Types on Maui
Hawaii is known for its breathtaking scenes and exemplary preservation of nature. Its islands show off vibrant colors, dazzling arrays of light, and at night, mysterious shadows and figures that roam the rich forests. Hawaii's second-largest island, Maui, is hailed as "The Valley Isle" and is famous all around the world for its beautiful beaches and awestriking sunrises and sunsets.
The beauty of Maui, when portrayed through art forms, is unlike any other. The use of striking colors and masterful strokes to replicate the island's charms create timeless and unique masterpieces that are appreciated and beloved across the globe.
3 Most Popular Art Types in Maui
Maui is a budding destination for art collectors and enthusiasts. With the goal of replicating the beauty of Maui in mind, artists on the island use and have popularized three art types: fine art, traditional art, and contemporary art.
Fine Art
Art can come in various forms. For example, applied arts and craftwork are utilitarian in nature, serving a purpose or function for everyday life. In stark contrast, fine art is "art for art's sake." Created for aesthetic value more than functionality, fine art embraces design work such as drawing, painting, sculpting, and photography.  
Maui fine art was popularized in the Art Deco period (the 1920s to 1940s) when fine-art painter Arman Manookian created paintings that exhibited native Hawaiian scenes. Eugene Savage is also an artist worth commemorating for his Hawaiian murals that enticed more tourists to visit Hawaii. 
Fine art, then, is the perfect art type to embody the scenic views of Maui. By putting beautiful views, irreplicable sunsets, and rich greenery into canvases, prints, photographs, or sculptures, fine art enables visitors, locals, and art collectors to take a piece of Maui with them wherever they go.
Traditional Art
Hawaii has embraced more traditional forms of art even before European contact. Artisans and craftspeople created art not only for decorative purposes, but for spiritual, social, and practical agendas. Maui's rich culture was embodied with deep meaning through traditional art forms, including: 
Feather work

– such as feather capes or helmets possessed only by

alii

(chiefs) made of feathers from 20,000 birds woven together. 

Kapa or barkcloth

– made from harvested paper mulberry plants and imprinted with colorful dyes and symbolic designs. 

Petroglyphs

– carved in stone and are still present in Maui up until this day. 

Stone or bone carvings

– such as the ancient practice of carving whale teeth to make unique pendants for a chief. Fish hooks and other ancient items are also carved from stone. 

Traditional Hawaiian tattooing

– is considered a sacred and spiritual process that instills hand-tapped tattooed individuals with spiritual power.   

Wood carvings

– reflected the island's gods and spiritual beliefs. 
These traditional art forms are subjects of historical inquiry, tracing back to the events that made Maui what it is today and its culture and traditions that characterize the nation. 
Contemporary Art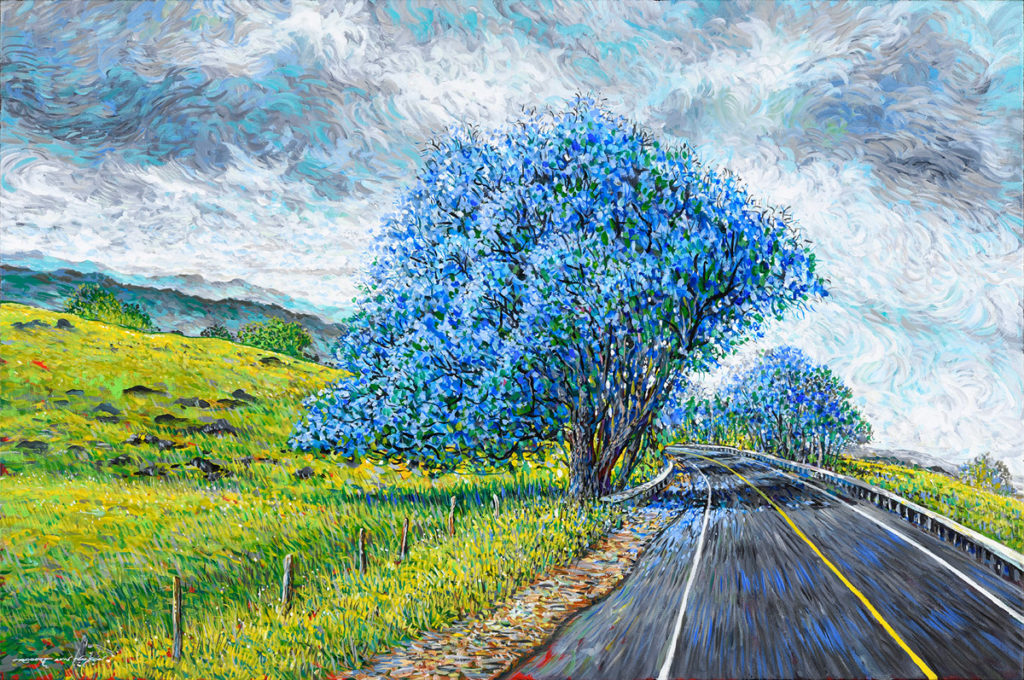 Photo courtesy of Robert Lyn Nelson Studio. Used with permission.
Maui contemporary art first emerged in 1778 when the early Western explorers visited Hawaii and brought artists to document its striking landscape and unique people. This yielded paintings and drawings from contemporary artists like Jean Charlot, Joseph Sharp, and Robert Dampier. 
Most artists documented Hawaii's erupting volcano, which resulted in various masterpieces that formed part of the Volcano School, a collaboration of non-Native Hawaiian contemporary artists such as Jules Tavernier, Louis Pohl, and William Twigg-Smith and Robert-Lyn Nelson.
Other famous artists that brought Maui contemporary art to life include: 
Georgia O'Keeffe

– visited Maui, Kauai, Oahu, and the Island of Hawaii in 1939 and completed 20 paintings of flowers and landscapes in a span of nine weeks. 

Kamea Hadar

– an art festival director who created murals and portraits that feature unexpected locations in Maui. 

Marques Marzan

– a Hawaiian fiber artist that weaves wearable traditional Hawaiian art. 

Solomon Enos

– a mixed-media artist that created a collection of Hawaiian artworks. 
Today, there are various other contemporary artists who feature Hawaii and the islands of Maui to showcase its unique beauty and urban scenes to the world. In fact, there are various museums in Hawaii that house drawings, paintings, sculptures, photographs, and crafts that exhibit Hawaiian history, culture, art, and life.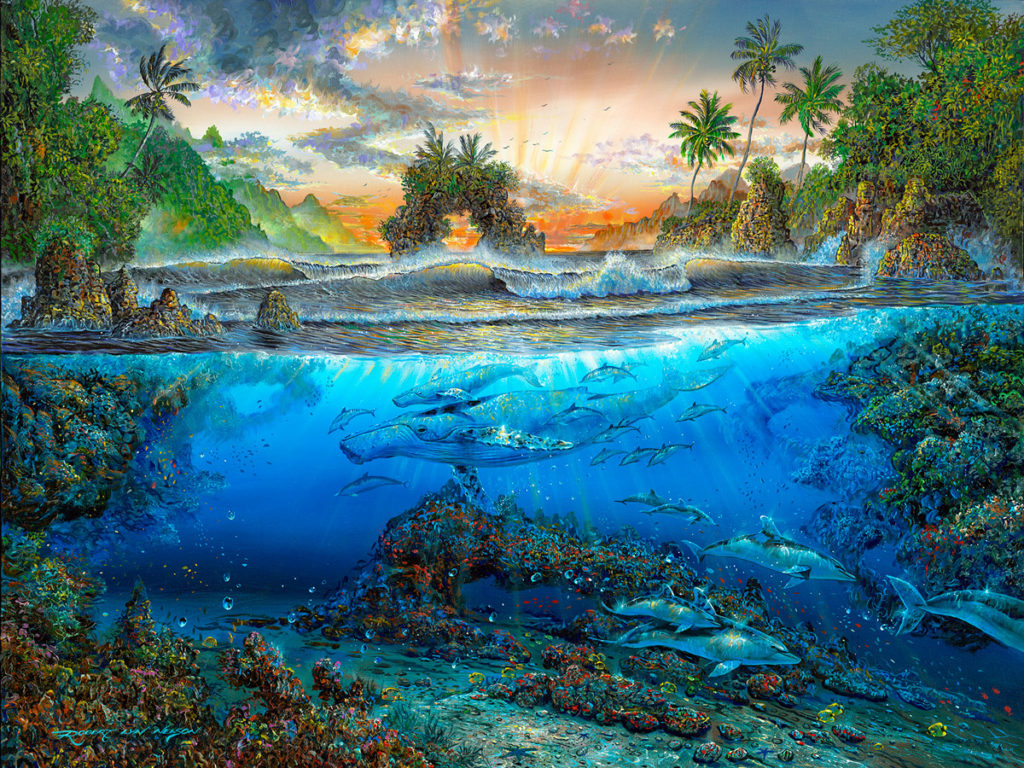 Photo courtesy of Robert Lyn Nelson Studio. Used with permission.
Art on Maui
Maui is an emerging destination for the creation and celebration of various art forms. From traditional to contemporary art, the beauty of the islands is replicated in striking masterpieces that tourists, locals, and art collectors can take home and enjoy. After all, who wouldn't want to have an art piece that reminds them of Maui's pristine beaches, lush greenery, and incomparable sunsets?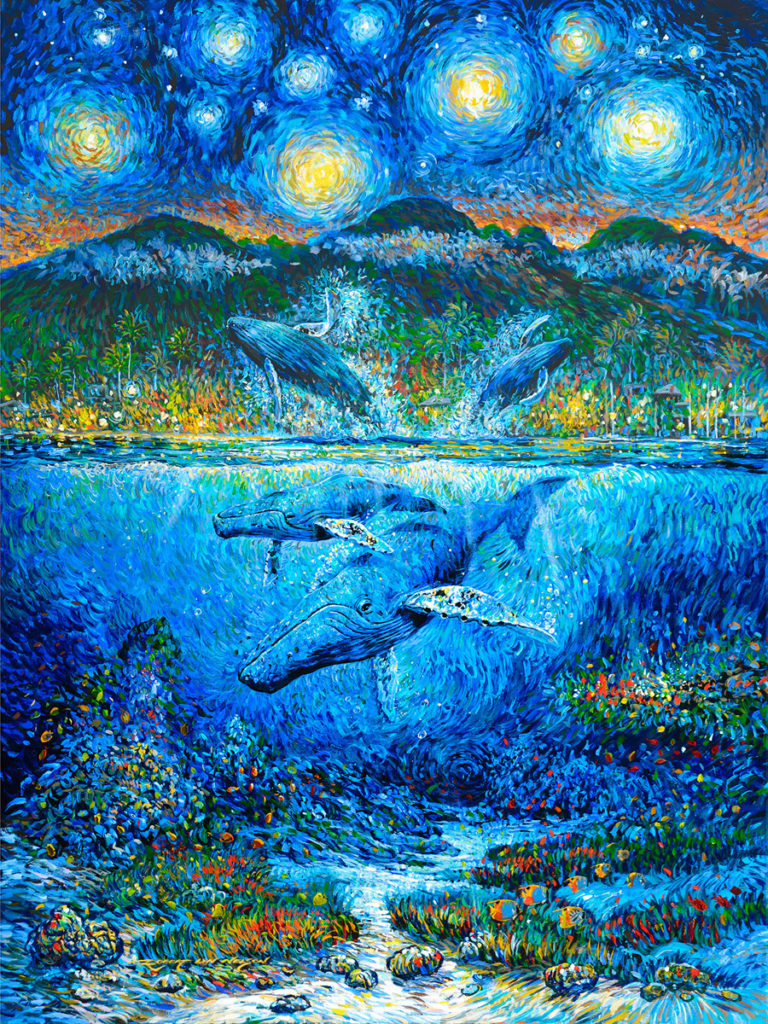 Photo courtesy of Robert Lyn Nelson Studio. Used with permission.