Aloha! Today I am very excited to introduce to you our guest blogger, Sheralyn from "Paradise Found in Maui".  Sheralyn lives is Canada but her family is a regular visitor of  Maui.  She knows Maui like a local does, and at the same time, she also provides unique perspective on what to do on Maui from a visitors point of view. More about her is on the end of the post, but for now, I present to you her version of "10 Family-Friendly Things To Do On Maui:
On our recent 4-week-long trip to Maui, we traveled all over the island with our 2 little boys, both under the age of five. Here are 10 of my top picks for family fun with little ones.
1) The Surfing Goat Dairy is great fun for all ages. Animal lovers will love their tours of the dairy farm – we checked out their evening chores tour where we all got to not only feed the goats, but milk them too! And then there were the delicious samples of their fresh goat cheeses – they were so delicious that we ended up buying several of them to eat on our trip.
2) The Alii Kula Lavender Farm was something we originally thought the adults would enjoy way more than the kids. But after enjoying a guided tour of their farm, I can safely say that it's great fun for kids too. Our guide not only told us all about the different plants that they grow there, but gave each of us cuttings of countless different kinds of lavender and other plants with intoxicating scents – everyone ended up with their own "bouquet" of cuttings by the end of the tour. If you're feeling hungry after your tour, I highly recommend checking out their gift shop where you can sample unique treats such as lavender scones and lavender tea. (Check out Maui Country Farm Tours if you need more info on this farms)

3) The Komoda Bakery in Makawao is a great spot to stop on your way to other Upcountry destinations. They have a delectable assortment of freshly baked goods ranging from buns to sweet treats like cream puffs and coconut turnovers. There's nothing better than snacking on yummy baked goods to keep little ones happy during the drive to other destinations!
4) Kula Botanical Gardens is a great family friendly stop in Upcountry. Not only is there a lot to see, but it's easy on the budget since kids under 6 get in free! Our kids had a ball exploring the endless pathways through their garden, saying hello to their Jackson's Chameleon, and, lucked out by being there at the right time to feed the fish in the koi pond! Tip: Check out the homemade coconut macaroons that they sell in their gift shop – they are truly superb!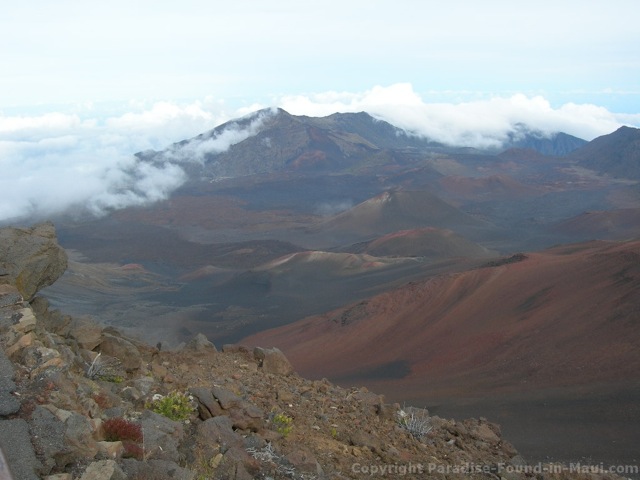 5) A drive to the Haleakala Summit can take a while, but as long as the kids are happy (with, say, treats from Komodo Bakery to munch on,) the drive will be totally worth it! And no, you don't HAVE to drag your kids out of bed for the sunrise – the summit is gorgeous pretty much any time you go, so there's no need to feel like you'll be missing out if you go later in the morning! As you drive up to the summit, you can break up the drive by pulling over at the scenic lookouts – most of them have fairly easy trails to the best views and everyone will appreciate the chance to stretch their legs.
6) Iao Valley is another fun spot to visit with kids, especially is they love the fun of exploring new places. Everyone stops at the state park's botanical gardens to get the great views of the famous Iao Needle. Along the way, you can also stop at Kepaniwai Heritage Park and the Tropical Gardens of Maui.
7) The Maui Ocean Center is a classic stop for anyone with kids. They have a ton of exhibits that will appeal to adults and kids of all ages – if your timing is right, you'll even get to listen to their marine naturalists speak about their specialties, such as sea turtles or sharks. If your visit overlaps with a mealtime, you can pop by the Reef Cafe for a yummy bite to eat!
8) The Road to Hana is must-do, and lots of stops to break up the driving make it so much easier for little ones. One of the biggest hits with our kids was our stop at the Hana Lava Tube. They loved getting to explore such a unique place, and the cool air inside the lava tube was a welcome break from the heat! The self-guided tour here is another budget-friendly activity since kids 5 and under get in free. (Want the perfect guide for your Road To Hana trip" check TheR2H out)
9) Have you considered taking your kids to a luau? Pretty much all of the luaus give discounts to kids, and some even let them in totally free. There are usually displays and activities to keep everyone having fun from the moment they arrive. With a buffet dinner, even the pickiest eaters a bound to find something they like, and the dessert trays will always be a hit! The luau shows give everyone a taste of Hawaiian and Polynesian culture, and at some luaus, guests of all ages are invited up on stage to learn the hula!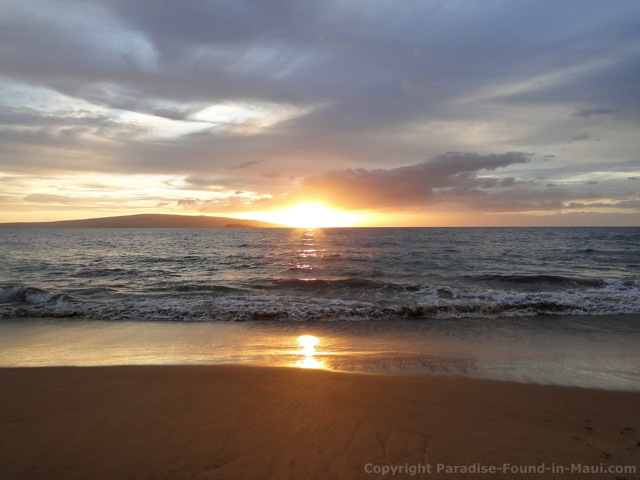 10) Any list of family-friendly things to do on Maui wouldn't be complete without including some beach time. Maui beaches are some of the best in the world, and the island has a ton of great beaches to choose from. In South Maui, some of our favourites were Kamaole I, II and III beaches. Another south Maui beach that we really enjoyed was Po'olenalena – there was a lot to see the day we were there – 2 weddings and a gorgeous sunset – we ended up staying until it was almost dark! In the Kaanapali area, Kaanapali Beach is a must-see. In the Kapalua area, D.T. Fleming Beach Park is lots of fun. For a great beach in the north-central area of the island, Baldwin beach is a choice you won't regret!
More About The Blogger:

Sheralyn is the website owner and blogger behind Paradise Found In Maui.  She and I met online and have become good friends.  Everything you need to make planning your Maui vacations a snap is found on that website! Find out the best things to do and see on Maui, where to stay, how to get the best deals, Maui travel tips and more!  Sheralyn's love for Maui is contagious, and Maui is so lucky to have a visitor like her who exudes aloha spirit like locals do.  Visit her website at http://www.paradise-found-in-maui.com/ and like her Facebook page at https://www.facebook.com/paradisefoundinmaui