Step away from everyday life and experience must needed respite by incorporating these secrets to a blissful vacation into your next trip to Maui…
1. Experience the Hawaiian Culture
Taking time to absorb the Aloha spirit can leave you feeling rejuvenated even after you've returned home. Make time for unique Hawaiian activities like hula dancing, lei making, or learning to surf.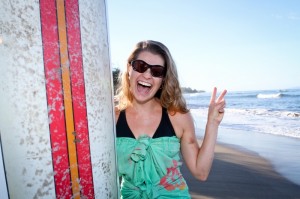 SwellWomen encourages all of our participants to enjoy the Hawaiian Islands lifestyle. Harmony and well-being for the mind, body, and spirit, is the focus of the Hawaiian massage at Black Rock Spa included in all SwellWomen surf vacations. Inspired by the culture and traditions of Hawaii, your massage will have you feeling nothing less than wonderful!
2. Relax at Your Resort
Most of us go on vacation as an escape from an otherwise fast-paced life. Making time to adjust to your vacation surroundings will help you get the most out of your trip. Spend your first day unwinding at the resort and adjust to the time difference.
When you come to an island paradise, the pace of life is slower. Giving yourself a day of lounging poolside will help you quickly adjust to the new rhythm. Lay out poolside at your resort or head to the beach to dig your toes into the sand. Eliminate distractions likes cell phones, laptops, and TVs as much as possible. Instead sit back and soak in the Aloha spirit.
Maui is home to some of the top hotels in all of Hawaii. Featuring 23 acres of tropical paradise, the Sheraton Maui Resort and Spa is situated along the best stretch of Ka'anapali Beach and was once the playground for Hawaii's royalty making it a great place to feel pampered. This resort is the home of our SwellWomen Surf Vacations. With breathtaking views of the islands of Lanai and Molokai, this gorgeous property provides our guests with the ultimate in comfort and relaxation in an inspiring setting. Now doesn't that sound blissful?
3. Tune into Your Well-Being
Once you're adjusted to the island rhythm, the next secret to finding bliss is doing something for your overall wellbeing. Let your pre-vacation stress simply melt away as you reconnect with yourself.
Tuning into your well-being comes naturally on the magical island of Maui. Find your vacation bliss doing yoga on the beach or attending a wellness workshop. Bring out your inner child as you body surf to shore.
The yoga and wellness experience is an important element of your SwellWomen surf vacation. Guests leave our surf and wellness vacations feeling refreshed and inspired. They also feel 'The Bliss' of a renewed sense of enjoyment for life, family, and even their career.
4. Go on an Adventure
An active, adventurous vacation provides benefits like more energy, deeper empowerment, and renewed endorphins. From zip lining to surfing and helicopter tours to scuba diving, you'll find bliss by trying something new in Hawaii.
Fun Hawaiian vacation activities include: swimming, snorkeling, surfing, kayaking, windsurfing, hiking, cruises, helicopter tour, scuba lessons, Hawaiian cooking, stand up paddleboarding, golf, tennis, and more.
SwellWomen surf packages are designed for women of all ages and surfing abilities who are seeking the thrills of surfing and the rewards of accomplishment.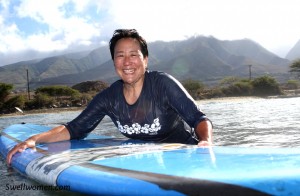 5. Be Empowered by a Retreat Experience
A blissful Maui vacation is about striking a perfect balance between relaxation, adventure, wellness, and culture. You could spend months piecing together your vacation, or you could attend a surf and yoga retreat with SwellWomen specially design just for you!
With every detail taken care of, it's no wonder that SwellWomen guests return year after year after year. If you are looking for one of the most exciting, fun-filled and unforgettable surf vacations of your life, then it's time you started surfing with us and experience the 'aloha' of SwellWomen.