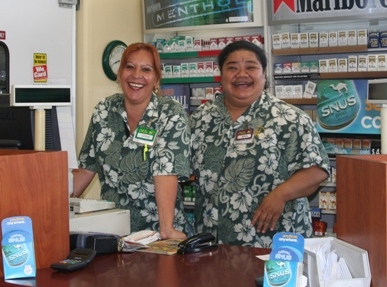 It was a hectic Tuesday morning. After dropping off the kids to school I noticed that gas gage says I am almost out of gas. I decided to stop by the 76 station at Piilani Shopping Center to get gas.   While pumping gas into my car, I smelled my favorite Fried Chicken being cooked at the Minit Stop right next to the gas station. Since I did not eat breakfast that morning, I decided to just go there and grab the 2 piece chicken (plus a potato wedge) which only cost about 3 dollars.   I like eating fried chicken and rice for breakfast 🙂
At that time I was doing a post on "Where Locals Eat on Maui" so I thought I should take a photo of Minit Stop Island Kitchen while I was there.  As I point and shoot the camera, I heared these two Minit Stop employees talking to each other and giggling saying "smile, someone is taking a photo". I kinda laugh inside when I heard it. I turned to them and asked if I can take their photo and they said sure with such joy I loved it! So here you can see the two of them happily smiling for me :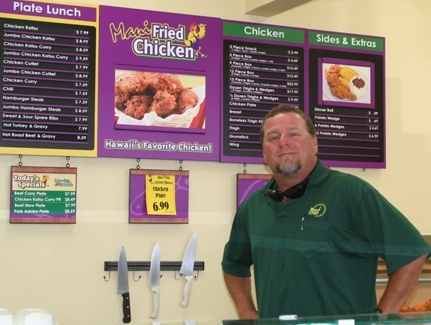 )
We chatted and talked about why I was taking photos.   Next thing I know, there's a guy coming out from their office asking who's taking the photos. He smiled and posed and so I took his photo too.  I asked if he's the manager and he laughed, then said no I am an employee from the main office.  So now, we are all laughing and talking story as I take some more photos of the Island Kiitchen while waiting for my Fried Chicken to be wrapped. Oh the smell of that freshly cooked fried chicken was so good. But what made it better are the smiles and laughter that the staff of Minit Stop bought that morning.  I thought "what an aloha spirit" – it's how it's supposed to be.
"A little aloha goes a long way…" If most of us would have the same attitude that these staff at Minit Stop had shown me that day I stopped by there for breakfast, this world would be a better place.