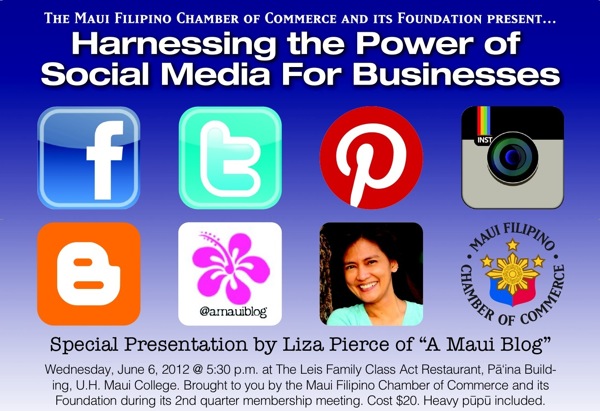 One of the many passions I have is using helping entrepreneurs harness the power of social media for business.  So when Alvin Santander from Maui Filipino Chamber of Commerce contacted me to speak about it on their membership meeting, I was tickled pink!  Seriously, I am very excited to be sharing the secrets of  A Maui Blog's success in social media.   Six years ago, when I started blogging, I didn't know that my life would be changed by it.  BAck in 2005, I was among the very few on Maui who advocated the use of Social Media for business and only few were listening then. Today the climate has changed. Today, business owners on Maui  understand that engagement in Social Media is indispensable  and so they want to learn. And that's exactly what I will be doing – I will share my knowledge and experience on how to use Social Media effectively for business.
The event is organized by the Maui Filipino Chamber of Commerce for it's members, however,  it's open to public.  It will be held on June 6th at 5:30PM at the Leis Family Act Paina Building in UH Maui. Cost of $20 includes heavy pupu.  If you are on Maui and have a business here, I invite you to come.  I look forward to meeting you and spending some time with you IRL 🙂
Payment can made at the door but we request that you also RSVP so you can plan ahead.
RSVP: brianmoto.moto@gmail.com or Alvin Santander at (808) 856-2605
Remit $20 check payment to:
"Maui Filipino Chamber of Commerce"
POBox 331033 · Kahului, Hawai'i 96733,
…or payment accepted at the door.