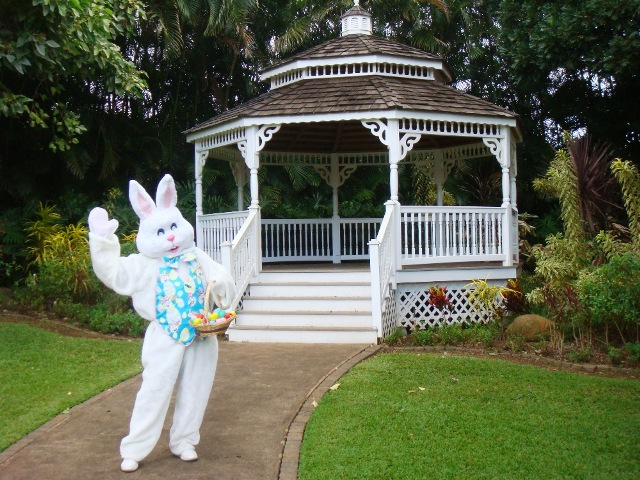 It all started with the Bunny Man. Everyday, on my way to work I pass by Maui Tropical Plantation. A couple weeks ago I saw them put a banner outside announcing that they are going to have an Easter Buffet. Kids are free and they will have an easter eggs hunt event. I thought that was pretty cool – very family friendly. And what better place to hold the Easter Egg Hunt! Maui Tropical Plantation is one place I recommend to everyone visiting Maui. It's not a far drive and it's a fun place, especially for a families kids.
About a week ago while driving to home from work and passing by Maui Tropical Plantation, I saw this man bunny waving and dancing next to the brunch sign. I thought that was a clever marketing scheme . I wished I had my camera with me to take the photo of the bunny, but on second thought I was rushing so I probably wouldn't have stopped to take the photo anyway. But when I arrived home I decided to blog about it. I went to Maui Tropical Plantation website to find out more information but there was no info about the brunch. I googled Maui Easter Brunch and instead of finding an info specifically for Maui Tropical Plantation Buffet, I found a comprehensive list of Maui Brunches. I thought – "great! I will share this list with my readers!". So I copied an excerpt and linked up to Maui News. I got lots of visits from Google. I guess visitors are googling "Maui Easter Brunch". Even AOL picked linked it up in one of their Maui articles. Nice!
Last night I got a very polite e-mail from someone I do not know informing me that the link to Maui News is an error because the article was written in 2008. Doh! I e-mailed the person back, thanked him for taking the time to inform me. I took the link off the blog – emailed again and said it's corrected and asked how he found my blog.
Turned out, he's the Guest Activities Manager at the Maui Tropical Plantation! The buffet is sold out and he was just notifying the places they advertised. I guess he googled it and he arrived on my blog. I told him the story about how I ended up with that Maui News article and told him it was because of that Bunny Waving at me :).  He e-mailed be back saying – "Funny – I was the bunny!"
Gotta love this small town story – gotta love Maui!
P.S. The Maui Tropical Plantation Easter Buffet is sold out (the funny bunny worked!). They are very grateful for all of the reservations they received. They are now working on a Mother's Day event … details to follow.
******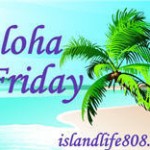 It's time for Aloha Friday, a time when we take it easy and talk story. Kalani at An Island Life started this. Go to her blog for more info on how to join. I am going to use this post as my entry. Now my question to you is "What are you doing this Easter? Easter Egg Hunt? Brunch with Family? Going to Church?" please share one or two. For us, we are going to church and then will have some friends over to our house. Have a great Easter Sunday everyone!