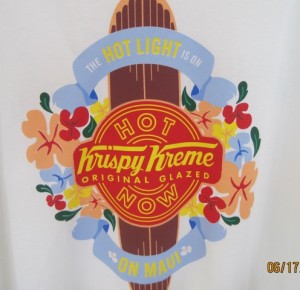 Krispy Kreme on a Wednesday afternoon with Hapa Boy and Hapa Girl – it was a treat!
We were first introduced to Krispy Kreme when our family went to visit our friends Todd and Laura on Santa Barbara in California. That was in 2003. It was such a fun memory. The kids were very excited to watch how the donuts were made. And the most exciting part is that we were given fresh donuts – free!
Krispy Kreme Maui opened in January 2004. Oh the lines were looooong on their opening day. We waited for hours just to get the taste of the glazed donut we once tasted on their Santa Barbara branch!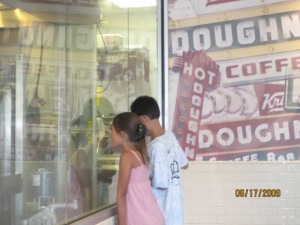 This past week I read an article about Krispy Kreme not doing well on this hard economic time – in this recession. I wanted to do my part in helping them (in my own little way) so I brought the kids there for a summer fun treat. It was a fun trip. We stayed to watch the "donut making" after we've finished eating what we ordered.
One thing I noticed is that they have a lot of costumers with computers on the table, and it occured to me that they have FREE WiFi on this store! yey – you can buy a donut and a cup of coffee and do you work in the computer ot check your e-mail or tweets!
Now for a suggestion – I think it would be nice of they have a microwave oven in the store where we can heat up the glazed donut for 2 seconds to warm them up. You see, when we went there they were not in the process of making the round glazed donut so we had to eat the cold one – and the cold one is not as good as the warm glazed donut.
Going back to what I was saying that I am hoping to help promote Krsipy Kreme in my own little way, I will be tweeting about this post to encourage the Maui people to buy their donuts at Krsipy Kreme. Incidentally, it's Friday, and Friday means it's time for the ALOHA FRIDAY Carnival. Go to An Island Life for more info on how this works, but for you who already know, my question for today is:
What is your favorite donut kind? My favorite is the glazed one. My husband loves the old fashion.
If you do not like to eat donut, what alternative do you like to order in a donut shop? Coffee? Iced Drink? What's your choice?
For more ALOHA FRIDAY posts, click HERE.