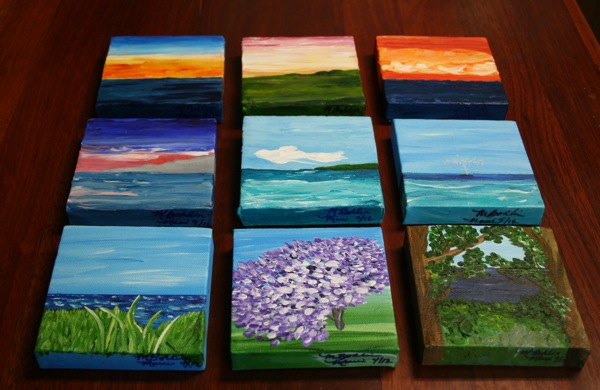 It's Aloha Friday!  It is a fun day of the week as it marks the beginning of weekend when we can break away from work and do fun stuff with our family and friends. I know for some they work on weekends and Friday is not their Aloha Day, but for the majority, Friday is the main pau hana.
I thought I should share some aloha today, so I decided to share with you about my friend Malia and her art called "Mamala O Maui".
What is Mamala O Maui?   These fun, affordable, collectible "Pieces of Maui" which will remind you of some of the most beautiful places on Maui. My artist friend Malia Bohlin captures the beauty of the island, expresses it in a painting, and share it with others who love and may be missing Maui.  To this end, her pieces create a real sense of "place," and her prices are "budget-friendly," to make them affordable for the average art lover.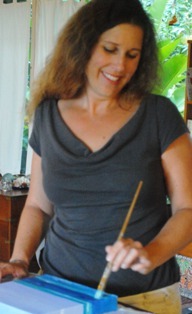 Malia knows what it's like to be far away from home. After growing up in the very green and tropical Haiku, Maui, she moved to Denver, Colorado, to pursue her education and career.  Like many "transplants" to the mainland, her heart always longed for home, and in 2010 she came back to Maui.
Visiting Malia's blog, Mama O Maui,  is like a visit to Maui. Taking a beautiful drive through Upcountry, stopping in to see an artist or two, and gazing out at the amazing views all around you.  Long time Maui visitors and kamaaina away from home will both appreciate it.
See her "shop" on Etsy at http://www.etsy.com/shop/maliabohlin  Like her Facebook Page: Mamala O Maui..  Follow her on Twitter: @MauiMamala
I am entering this post as part of the Aloha Friday Meme at An Island Life.  It' a fun bloggy thingy where we get to ask and answer questions.  Details of the meme can be found there at An Island Life.
So here's my question for for you: If you were to paint (assuming all of us can paint) what would you paint? What would be the subject or the inspiration of your art? For me, it would be Sunrise and Sunsets, for Malia, it's Maui – how about you? Let us know on the comment section of this post 🙂