Are you a Single person on Maui … you know what I mean … the marital status … are you Single?
What do you think about the Dating Scene on Maui? Are you one of those who will say "there's a small pond to choose from"?
I was watching this Youtube video on dating in Maui Hawaii the other night … something I randomly stumbled upon and ended up watching (you know how it goes on YouTube).  Anyway, this guy talked about dating in Hawaii and he does not find Maui to have lots of opportunities for dating. This made me want to create a video about this too. Yes, I will. (will add it here when it is uploaded.)
You might be wondering, why was I watching a youtube video about dating on Maui for singles when I am happily married. You see, I was planning to help my friend Rita O-Connor promote this event for Singles here on Maui. I was doing my research and I also found another blog post talking about Dating on Maui by my friend at Courtney Maui Jungalow.
Back to my friend Rita, I asked her about singles and dating on Maui, and she shared some perceptions, insights. She also shared about an exciting even for those who are 40+ Singles Maui which is called ALOHA LOVE CONNECTION.
Here are the random points on my conversation with Rita about the Dating Scene on Maui:
They say "All the good ones are taken", or "there are no good/romantic/smart/relationship-material men/women etc". …who are YOU being?
It's the same people over and over again, Maui has a "small pond" to choose from …are you overlooking the one right in front of you, the one who isn't jumping up and down for your attention, or the one who is "nice"?
Hook-ups are not the way to find true love if you want to have respect, integrity, loyalty, and deep connection in a relationship. Relationships are built, nurtured and playful!

From the women: All guys want is sex; guys buy you dinner and then they think they own you, guys on Maui just wanna be "pals"…
From the men: Women expect a guy to pay for everything and I feel used, so I just wanna hang out and see what happens

"Most of the men/women are not my type" – who are YOU being and would "your type" want to be with you?

Everyone here has so much baggage and drama

Online dating takes so much time, no one is who they say they are online, if I make the effort they flake out on me/the date, it's just not worth it -I've given up.
Some more thoughts about dating on Maui
Clarity in the meaningful qualities you want to attract
Communicating effectively through words, actions, body language, flirting, etc. is a learned skill
Dynamics of Femininity and Masculinity in a relationship are real – are you using your superpowers for good?

Own your Masculine/Feminine in a way to bring in your mate

It only takes one – the right one…are you looking for love in the wrong places?
Are you committed to yourself and doing what it takes to bring in the love of your life?
I think by now you already know that one of the purposes of this blog post is to reach out to the Singles here on Maui, particularly the 40+ age group, for them/you to attend this event.  More information about this dating event at AlohaLoveConnection.com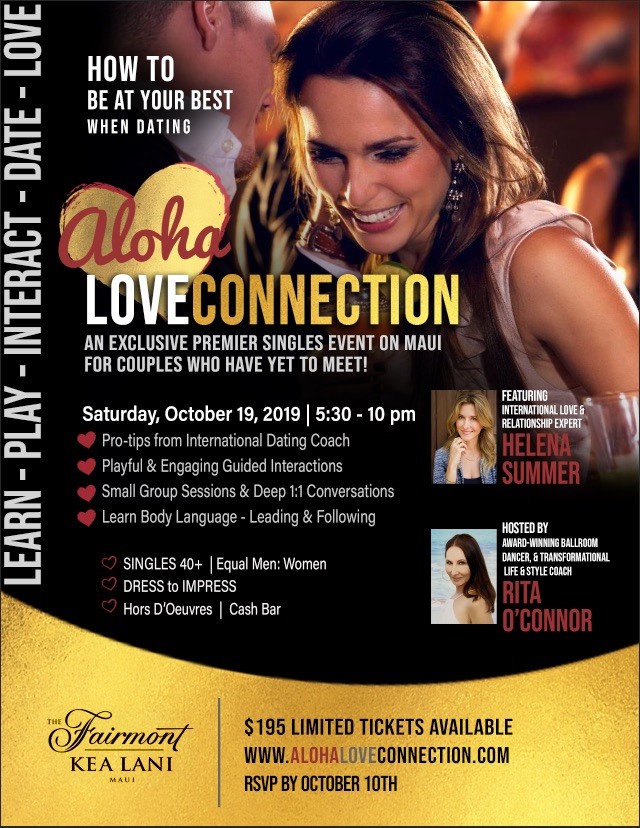 Disclosure: This is NOT a sponsored post. This is plain Kokua. I just wanted to help make it possible for some of the Singles here on Maui to find someone who they may possibly date … and maybe consider a more serious relationship later on 🙂
REGISTER here and write the code amauiblog to get $20 discount.