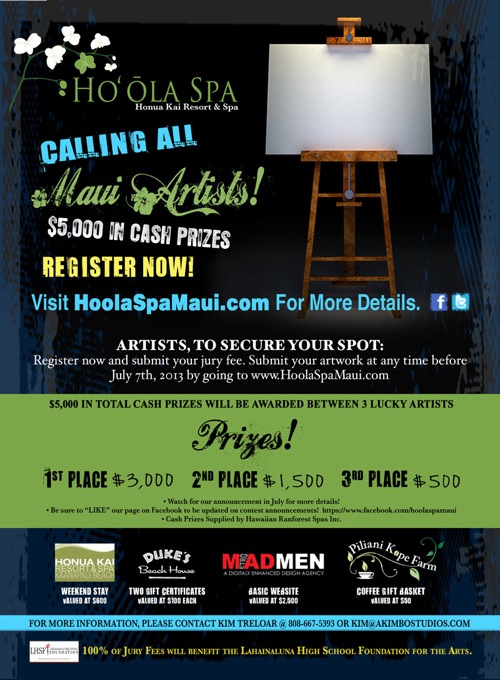 The innovation just keeps rolling. Ho'ola Spa has issued a Call to Artists to submit their work for exhibition in this beautiful new space. The selected Artists will be eligible to win $5,000 in cash prizes through an online contest to be held next month after artwork has been juried and selected. Artists can visit the website for details. Readers can keep checking back for details on participating in the upcoming online voting contest and becoming eligible to win exciting prizes also. Prizes include Gift Certificates to Dukes Beach House Maui (also located on the resort property) and a weekend stay at the exclusive Honua Kai Resort & Spa. Artists submit your works to www.HoolaSpaMaui.com and art enthusiasts be sure to follow along and vote at https://www.facebook.com/hoolaspamaui .
Ho'ola Spa is proud to be supporting the work of local Maui artists. They are also donating 100% of the proceeds from the Jury Fees to arts education on Maui through the Lahainaluna High School Foundation.
For more information, please call Kim Treloar at 808-667-5393, or email kim@akimbostudios.com.