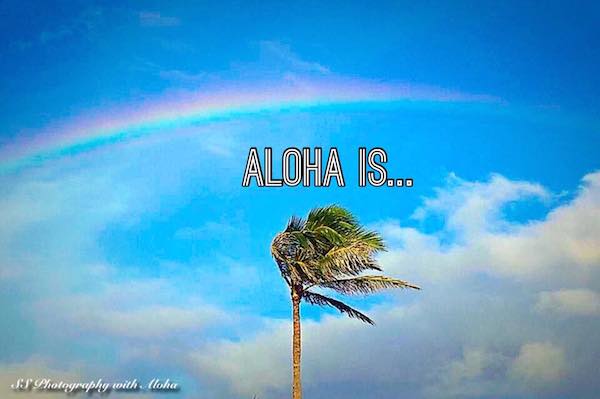 When you're in Hawaii, it is very common to hear the word ALOHA.  A day won't pass without you hearing it or seeing it.  Aloha is probably one of the most used Hawaiian word. And it has a variety of use and meaning.  We use ALOHA to say hello and goodbye, we use it as a greeting or salutation on a letter. We use ALOHA for LOVE.  But really … what is the true meaning of ALOHA?
I read an article titled "Deeper Meaning of Aloha" by Curby Rule and the explanation opened up a whole new understanding of the word. ALOHA's deeper meaning is that it is a way of life.  Here is an excerpt:
The spirit of Aloha was an important lesson taught to the children of the past because it was about the world of which they were a part. One early teaching goes like this: 
Aloha is being a part of all, and all being a part of me. When there is pain – it is my pain. When there is joy – it is also mine. I respect all that is as part of the Creator and part of me. I will not willfully harm anyone or anything. When food is needed I will take only my need and explain why it is being taken. The earth, the sky, the sea are mine to care for, to cherish and to protect. This is Hawaiian – this is Aloha!
As the child grew, the need for a fundamental code of ethics was taught. This code is found within a deeper layer of the meaning of the word Aloha. The code is derived from one of the acronymic meanings of Aloha.
A, ala, watchful, alertness 
L, lokahi, working with unity 
O, oia'i'o, truthful honesty 
H, ha'aha'a, humility 
A, ahonui, patient perseverance
The kahuna David Bray interprets this code as "Come forward, be in unity and harmony with your real self, God, and mankind. Be honest, truthful, patient, kind to all life forms, and humble." He also stated that to the Hawaiian of old, Aloha meant "God in us."
So far, within Aloha, we have found an explanation of our place in the world and a code of ethics to help us with our interactions in the world. The only thing we are missing is our "prime directive" while we are here, and that too can be found within the root words that make up Aloha.
alo, 1. sharing 2. in the present
oha, joyous affection, joy
ha, life energy, life, breath
Using Hawaiian language grammatical rules, we will translate this literally as "The joyful sharing of life energy in the present" or simply "Joyfully sharing life"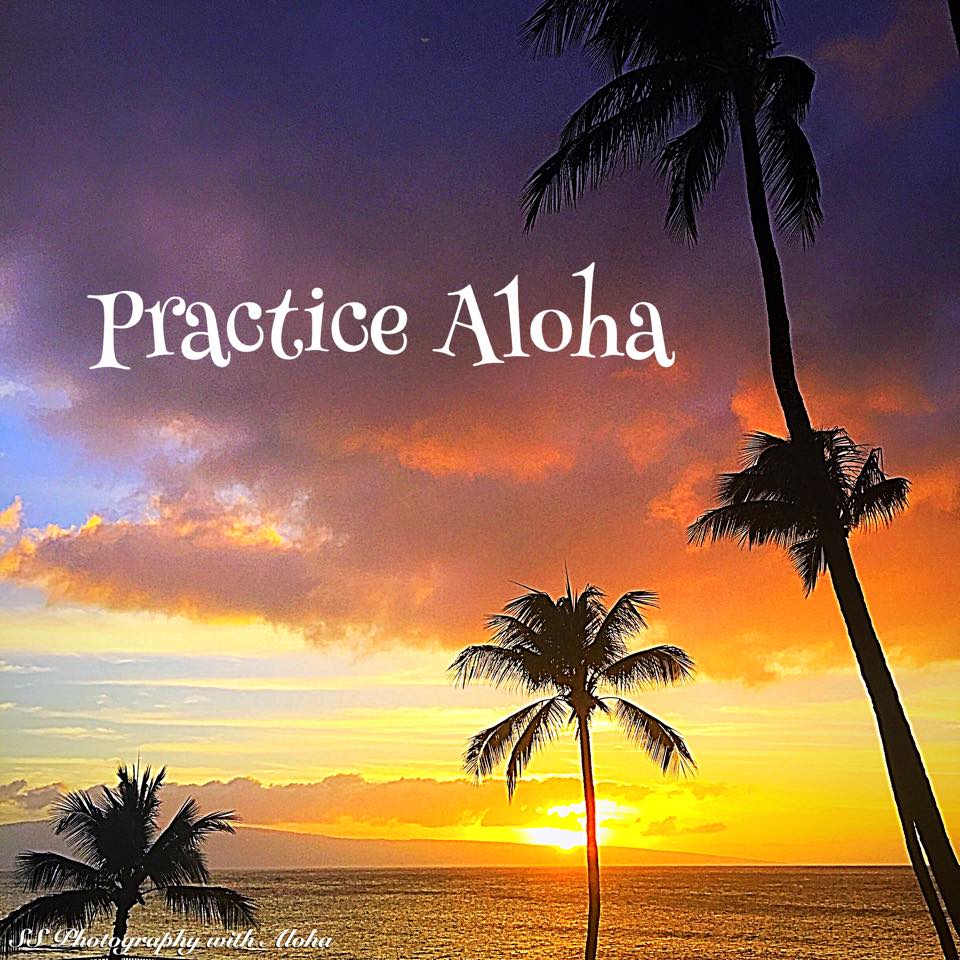 Now that we have a deeper understanding of what ALOHA is, the question is how do we apply in our lives? How do we practice ALOHA?
I thought I'd randomly and spontaneously write examples of "practicing aloha" and then I'd let you chime in in the comment section (on this blog or on Facebook – whatever suits you). So here we go … Practicing aloha is …
inviting friends to your home to join you in your holiday celebration because that friend you invited didn't have "family" here on Maui and you know how hard it is to celebrate holidays without a family….
giving generous tips to your server even though he or she didn't do a great of a job … maybe because the restaurant is just really too busy or he/she's distracted by a personal problem going on in his/her life. And on the other side of the story …. aloha is serving your customers the best way you can even though they are being difficult or simply a jerk ….
giving food to the needy, quietly without fan fare or expecting something in return ….
caring for the kapunas … visiting grandmas and grandpas … conversing with them and enjoying their presence …. at the same time learning wisdom from them …
taking care of the aina…  Not leaving your rubbish on the beach … not throwing trash in the ocean ….
I am sure you can add some more … please do … it will be great to hear from you …. Maybe you have stories of aloha while you are visiting on Maui – that will be a great one to share too!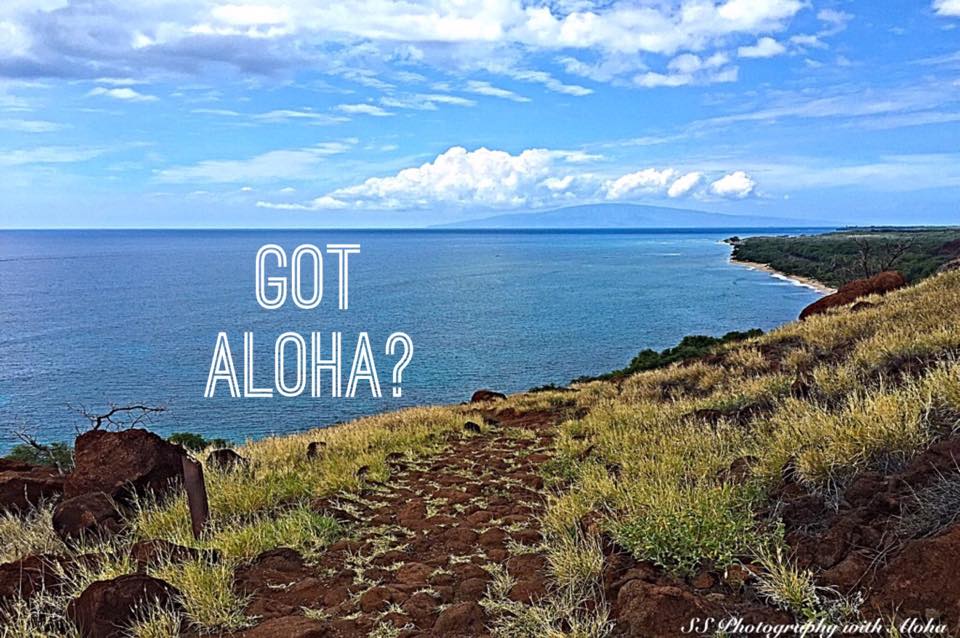 And now it's time for reflection.  Would you say you Got Aloha?… Do you  Practice Aloha ?  When we great someone "Aloha"  do we just say  it out of habit (or obligation)… or do we really feel it and mean it?
Want to hear the story behind this post?  I was actually supposed to write a blog post about ALOHA SHIRTS last weekend.  I  told my friend Charles who owns Wave Shoppe Hawaiian Shirts that I would like to promote their store. I have know Charles since 2007 and I like their story on how they started Wave Shoppe.  I think they have a great selection of Aloha Shirts. But when I was brainstorming on what to write about ALOHA SHIRTS, my mind kept on wandering … wondering what the true meaning of aloha is … and so this post was born.  I may or may not write another post about Aloha Shirts, but I am glad we got to "talk" about ALOHA here on the blog 🙂
In case you have not noticed yet, the photos I am using on this post are from SS Photography with Aloha.  I have not met Sissy personally but we have interacted online and I can tell she is one person full of aloha.  Mahalo Sissy for the use of these pics! Aloha ….
And to all of you my friends … online and offline … Happy Aloha Everyday!…