Have you heard about this exciting news?  Down to Earth will celebrate the Grand Re-Opening of its Kahului store at 305 Dairy Road on Saturday June 22, 2013! The day-long celebration features a sale where customers will receive 35% off on more than 100 great-selling items. There will be cooking classes, health and nutrition lectures, face painting, lots of food sampling.  The highlight of the day will be a live performance by Hawaiian music and reggae stars Paula Fuga, Mike Love and Sam Gonsalves at noon..  As we all know, Paula Fuga is a very talented singer and wonderful entertainer so we are in for a treat!
The event marks the completion of a major renovation and expansion that converted 3,000 square feet of storage space into retail space, for a total of 9,000 square feet.
"The store stayed open throughout the renovation. The celebration is a way for Down to Earth to thank its customers for their support and patience during the remodel," says Mark Fergusson, Down to Earth Chief Organic Officer (CEO/CFO)
Bigger, Better!
"The bigger and renovated store has many new products and allows us to offer customers a substantially wider range of local, fresh, organic and natural products. We more than doubled the size of the chill and frozen department, nearly doubled the size of the bulk food department, greatly improved our deli, and we expanded the wellness, grocery, and produce departments," Fergusson explained. "
To improve energy efficiency, the new store has "green" state-of-the-art air conditioning, refrigeration, and LED lighting systems.
The renovations and the new Kahului store are designed to have the "look" of the company's new flagship 10,000 square-foot store in Kapolei, Oahu, which opened in 2011. The décor is inspired by the company's logo and tells the story of its local, fresh organic and natural values, and its Hawaiian principles.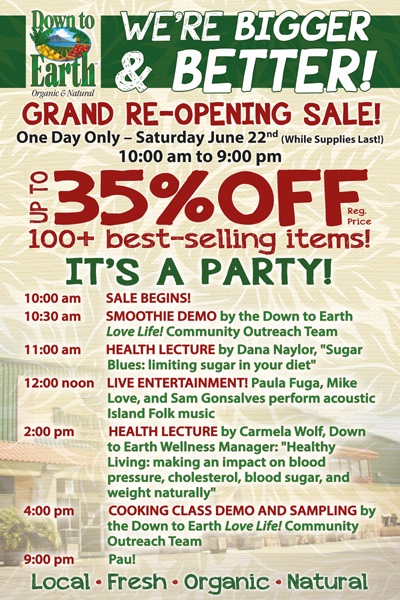 35% Off Sale, Day-Long Activities
The Grand Re-Opening of Down to Earth Kahului starts with a ceremony and traditional Hawaiian blessing at 9:00am, followed by a sale from 10:00 am to 9:00 pm where customers will receive 35% off on more than 100 great-selling items. The sale items include popular brands such as GT's Synergy Kombucha, Guayaki Yerba Mate Tea, Follow Your Heart Vegenaise, Dr. Bronner's Soap, local papayas and apple bananas, among many other favorites.
There will be cooking demonstrations by the Down to Earth Love Life! Community Outreach Team—smoothies at 10:30 am and a cooking class at 4:00 pm. Dana Naylor, Maui Health and Nutrition Coach, will give a lecture at 11:00 am "Sugar Blues: limiting sugar in your diet." And Carmela Wolf, Down to Earth Wellness Manager, will give a lecture at 2:00 pm "Healthy Living: making an impact on blood pressure, cholesterol, blood sugar, and weight naturally."
"The success of Down to Earth has been based on our unshakable commitment to providing customers with food that's good for them and the environment," Fergusson said.
Down to Earth's vision is, "Inspired by Hawaii's state motto, 'The life of the land is perpetuated in righteousness' (Ua Mau ke Ea o ka 'Āina i ka Pono"), we envision a Hawai'i where all people 'Cherish the land and live in health and harmony' (E Mālama I Ka `Āina, E Ola Pono)."
Down to Earth was started in Wailuku Maui over 35 years ago. In addition to its Kahului store, the company has four locations on Oahu: Honolulu, Kailua, Pearlridge, and Kapolei.
Are you going to this grand re-opening? I am! Looking forward to it and I hope to see you there!
For updated information, recipes and coupons, please like their Facebook page at:  DownToEarthHI