Maui News published a comprehensive list of  Easter Services on Maui and so I won't repeat that list here.  However, I do want to highlight 2 of the services I recommend. Both are on South Maui, because that is where I live.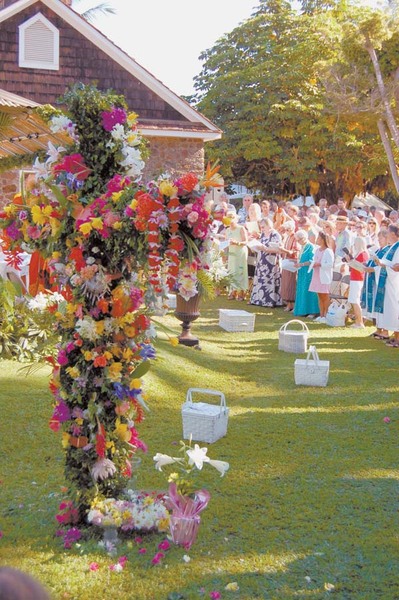 1) Easter Sunrise Service at Keawala'i Church in Makena. If you are visiting and have never been to this church before, this is a great time to visit them because you will experience the Hawaiian Easter Sunrise service. Â Here's what Maui News wrote about their Easter Sunrise Service (photo on the left from Maui News):
The Easter sunrise service at 7:30 a.m. outdoors includes the sharing of the Lord's Supper and the Easter floral cross. Those attending are invited to bring a single-stem flower or lei for the cross. They also may bring canned goods and other nonperishables for a food drive by the Outreach Committee for the Maui Food Bank.
Keawala'i Congregational Church is at 5300 Makena Road, just south of Makena Landing and before the Maui Prince Hotel on the lower beach road. Call 879-5557 or visit www.keawalai.org.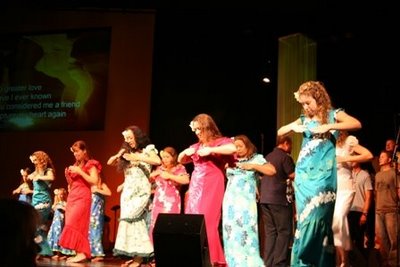 2. Hope Chapel. This is where  am going. This is my home church and I love it. I know I should have listed this first but I thought the Hawaiian church should come first :).  Anyway, Hope Chapel always have an inspiring Easter Sunday service. ÂnYou can see the photos from last year on their website (click here).   Here's what Maui News wrote :
Hope Chapel, an interdenominational Christian fellowship in Kihei, presents Good Friday services at 6 and 8 p.m., and Easter Sunday services at 8, 9:30 and 11 a.m. Pupu and refreshments follow each Easter service. Hope Chapel is at 300 E. Welakahao Road; call 879-3853.
Want to know why I like going to Hope Chapel? click here.
If you are a Maui resident reading this and you have a recommendation on where to attend the Easter Service on Maui, please leave a comment and let us know.