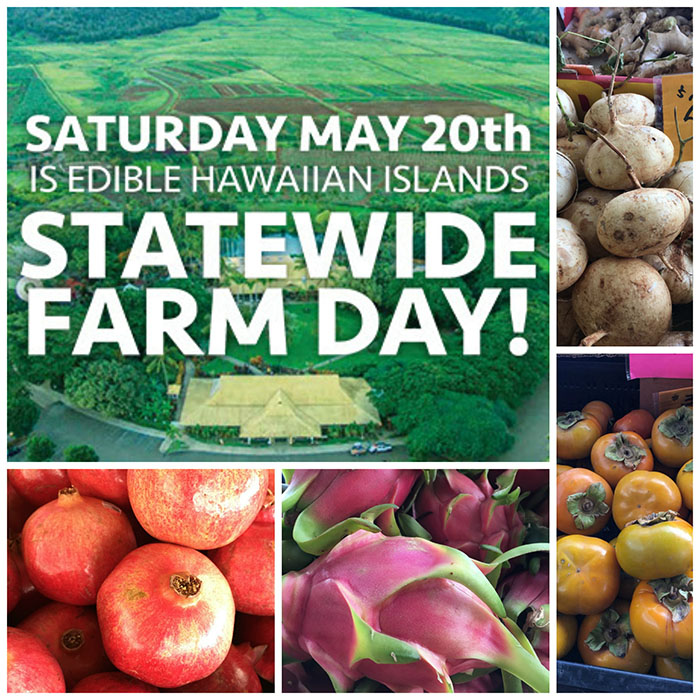 What do you like to do on a Saturday morning?  Me? I love going to Farmers Market on early Saturday mornings!  It has become my routine to wake up early and go to the farmers market to buy fresh produce, many of which are not available on corporate supermarkets.
Fruits like atis, guyabano, calamansi and greens like malunggay  and bitter melon leaves … I buy them at the Farmers Market near us.  I like Farmers Market so much that I created a Community Facebook Page for it. There I post randomly about my Farmers Market finds.  This Saturday I will be posting more. Why?
Because this Saturday, May 20, is extra special. It is the Edible Hawaiian Islands Farm Day 2017.   This event is designed to encourage families to visit and thank those who work hard to grow our local produce.  My extended family in the Philippines (father's side) are farmers and I have seen how hard my grandparents, aunties and uncles worked from planting to harvesting to selling the produce.  My immediate family lived in the city (Manila) but my brothers and I spent every summer in the province where my grandparents' farms are.  It is not an easy task to be a farmer, so it is wonderful that Edible Hawaiian Islands Magazine created this event to honor and recognize the farmers and what they do to the community.
So, who can participate on this #eHIFarmDay17 event?  EVERYONE! Actually, it is everyone who loves food and will visit a farm or buy local produce this Saturday, May 20th.  This is a global event – you can be in any State or Country.
To participate: SHOP at a Farmers' Market, TAKE a farm tour or VISIT a farm and THANK a farmer this Saturday, May 20. Then SHARE your experience on your social media and use our hashtag #EHIFarmDay17.
Are you visiting Hawaii and not familiar with the locations of the Farmers Market? Or maybe you live here but just have not explored the Local Farms and Farmers Market yet.  Edible Hawaiian Islands Magazine created this very helpful Farm Guide.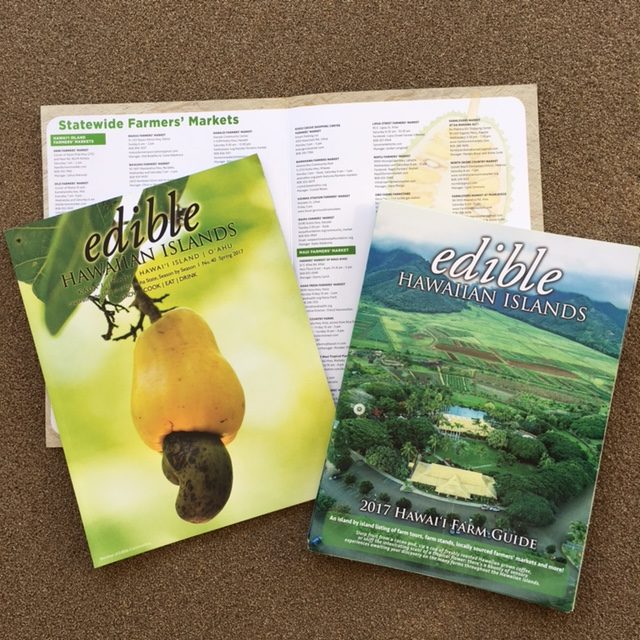 I live in Kihei, so I usually go to the Farmers Market in Kihei.  However, I also love going to Kumu Farms. I enjoy going there because the produce are grown right on the land next to the farm stand. I love their non-GMO papayas the best!
The Upcountry Farmers Market is very popular because it's cooler and the variety is excellent. I know friends who live in Kihei and still drive up to Kula on Saturdays to the Upcountry Farmers Market.  Not only do they have fresh produce, they also have freshly prepared food you can enjoy … lots of yummy healthy goodies you can't find elsewhere in the island.
And after all the Farmers Market shopping we are going to do this Saturday, I think I will end my day with a yummy cocktail made with Ocean Vodka, not only because Ocean Vodka is a huge supporter to this #eHIFarmDay17 but just because Pau Hana is nice with a glass of cocktail with ocean vodka.
I am looking forward to seeing all your posts with hashtag #eHIFarmDay2017.  You can use Facebook, Twitter, Instagram, Snapchat and pin it on Pinterest too.  A hui hou!