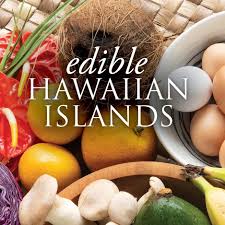 Spring 2010 issue of Edible Hawaiian Islands just came out, so I thought it would be timely to talk about it here on A Maui Blog.
I first read a copy of the Edible Hawaiian Islands Magazine in the library while I was browsing all the magazines available there.  I  was very much impressed by the Edible mag, not only with the great articles inside, but also with quality and feel of the paper and print they use.  I actually wrote down their website URL and thought that I would subscribe so that I can regularly get a copy.  But somehow I got busy (actually always is) and I had forgotten about my desire to subscribe. Thankfully, I was reunited with it when my kids and I went to Ono Gelato to buy some delicious ice cream when we toured Paia one day.
And so that was my next encounter with Edible Hawaiian Magazine, at  Ono Gelato.  While my kids were busy trying to decide which flavor to get, I was busy reading the Edible mag that I got from their counter. We all got our orders but I was not done reading it yet.  I noticed that there were a stack of it on the counter and so I asked the lady there if it's for sale.  She smiled and said, "Oh, you can take one for free".  Free?  Oh it's like Christmas! Guess what? I still have that magazine at home.  I don't want to discard it.  the recipes inside are so good it's worth keeping.
Now let's fast forward.  One night while I was tweeting, I new tweep followed me and to my delight I found out that she, Dania Katz, is  the marketing director of Edible Islands Magazine!  Talk about small world!  Actually, talk about the benefits of social media and social networking!
@DaniaKatz and I became good friends via Twitter.  We immediately connected with each other.  It's like a kindred spirit – we both love being a mom and we are both Twitterholic (smile, got to admit that one).   Seriously, Dania and I are a great example of how Twitter friends who met online can be friends in real life.
Back to the magazine, I ,of course, is a fan. I was so stoked to find out that we can get free copies of this from their supporters.   I tell you, I am so thankful to these advertisers who make it possible for us to get a free copy of this high quality magazine.  If you are the skeptical type, and you are thinking that I am just saying this because I got paid to blog about it, or because Dania is my friend, I challenge you to pick up a copy from the selected supporter stores* near you and see it for your self.  I am sure you too would be impressed and would want to keep a copy. (Incidentally, if you want to support this Edible Magazine by placing an ad, contact @DaniaKatz.)
Yesterday, Dania and I met for coffee and networking.  She gave me the Spring 2010 issue of Edible Hawaiian Islands magazine.  Hot of the press people! I was very excited!  Let me give you a sneak preview of what's inside – click here and you'd find out.  Of course my favorite is the article about Furlough Friday written by Lily (Dania's daughter). What a resourceful and talented girl (so much like her mom).
Beside Lily's story, I also like the recipes in there especially the Hawaiian Opakapaka Meuniere with Passion Fruit Salsa.
You can find Edible Hawaiian Islands on Facebook and  Twitter.   Complimentary copies of Edible Hawaiian Islands are available at some stores who are part of the Edible Ohana, such as Whole Foods Market in Kahului, Alii Lavender Farm, Alive and Well store, Flatbed Pizzeria, Hana Fresh, Ono Gelato Company and more.  If you live on another island, state or country – you can still receive a copy regularly via subscription.