I cherish Father's day because I get to publicly and shamelessly celebrate being my daughter's Dad. But most importantly, it's the one day of the year I get to take all the credit for what my daughter does the other 364 days of the year. This year we decided to take a well-deserved staycation on the Westside of Maui in Kā'anapali.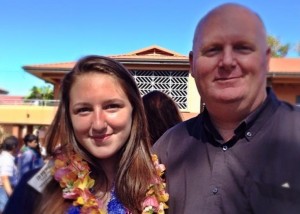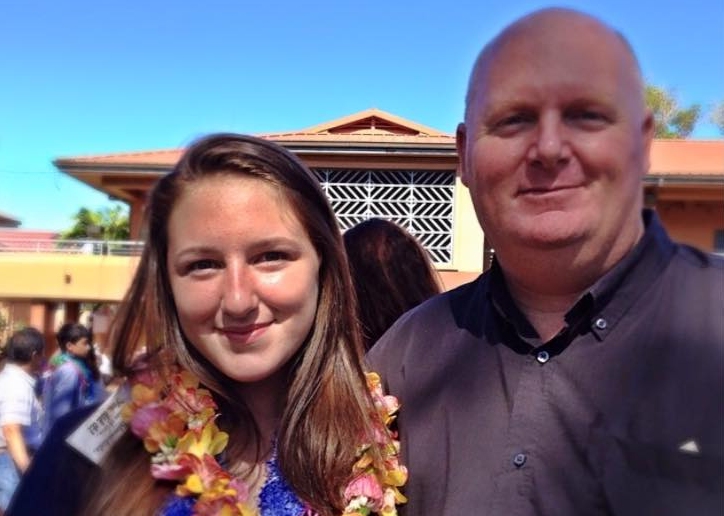 Now that I am approaching 50 and my daughter is no longer amazed by my vast knowledge of the world (she's no longer impressed by my ability to present teachable moments on the fly), this Father-Daughter time was a welcome escape from the hustle of school and work that we both needed. No school, no random esoteric teachings, no emails, no Facebook rants (well mostly), no homework and few reasons to open a laptop. But there was plenty of free Wifi and I managed to sneak in a couple of "back in the day" wisdom too.
I had never stayed at the Kā'anapali Beach Hotel before, so I was pleasantly surprised that it was much like being welcomed into a traditional Hawaiian home complete with a casual, unpretentious atmosphere, that glowed with a strong sense of Aloha. The backyard had a quaint little whale-shaped pool without the typical tourist feel. The nearby Tiki Bar had exactly the right amount of rum and extra-friendly service to exceed my needs. Admittedly, I really enjoyed the Talkstory at the bar and spent almost no time at the beach because I can do that all year long. I don't drink often, but it sure was fun this trip because I didn't have to drive anywhere and I could see my daughter Isabella swimming in the pool 30 feet away.
I'm definitely a coffee drinker, so the first morning at the hotel started out with a mad search for the coveted beverage. It didn't take long for me to find the breakfast bar right outside of the lobby, where coffee, fruit, and more snacks are available. Also noted was a small restaurant serving breakfast just beyond the lobby and a convenience store as well. The place felt small in a good way, yet everything I needed was right there when i needed it. Isabella was still sleeping because the one thing we don't share is my internal alarm clock that goes off daily at about 5:30 or 6am. I think Isabella's must be at like 9am or something.
Plenty for us to explore and experience
The hotel's courtyard offers many activities. Beach chairs are always accessible, and can be taken just about anywhere on the property, even the beach. I'm a fan of shade to which I was pleasantly surprised there was an abundance of everywhere. I spent some time walking around and discovered a Loʻi (taro patch) with lots of big green leaf Kalo.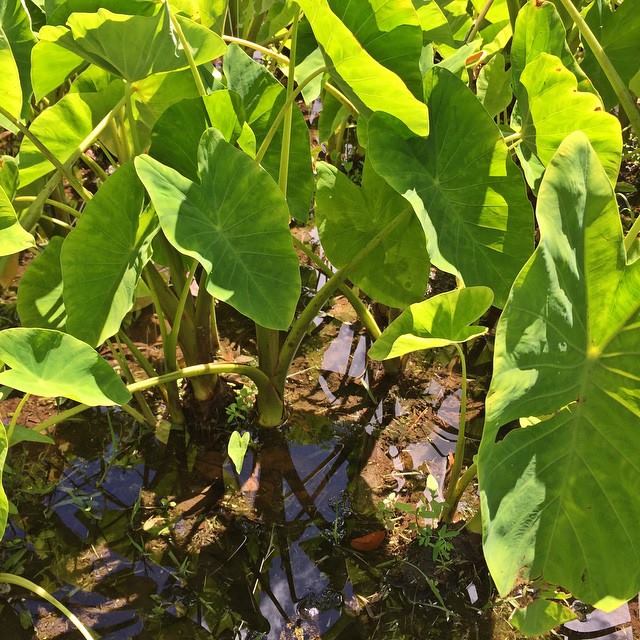 There is also giant checker board on the lawn, along with the whale-shaped pool I mentioned earlier, and lots of beautiful flowers. Isabella spent much of her time swimming, talking with friends, lounging around the pool.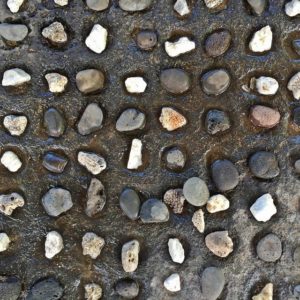 One element that I found intriguing was a stone square with a pattern of tiny rocks on it in a grid somewhat near the middle of the courtyard between the hotel and the pool. I had never seen this before and discovered that it was called Kōnane, a game invented by the ancient Hawaiians. It's a two-person game much like checkers where each in-turn hop over the opponent's pieces to capture them. Once a player cannot hop over an opponent's pieces they have lost. Seemed mathematical in nature so I did not dare play this game with my daughter because I was unwilling to be defeated repeatedly all weekend.
Just a few steps off the lawn is the beach. Kaanapali Beach, as most everybody that lives here knows, is known for its beautifully clear water, big sandy beaches, views of Black Rock and the island of Lanai.Great place for early morning dad-walks I might add.

Magical Evenings
The evenings on our weekend were filled with Hawaiian music and lots of magic too. On our second night at the hotel, I had the pleasure of attending Kupanaha, a magic show starring Jody Baran and his wife, Kathleen. When my daughter and I first walked into the show, they took our picture, and we were greeted with Mai Tais, Blue Hawaiians, and other drinks (the other drinks is what my 15 years old enjoyed). After getting seated at our table, we were served a delicious salad and four dinner courses, family style. The dessert was a pina colada cheesecake that was to die for (those are Isabella's exact words). The magic show was not only full of jaw dropping tricks, but it also had a Hawaiian feel to it. There was hula dancing and the audience was shown the history of the seven magicians that came to Hawaii. The show was entirely kid-friendly, so it is a great way for families to spend their night. It was dark so I don't have any pictures to share. Warning, there is a lot of audience participation. Oh, did I mention the incredible pina colada cheesecake?
Father's Day Brunch Extravaganza
On father's day, isabella and I headed down to the Father's Day Brunch Extravaganza. Kaanapali Beach Hotel is known for their famous Sunday Brunches. The hotel has brunch every Sunday, but their brunch on holidays such as Mother's day and Father's day, is impeccable. As we entered the two giant outdoor tents it was like walking into a food festival for serious eaters and fortunately calorie counting is forbidden. My daughter and I piled our plates with all the irresistible food options. I suppose that they chose these exotic brunch selections just because they must know how much we fathers enjoy them; like Chicken Wings, Apple Pie, Orange Chicken, Mac'N'Cheese, and of course mountains of "help yourself" Bacon. We definitely did not leave hungry that day. Some may say, "hey wait a minute, where's the pictures of the food?" Well to be honest, I had my hands full. Full of food, extra plates, side dishes, cake, pie, um… Bacon!
The brunch entertainment included Halau Hula Malani O Kapehe and Alana Akaka and the Islanders. My daughter, of course, had a friend that performed in the Halau. By the time brunch was over it was an acceptable hour to enjoy yet another tropical beverage from the Tiki Bar which was not far from the music and more pool time for Isabella.
A Fond Farewell
My experience at the Kā'anapali Beach Hotel with Isabella was about memories. The sweet sound of the gentle waves early in the morning and the taste of fresh hot coffee. Clear blue skies and water; birds and Hawaiian music providing a backdrop to a wonderful relaxing time away from the daily grind. Laughter and two solid days of 15-year-old smiles, good food and new friends.
To seal the moment forever we attended what is coined the "farewell ceremony". Malihini Keahi-Heath carefully orchestrated this meaningful ceremony complete with Aloha and perpetuating respect, love for each other, family and Hawaii. We each received a Kukui Lei at the ceremony.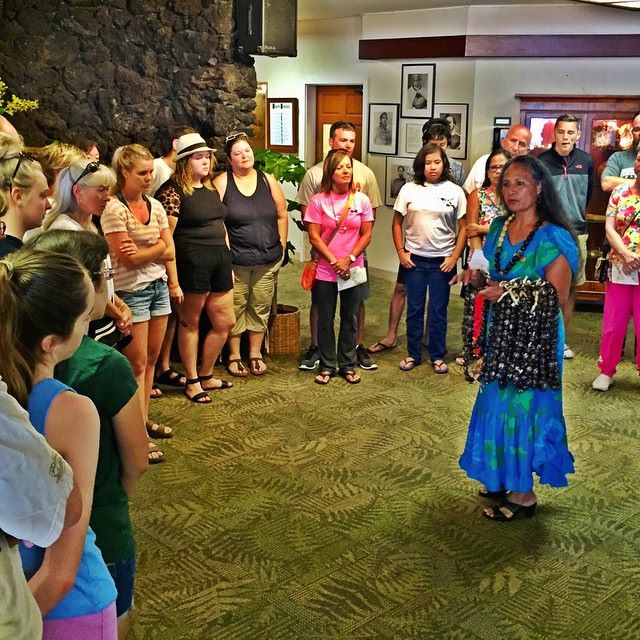 Apparently each year you return to the hotel and they will replace one of the dark brown Kukui Nuts with a cream-colored one in remembrance of each year you stay at Kā'anapali Beach Hotel. We are certainly looking forward to adding several more cream-colored Kukui nuts to our leis in the years to come.
As we departed the hotel I couldn't help but share some parting wisdom from the official dad's bag of wisdom with Isabella; "This weekend I learned about this interesting Hawaiian game called "Kōnane" that you should try someday".
Note: this article was co-written by Isabella Blair.