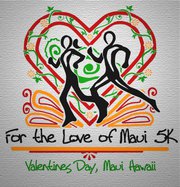 Today I registered for the  run the "For The Love of Maui 5k".  And today, Alice and I ran the route to practice. The hills were hard to climb but we made it 🙂 If you register by Sunday afternoon there will be a discount so I thought I'd share the juicy details here:
For the Love of Maui is a new VIRR event for 2012. Race starts at 5pm in the afternoon on Valentines day at Polo Beach Wailea.
The course is scenic:  Begin at Polo Beach (just south of the Kea Lani.) Run south on Old Makena Road. Turn left onto Wailea Alanui. Head back down to Polo Beach and repeat. 2 loops. This will be another fun run as costumes are encouaraged and you might see some whales as you run,
Registration is $30.00 for those who will pre- register today (Sunday) then it goes up to $40 for those who will register on the day of the event,  This is a benefit for The Kihei Youth Center and Hospice Maui.  Packet pick-up is at Monkeypod Kitchen in Wailea Center Feb. 13, 2012 from 4 – 6:30 PM. For questions: Cathy 280-4643
I will share about this race and my running adventure with Alice.   And you bet I'd be Instagramming this run!