Happy Aloha Friday!  Today we have a guest blogger, Laura, who will share her massage expertise with us. You will find my question for his week's  Aloha Friday at the end of this post .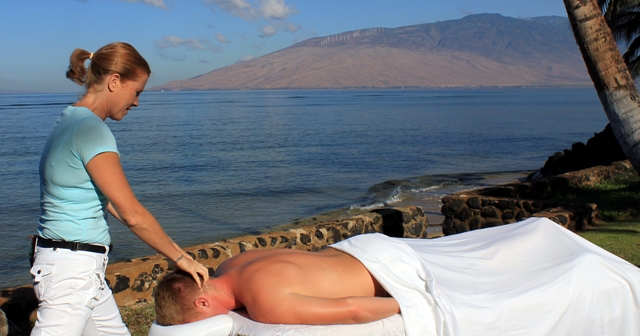 I can think of no better setting for a Massage especially when you choose to go mobile. For the past 15 years I have been working as a professional massage therapist in some remarkable settings such as Kauai, San Diego, Kentucky and Alaska but so far Maui beats them all.
Maui offers many choices when it comes to getting a Massage.  If you love the luxurious setting of a resort spa take your pick from the cream of the crop.  The Grand Wailea, Hyatt, Four Seasons, Ritz Carlton, Wailea Marriott, Westin Maui, Makena Beach and Golf Resort, Honua Spa as well as the Honua Kai Resort and Spa are some of the options for top rated Spa facilities.  If the Hotel Spa experience is not your choice then choose from the many boutique day spas such as Maui Day Spa, Maui Zen Day Spa, Aroma Stone Wailea and others scattered around the island. 
My personal favorite is (which is what I offer on Maui) is OutCall service Massage.  Out Call Massage, Mobile Massage, In-Room Massage, no matter what you call it the definition is the same, ultimate relaxation, restoration and rejuvenation.  If you have never experienced In-Room massage I encourage everyone to do so at least once in their lives and Maui is the perfect place to do so.
Getting a Massage on Maui is one of the easiest things to do.  Why?  Because there are many awesome therapists living and working on this island so you have a great selection to choose from.  Most of us have web-sites so you can learn a little more about us, why we do what we do, what modalities we offer, how long we have been in practice and what locations we travel to or work in.
 If you've received more than 10 professional Massage Therapy sessions then you more than likely know what you like, what you're looking for and the search process becomes relatively easy.  You know it's important to find a Massage Therapist who is well trained, serious about the profession and will work with you to provide the best possible session.
 If you are new to the Massage game then here are five pointers to getting the best massage session on Maui:
Find a Massage Therapist who is passionate about the work.  If they don't fully love giving Massages you will definitely feel this in the session.
Speak up during your session.   You are in charge of the session, if it's too deep tell the therapist to lighten up and if you want deeper just say so. 
Ask about different modalities such as Reflexology, CranioSacral, LomiLomi, Deep Tissue, Aromatherapy – try something new.
Communicate with your Massage Therapist but don't feel like you have to talk the entire time, if you want to take a nap, meditate or fade away for awhile that is perfectly fine.
Schedule ahead of time.  Last minute bookings are usually welcome by most therapists but guaranteed you will ALWAYS have a much better session if the Massage therapist has time to plan ahead for you scheduled appointment.
 In the seven months I have been providing Mobile Massage on Maui I have seen many of the Hotel rooms, Condo Rental and Homes and can honestly say I have not yet been in a bad location to give a massage session.  The best place is always outside on the lanai especially if you are near the ocean and can hear the waves and feel the trade winds caress your skin as you receive your massage session.
Laura Cavanaugh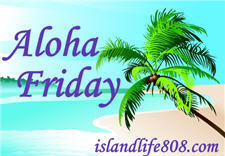 Here is my Aloha Friday question: 
Do you like massages? If so what kind of massage gives you the most pleasure?
Mine is lomi-lomi although I have not tried the stone one (called pohaku).  Next week I will.   For more "Aloha Friday" posts, please visit Kailani at
An Island Life Blog