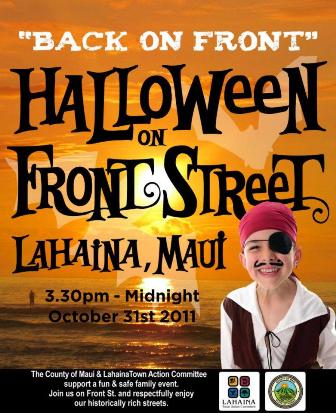 I had been wanting to write a post on Halloween on Maui since last week but I had been very busy all week I did not get a chance to write it.   Today it struck me that Halloween is on Monday (as in this coming Monday)  so I better get on my okole today  and upload a post or else it will be too late.
With the return of  Halloween celebration in Front Street Lahaina,  Maui's Halloween celebration has gotten a boost and as a result there are so many fun events to choose from. 
Paia – The New Mastersounds, Freeradicals Projekt, and DJ Boomshot at Charley's Restaurant & Saloon. Starts 9 p.m. Sell-Out Expected – Buy Tickets In Advance; Howl 1031 at Moana Bakery & Cafe. Starts 9 p.m. $20 cover. Costume and all-night DJ dance party. Cash prizes will be offered to the best dressed.
Paia Trick or  Treat starts at 5:00 pm and ends at 7:00pm.  All of Paia's businesses are offering candy and treats for trick or treating. Costume Contest is  at 5 pm.  There will be a Keiki Costume Contest at Flatbread.  Win Prizes!
 Kihei – Sexy & Scary at Ambrosia. Starts 10 p.m. DJ CIA, $4 "brain hemorrhage shots" and "spooky juice drinks" in house; Halloween Night With DJ Slackin' at the Tiki Lounge. Starts 10 p.m. will drink specials all night; Halloween With MOTHxp at Three's Bar & Grill. Starts 8 p.m. for all ages and at 10 p.m. for 21 & over.
Piilani Village Shopping Center in Kihei is also having a Maui's Family Friendly Halloween on Monday,  October 31 from 6p-8p. Live Music by DÄjê vu DJ by Next Level Entertainment, Magic w/ Timothy Wenk, Brenton Keith and his Bag of Tricks, Trunk O Treat, Maui Classic Cruisers, Candy Treats, County of Maui & HandsOn Maui Face Painting,  Kihei Youth Center, games with prizes. with Yuki Lei Sugimura and Maui's MorningShow.
Lahaina – As we all know, Lahaina is where the big "party" is going to be.  Below are copies of the posters that will tell you about the event's activities, the Maui Bus route and Halloween schedule  and more.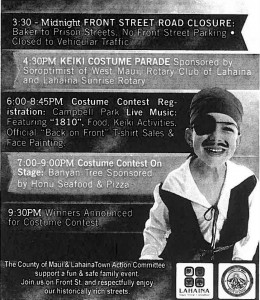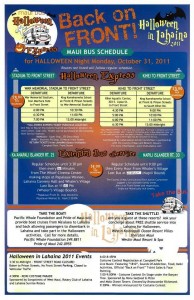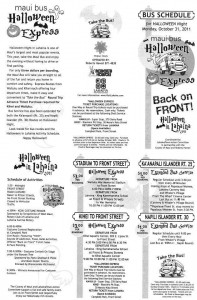 Click on these images to enlarge it so you can read better.
So who's going to Lahaina on Halloween?  I invite you to post some of your pics on our A Maui Blog Facebook Page. But remember, this blog is rated PG 😉  And in case you are interested to find out where I will be, we will be staying here in Kihei 🙂  Happy trick-o-treating!
IMPORTANT REMINDER FROM OUR READER: *   In light of the sensitivities of the Host Culture (Hawaiian), please be respectful of the people and respect the places you  go. Insensitivity and offensiveness will cause harm and is unnecessary. Malama Pono. (*I received this comment via contact email right after I uploaded this post.  I thought it will bw good to add it here. Malama Pono.)