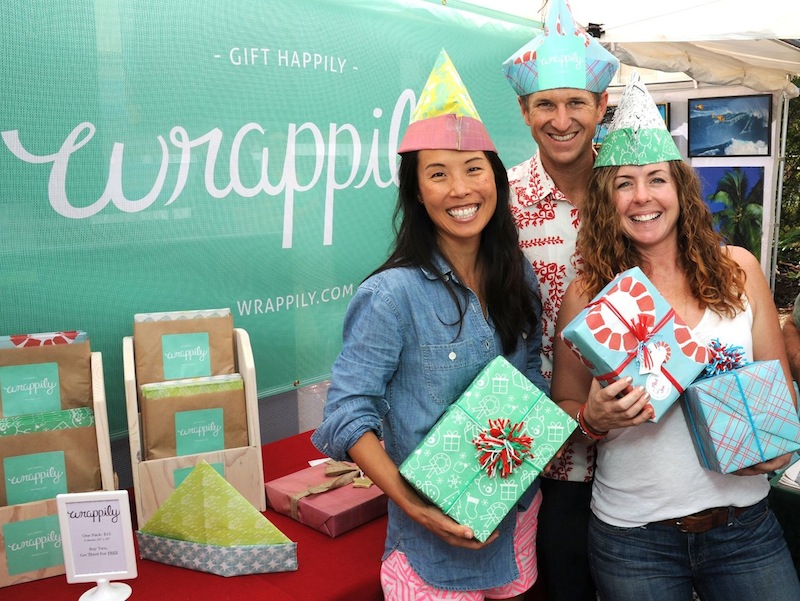 Just a quick blog post to let you all know about the Wrappily Pop-up events happening on Maui. My friend Sarah Smith is the founder of this green project called Wrappily. It really is a cool idea! You can read more about it on their Indiegogo Campaign page.  For now, let's talk about the events:
The following events are being offered to their campaign backers as a way of saying thanks. Tickets  are limited. It's only 25 each  so we are hoping it will go quick. When you buy the ticket, you become a campaign backer.   I am posting about it here to help spread the word. Please share this post if you can.
Chinese New Year – Saturday, January 25, 9-11 a.m. (Maui)
Make sure you and your little one get the Year of the Horse off to an auspicious start. Wrappily is popping up at Maui Thing in Wailuku for some craft-happy morning fun. Join us for kid-friendly Chinese New Years crafts and a light lunch of traditional good luck foods. Leave with your festive decorations — Kung Hee Fat Choy! $25 ticket includes one adult and one child (2-12 years-old). Children must be accompanied by an adult.
Ladies Love Valentines: Saturday, Feb 8, 5-7 pm (Maui)
Feel the love this Valentine's Day. Join Wrappily at Pearl Butik in Paia. Fueled by sparkling wine and dark chocolate we'll prepare for the holiday with a series of craft stations. Make and take origami boxes filled with sweets, heart cards, and little love notes will have you all ready to spread the love on Valentine's Day. This is a sweet opportunity for some ladies time! Event is for 21 and older, please.
Our Kind of Garden Party:  Sunday, March 16, 11-1 p.m. (Maui)
Spring into spring by starting your garden! Meet Wrappily and the local food experts of edible Hawaiian Islands magazine at Maui Tropical Plantation for a hands-on afternoon. After a light garden lunch, we'll talk dirty for a bit, then dig into our work. Soil, heirloom seeds, and garden expert provided. Learn about soil improvements, pest control, and general garden how-tos. Take home a flat of starts in ready-to-plant colorful and 100% compostable Wrappily paper.
Are you not on Maui right now but would like to support this project?  There are other ways to support and other campaign rewards to choose from. go to Wrappily Indiegogo for details. Mahalo and a hui hou!
Gift Wrap Reimagined: Support Wrappily on Indiegogo from Nokaoi Lifestyle on Vimeo.