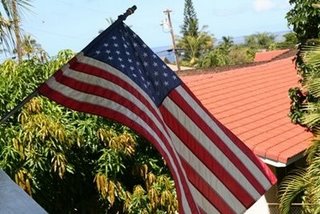 It's the Fourth of July!  Happy Independence Day America! What are your plans for today?  For many here on Maui, going to the beach is on top of the list.  I can hear the waves rolling right now as I type this post.  As for my family and I,  we will have a busy day today.  The Hapa Kids and I are going to Makawao to watch the Paniolo Parade.  Hubby will be at Kanaha Beach for the Maui Race Series.  It's the windsurfing race that he's been volunteering every summer  (25 years this year).  In the afternoon, we are going to our neighbor and friend's house for a potluck and fireworks extravaganza.  That would be fun!
Aside from the Makawao 4th of July celebration (which is a big thing on Maui), there are a lot of happenings on Maui today to celebrate the Independence Day. Â To mention a few:
There will be a fireworks display on Lahaina Town tonight. Maui Chamber of Commerce is hosting it. For more info, click here.
Instead of fireworks, there will be an orchids drop of at the Westin Kanaapali today. Click here for details.
Grand Wailea always has a fireworks display at night of the 4th of July.
Four Seasons Maui recommends BBQ Lunch at DUO at Four Seasons Maui & then a Sunset Sail for a firework display.