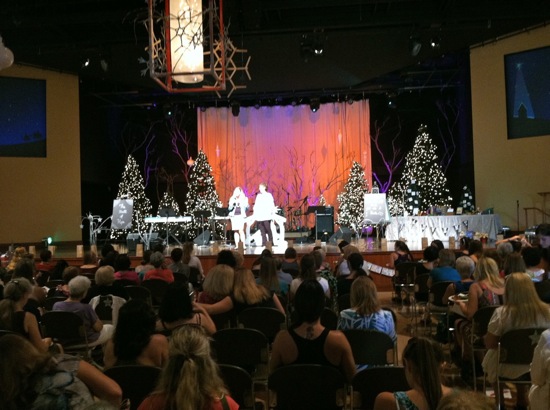 How are you doing on this Holiday Season?  I love holidays, especially Christmas.  However, with the excitement and anticipation often comes holiday stress and holiday problems. For me, the "problem" is always the "lack of time". Being a mom working full time outside of home, I have the tendencies to get overwhelmed.   I need to always remind myself to focus … to focus on what the season is about.  At times when I am feeling anxious about the lack of time, I need to stop and remind myself that I can't do everything.  I need to remind myself that  the shopping, decorating, baking, cooking and the party planning are all part of the celebration that I need to enjoy and not be stressed about.  When I feel the anxiety, then I must stop, take some quite moments and reflect on what the holidays are for. That's exactly what I did yesterday.  Yesterday I attended an event called "O Holy Night", a gathering of women at Hope Chapel.  That's where the photo above was taken.  It was a wonderful time of just de-stressing, and preparing our hearts for Christmas. There we talked about focusing on Jesus, the Reason for the Season. That's exactly what I want to do.
About a week ago I was going to blog about  a chance to win a "get-away" to Travaasa in Austin.  I got busy with the Thanksgiving holiday stuff – cleaning the house, food prep, #HolidayProblem, etc. etc. –  that I didn't get a chance to write about it.  I thought that after Thanksgiving I can start writing since we have a long weekend.  But even with the long weekend I find myself feeling "hectic" not having enough time to do all the things that I want to do before Christmas Day!
Are you like me who has the tendencies to get overwhelmed especially during holiday season?   Then let me share with you this web page that Travaasa Experiential Resorts made for us.  It is a website page with a purpose to give practical solutions to some of our holiday problems. Check it out here: Holiday Problems and  Holiday Solutions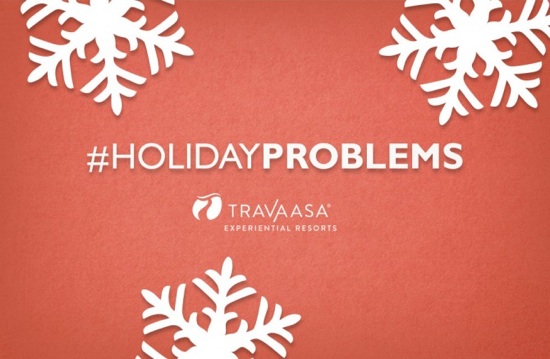 On the title of this post I mentioned about a "Holiday Get Away".  Yes, you have a  chance to win a "Three Night Stay For Two at Travaasa Austin"! I know what some of you are thinking "that's nice but I live on Maui and can't afford the travel expense". Guess what? it also comes with an American Express Gift Card of $300 to help with your travel expenses. Details of the Travaasa Get Away is here: Let Travaasa Cure Your Holiday Problems
As for disclosure, by sharing this wonderful news of a chance to win a get away to Travaasa Austin, I too will have a chance to have a personal get away here on Travaasa Hana! Oh I love that place and  I love get-aways! I use it as a time to reflect. Get-away (or retreats as I call it) helps me re-focus.  After Christmas, New Year comes, and so it is the best time to reflect and re-focus and get ready for what the new year will bring.
I do hope you sign up for that chance for a get away at Travaasa.  I will be so thrilled if the winner of that will be one of you! If you win, please let me know. That will be so awesome!