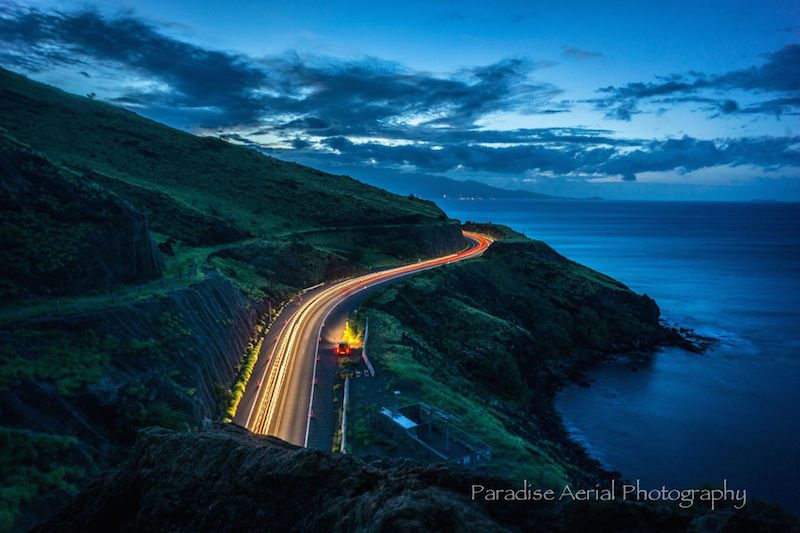 Photo Credit: Paradise Aerial Photography
The other day I received an email from one of the A Maui Blog ohana.  He shared with me about the "almost" accident that happened with his wife in Pali.  A part of me thought he just wanted to vent, and yes I am good at listening so I didn't mind him venting.  Another part of me knew he wanted me to take action .. or shall I say I knew I needed to take an action ('cause I can't really say I know he wanted me to take action). And so I am writing this post to encourage visitors (and locals too) to be careful and to really put safety on a high priority …
Let me share with you a portion of the email …
Subject:
Almost another accident at the whale look out on the Pali
Message:
A tourist looking one way only, almost caused another accident. My wife commutes from the west side Kahana to Kahului five days a week and this morning a tourist pulls out of the lookout looking one way only and my wife had to swerve to avoid getting hit and so did the car behind her….
The road is crazy at this time of the year when many tourists visit the island. Drive safely. Look, be patient. And mostly importantly, don't drink and drive, don't text and drive and don't do sightseeing while driving.
After I shared this post on My Own Maui, Ed Mc commented. I asked his permission to include the comment here because I think it's a very helpful reminder. He said:
"Slow down, drive safe and pull to the side if there are many vehicles behind you. I was almost taken out when a driver passed another vehicle on a curve just after a one lane road near a bridge. If I wasn't driving slow and watching the road ahead I would not have been able to slam on the breaks and pull to the side of the road to avoid a head on collision. Tourists not watching where they are going and locals who think they know the road like the back of their hand are a deadly combination as well as each in their own way."
IN ADDITION to Road Safety, Water Safety is another thing to be aware of …
There are three (3) well written blog posts about safety on Hawaii that I know/read. Instead of re-writing what's already been said, I thought I will just put a link here to those posts. Good read. It might save your life on your Maui, Hawaii vacation:
Staying Safe on Your Hawaii Vacation
Today is the first day of 2016.  Yes, I am writing this on New Year's Day.  Here's to a safe, joyful and prosperous New Year to all!
UPDATE 1/24/16
An important video to watch on Safety in Hawaii Water (Ocean, Beach, etc.)
And here's another produced by the Maui Visitors Bureau and County of Maui: