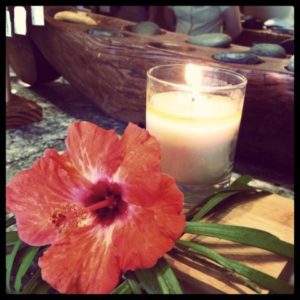 I was recently given a gift of Hawaiian Lomi Lomi massage at the Four Seasons in Wailea and it was so heavenly. While I was laying there in bliss, I was thinking "This is it! This is a perfect gift to moms, wives, girlfriends, best friends!"  Seriously, this is not some sort of a marketing blurb.  Not from me.  It's just that it was a very pleasant experience that I wanted to share it with others as well….
You see, I love getting a massage. My husband can confirm the fact that massages makes me a happy lady.  Being a working mom and a blogger, I spend a lot of time in front of a computer typing away.  My shoulder muscles are often tight, and my back sore.  A good massage not only releases the tension on my shoulders, it improves my mood as well.  Just like what my friend Sarah wrote on her post, a massage to me is not a luxury, it's an essential part of a de-stressing routine.  My husband is a trained massage therapist.  He gives me a massage often.  I know … lucky me!  But every now  and then, it's good to have a special kind of massage, and that's what I got at Four Seasons Maui during the FS SParty. And oh, I was so thankful!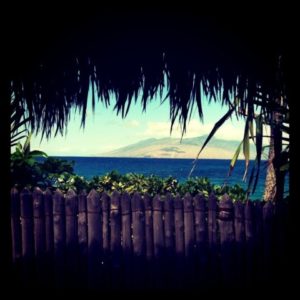 Some of you had already read my numerous tweets about my FSSpa experience.  But some of you haven't, so let me share it here on the blog. I had a massage right next to the ocean in an open air hut called Hale Hau.  It really is the best place to have a massage.  The sound of the ocean was so relaxing, the tweeting of the birds while I was being massaged was so soothing.  It was a nurturing atmosphere in and out of the hale – a perfect setting!
When I was asked what kind of massage I want, my answer was quick.  I wanted to try the hot stone massage! Later I found out that it's called Pokahu Massage (as pohaku is the Hawaiian word for rocks). I had always wanted to experience this massage but never got a chance to do it, till that FSSpa Day.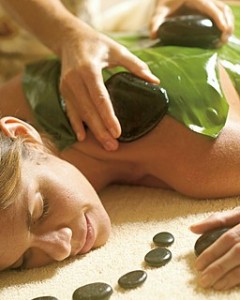 Not only did I get the Lomi Pohaku Massage, but also chose to enrich the experience by having the coconut butter oil be used to massage me.  Oh, the scent of this coconut butter oil is so calming to me.  It has a sweet coconut aroma that I love.  The richness of this oil is soo soothing to my skin. I felt that every skin in my body was renewed and rejuvinated by the warm coconut butter oil.  If  you don't mind being massage with rich coconut smelling oil, choose the Cocoa Pohaku massage, but if you prefer just light oil with a deep tissue massage, choose the Lomi Pohaku massage.
Back to my pohaku experience, this hot stone therapy is the bomb! This traditional Hawaiian massage is one of the best massages out there.  The heat of the hot stones penetrated my tightened muscles and  could feel each fiber loosening and slowly relaxing through the heat.  As I am typing this post I can "hear" my shoulder muscles whispering "can we have that pohaku massage again?"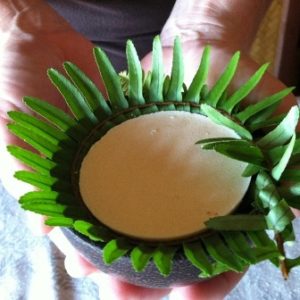 I wish I had a photo of me with the hot stones on my back.  But there's no one there to take the photo of me and Kavenam (the massage therapist) so I am using the photo from Four Season's website here.  Yeah, just imagine me being that lady in the photo. I think I kinda look like her – 😉  But surely I was feeling the same way she was feeling.  Ahhh, so relaxing … Kevenam's gentle but firm lomi massages on my muscles are so therapeutic and soothing.
The surprise for me was the finale.  As I was laying there in bliss and Kavenam massaging my feet, I felt these very nice warn sensation in between my toes! It felt sooo good.  I couldn't resist asking if I can take a photo of that because I wanted to share it here on the blog.  Kavenam was very nice to submit to my bloggers' whim and we did a little re-enactment for after my massage to take a photo of my happy feet with the tiny warm pohaku in between 🙂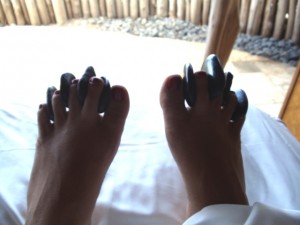 When Kavenum whispered to me that my massage is done, I didn't want to leave.  Can I just stay in this hale hau for the rest of the day? I thought.  But of course, I can't. There's another person coming for a massage….
This post is really about the massage, but I want to mention a bit about Four Seasons.  As we all have heard, Four Season's customer service is excellent.  It's what makes this resort one of the best in the world.  I experienced that first hand in this FS Sparty.  Their attention to details is highly commendable.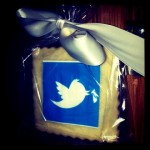 I love the Twitter cookies they baked especially for us, the tweeps.  As many of you know, I love to tweet, and seeing this little Twitter cookie in my locker with a personal welcome note to me, spoke to me saying "we're here to make sure your experience with us is a pleasurable and memorable as possible". And it was.
Thank you Four Seasons for a wonderful spa experience. I am sure I will be back. 
(Even if I have to buy a certificate and give it to myself  🙂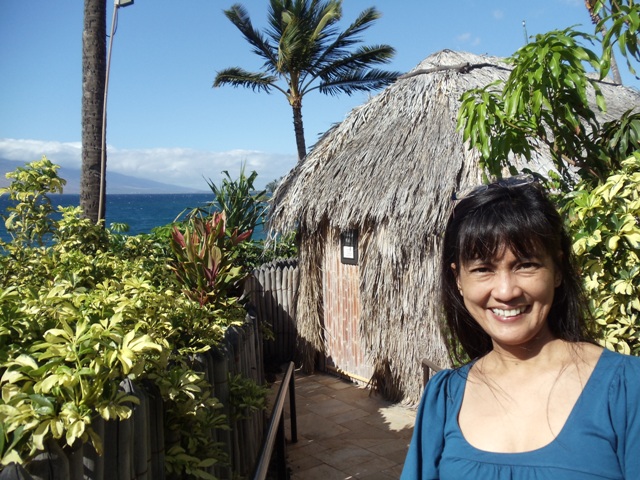 This is me after the massage and lunch. Thank you @RoxanneDarling for taking this photo of me in front of the Ocean Hale at Four Seasons Maui. Feel free t ask me any questions about the massage or Four Seasons Spa and I'd be happy to answer them. 
 ****
P.S. – I just read on Four Seasons Wailea Maui Facebook Page that The FSMaui Spa is offering 2 treatments for $200 now through December 15th. You can choose from these 50-minute treatments: Lomi Mohala Massage, Restorative Facial, Energizing Renewal Massage, Chai Soy Wrap, Volcanic Body Envelopment, and Cocoon Floating Bodywork! Call The Spa at 808.874.2925 for reservations and more information.