One of the most frequently asked questions by A Maui Blog readers who are planning a vacation on Maui (especially the repeat visitors) is "What are some of the 'non-touristy' things we can do on Maui?" This is probably the reason why that blue Maui Guidebook that revealed some of the "undiscovered" and "off the beaten path" places on Maui is so popular among tourists. The problem with that popular book is that it lead people to private properties and places visitors should really not be going to out of respect for the Aina. You see, "respect" is very important in Hawaiian Culture. Whether we live here or are just visiting, respecting the land and the culture of the people in the land is very important. Apparently, the new edition of that blue guidebook is better, but the many previous editions are still circulating out there and that is not good.
Moving forward, last month I received an invitation to visit the Kings Gardens on Maui. I felt honored and excited when I received the invitation. After a few email conversations with the Aunty who invited me, we set the date of the visit.
I invited my friend Lehua to join me in touring The Kings Gardens.  Lehua is a local gal from Hawaii Islands and I was sure she would appreciate this tour.  I told her we can write the blog post together.  This intro is my part of the post and Lehua will talk story our visit.  Towards the end, I will share with you information on how you too can visit The Kings Gardens. In the meantime, here's Lehua's story: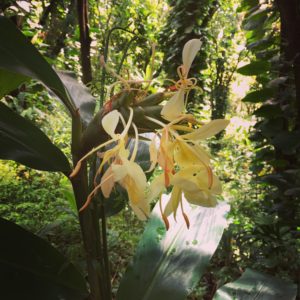 Enjoy a Lively Stroll On The Ancient Royal Foot Paths Of The King In the Gardens! 
Ok, so maybe a stroll isn't quite the correct word.  A better title might be "A Fun Adventurous Mini Hike Through the King's Garden." Whew! Imagine Jurassic Park, Indiana Jones, Merrie Monarch, and Rap's Hawaii'i all rolled into one.  That's what this tour reminded me of—minus  any of the danger and the chickens running around.  Upon arrival, we were met by our charming and spunky, local guide and owner.  She regaled us with stories from her funny "hanabata" days, ( Childhood pastimes in Hawaii) and educated us with her Mana'o ( wisdom) about the plants, history, and culture of Hawai'i, really inspiring us with her vision for further education, restoration, and preservation of the  King's Garden 's.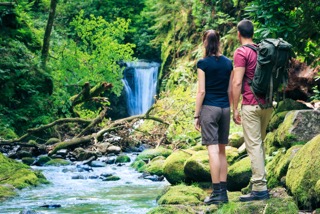 As we entered the garden, we soon found ourselves surrounded by beautiful foliage, with giant prehistoric ferns and mango trees towering over 100 feet above us.  It was like being in another world, in a land before time!  On our walk, we discovered a enchanting private waterfall and pool, with historical lo'i that the ancient walls were still intact, a koi pond, and a cave said to have been guarded by the " giant lizard god, Mo`o.! You couldn't help but imagine the stories the trees could tell as this place was mesmerizing.
In addition to things of the past, we also talked about their educational garden programs, as well as volunteer opportunities for visitors and kama`aina to take part in.  Our tour concluded with a cool refreshment indoors on what will likely one day be the gift shop/educational building.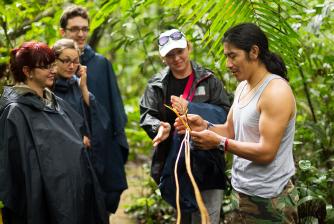 Being a fun and exciting introductory tour, and near completion of its first phase of restoration.  It is a magical location that is destined to be one of the most remarkable  and sought after destinations on Maui. The stories and history were truly fascinating and it was wonderful to witness the great love, appreciation, and desire to not only preserve but also share such a rare rich historical treasure as that of our knowledgeable and most entertaining guide had shared with us.  It is a one of a kind in the world historical treasure. Even in the restoration phase you cannot help but be in awe, to feel just how incredibly special this Royal Estate is.  I foresee this "Secret Gardens" as becoming one of the most unique and memorable experience in Maui! That said, I look forward to what is to come and to one day soon be taking another stroll through the king's garden in all its captivating glory.
P.S. Wear clothes for a rainforest hiking waterfall adventure! closed shoes or teva's, light long pants, and a light long sleeve shirt. Lightweight clothing preferable since it can be warm depending on time of year.  Poncho or rain jacket recommended in the event of rain, thou they will have them for you as well, and apply mosquito repellent prior to arrival thou your guide will have some on hand as well with a refreshing little bottle of water and some nice light snacks. Remember bring a swimsuit, towel, and slippers so you can take a dip in the real Sacred Waterfall & Pool!
It truly was a wonderful visit, and I would like to highly encourage everyone to go while on Maui! Visit The King's Garden's website at www.TheKingsGardensMaui.Com   (Take note, the Chocolate Tour is not available at this time as they are still restoring the cacao trees that were destroyed by a storm. However, the waterfall hike is definitely worth a visit).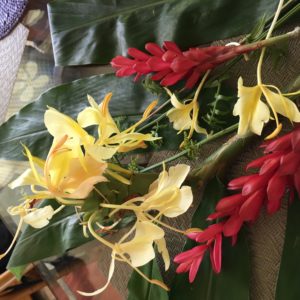 On the website you will notice that the tour does not have a fee.  It's called a contribution as all the funds goes to the charity that oversees the restoration, preservation and educational Gardens projects. Therefore, this is not a commercial venture, but one where you get to have fun, learn, enjoy and do good all at the same time! Also,  as The Kings' Garden Educational Cultural Tours will always be in the process of restoration, maintenance and preservation, what a great chance for the visitors to be a part of such a wonderful restoration process, as through your contributions, you get to help create a legacy!
By now you are probably already asking "Where is this special place located on Maui"?  It's undisclosed – a secret hidden wonderful wonderland. An amazing place where only a few chosen get the chance to visit as the tours are limited to only 12 people per day, at least at the moment to ensure that the location's sensitive Royal archeological artifact are not in endangerment of being eroded. This private estates location  will only be disclosed after you contact them via the email on their website.  All in order to keep this sensitive archeological treasure in safe hands and keeping.  It is a magnificent location and an amazing work on progress all at the same time; certainly one of the most beautiful rainforest, jungle gardens on Maui. Again, here's the website to go to: www.TheKingsGardensMaui.Com 
Feel free to share this post with all your family and friends who would like to experience a enchanting exciting and fun hike in The King's Garden on Maui
(during the tour, you will find out who the Hawaiian King was who own the Historical Royal Gardens at this spectacular location).
Until next post … aloha and a hui hou!