#ItsOurTurn! It is Maui's turn to have Jollibee! Maui's Jollibee will open on January 24, Friday at 9am. I am very excited!
Hawaii's first Jollibee opened in 2010, but it's on Honolulu. It's an island away from Maui! We have to ride a plane to get there (sad face). Now, after almost 10 years of waiting, it is here on Maui! (happy face)!
Jollibee is beloved by many Filipinos but non-Filipinos enjoy Jollibee too, as shown in their success in the US and also around the world!
My favorite at Jollibee is Palabok. However, their most popular dish that loved by everyone is Chickenjoy. It is my Dad's favorite :). I also enjoy eating their Filipino Spaghetti. It brings back warm childhood and family memories. And I can't wait to try that Peach Mango Pie!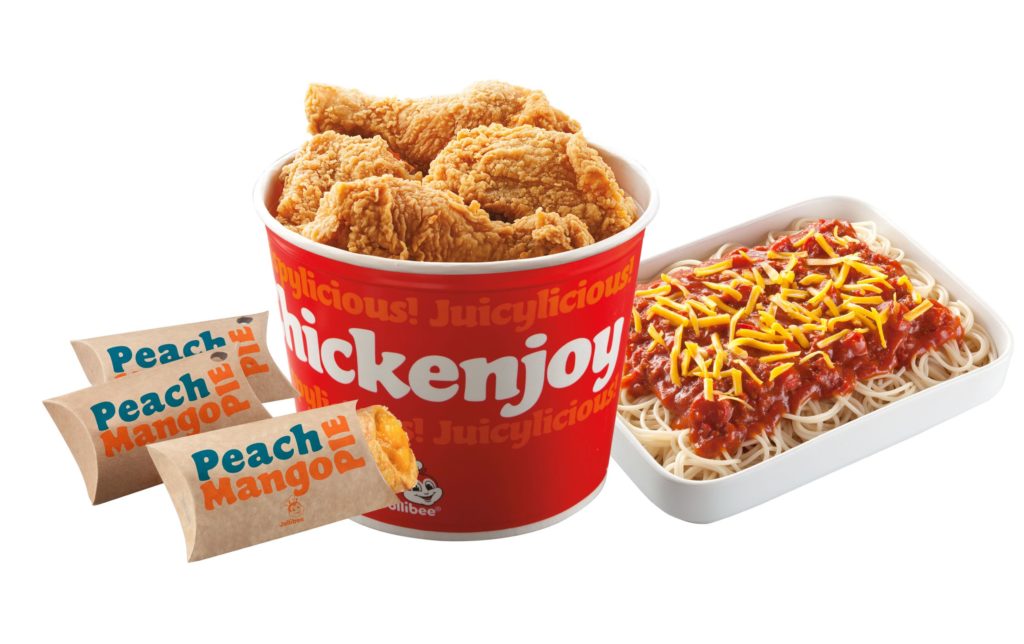 I have seen in some YouTube videos that "Adobo Rice" and "Halo-Halo" are included in their menu in some of the US stores. I wonder if we'll have those on Maui too – I am sure they'd be a big hit!
#JollibeeMaui Grand Opening – Come join the fun!
The Maui grand opening will be fun! I am anticipating a long line, with some camping the day and night before to secure their space to be among the firsts on the Opening day. Here's why: On the Opening Day…
– The first 50 customers in line to spend $25 or more will get FREE Chickenjoy for a year!*
– The first 50 with the best #ItsOurTurn signs will get a Jollibee in Barong Tagalog Funko Pop!
– The first 300 on day 1 (plus the first 100 on days 2 and 3) will get a free Jollibee collectible with a minimum $25 purchase!
*One 6-piece bucket of Chickenjoy per month

Advance Entrance Opportunity – Follow JollibeeUS Facebook Page and #JollibeeMaui Event Page
There will also be a chance to win some seats for the advance entrance/tasting. More details about the advance entrance and tasting at Jollibee USA's Facebook page, so make sure to like and follow them.
While you are in Jollibee USA Facebook Page,  make sure to RSVP on the Event Page too. Tell Jollibee you are going. And I look forward to seeing you there!
This blog post will be an open-ended blog post for this week. I will keep on adding updating this as I get new information, photos and videos. I will also be posting on @amauiblog Instagram and A Maui Blog Facebook Page.
A Chance To Win a $50 Gift Card with @amauiblog
Watch out for my social media posts as I will be giving out Five (5) $50 gift certificates … I will announce shortly on how you can win!
Speaking of Social Media, please remember to use the hashtag #JollibeeMaui and #ItsOurTurn when you post. I would love to interact with you as we celebrate today the coming of Jollibee on Maui!
I will be back … a hui hou ….
Disclosure: I have currently partnered with Jollibee to assist them in promoting the grand opening of Jollibee Maui. However (and this is important) I would have written this blog post anyway even without us collaborating because I truly love Jollibee. Jollibee brings back many warm memories of my childhood and family. I just want to be clear, although my posts about Jollibee is considered "sponsored", all opinions (and excitement) are my own! I am just so stoked that Jollibee reached out to a local blogger like me. It shows their commitment to the local community. And that to me is a great sign of a good company. Working with the local community is the best!