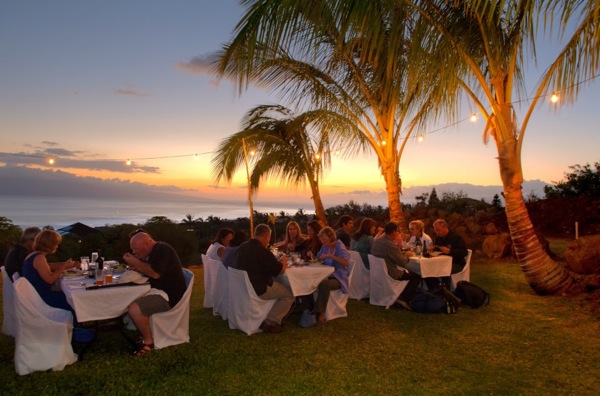 Photo taken at  Piliani Kope Farm by Jon Brown during May 19, 2012  Kupu Maui event
Kupu Maui just announced that reservations are now open for the September 2012 Kupu Maui Popup Dinner.  This month's inspiration is LAND, SEASALT and TALK STORY.  It will be held at Waihe'e Coastal Dunes and Wetland Refuge and this event is in support of Hawaiian Islands Land Trust.
I you are planning to go I suggest you make your reservations now because this events will sell out quickly.  All of Kupu Maui's previous events were sold out within few days they opened the reservation. You snooze, you loose, you will have to wait for another month. If you have not attended any of the previous Kupu Maui events, but have been hearing about it and you are on the fence wether to buy a ticket or not, I suggest you give it a try now. I guarantee you would be glad you did.
I had been to two Kupu Maui Events. One was the inaugural event held on the beautiful AKL Lavender Farm. I knew then that this venture is going to be  a huge success because of the passion and the attention to details that the founders have. The first event was excellent, and so were all the other events that followed.  The second time I attended was the August dinner  held at the The Bailey House Museum (@MauiMuseum on Twitter). It was an elegant, enjoyable dinner.  I can't recommend it enough. You have to try once, and I am sure that won't be the last time you will attend.
So what is Kupu Maui exactly?
KUPU in Hawaiian means Sprout, growth; offspring; upstart, as one rising suddenly and conspicuously to high position; to sprout, grow, germinate, increase; to occur. In simple explanation, Kupu Maui is a Pop Up Dining Event. Kupu Maui emerged out of friends' simple desire to feed people, connect with their community, and grow. Their shared goal is to gather friends—old and new—for delicious, sustainably sourced food in a dynamic natural setting.
Dania Katz is the host – A naturally gifted and generous networker, Dania has a knack for connecting people from diverse social stratas and making them feel welcome. Since moving to Maui in 1989, she's indulged her passions for fine art, traveling, gardening, and wholesome, delicious food..Now married with two children, Dania is fulfilling a lifelong desire to invite friends to a table set with love.
James Simpliciano is the Forager & Chef –  James graduated from Kapiolani's Culinary Institute of the Pacific in 1996. He's worked in the kitchens at Walt Disney World Resorts Florida, Lanai Manele Bay, Maui's Grand Wailea Resort and Spa, and is currently cooking at the Westin Maui Resort and Spa. Outside of mastering culinary and pastry arts, he enjoys getting his hands dirty farming and foraging for ripe ingredients. Like food revolutionist Jamie Oliver, James is committed to sharing simple, wholesome food. You can find him on the water in his spare time, surfing or paddle boarding.
 Chef Jenna Haugaard is also one of the founders but she has recently moved to California. She was a strong supporter of "local" and would never accept anything less we are sure she is pursuing her passion while in the mainland.
What is special about Kupu Maui?
Everything.  Each event is especially planned. Each event is unique. Each event has a theme or inspiration that guides the organizers to create an enjoyable and memorable occasion.   Let me share with you the themes for the past events. And for you to visually see it, I am embedding some videos that Erik Blair took of the events.
April 21. Lavender, Citrus and Breakfast. Held at AKL Lavender Farm in Kula
May 19. BBQ, Coffee and Sunset. Held at Piliani Kope Farm in Lahaina ( @pilianikopefarm )
June 16. Duck, Water and Taro. Held at Naho-ana Taro Farm
July (chefs were in the mainland so no event this month)
August 25 – Chocolate, Jazz and Laughter. Held at the The Bailey House Museum in Wailuku
Ready to attend the next event? Go to Kupu Maui website and make your reservations there.
Have you attended any of these previous events? We would love to hear of your experience.  Please share them on the comment section below. Mahalo!