Have you met Aunty Pineapple yet? You have now! 🙂 Aloha from the beautiful island of Maui! Yes, Aunty Pineapple is me. She is my alter ego. She is a bit more fun, a bit more daring, and she loves to cook! Speaking of cooking … have you met Rosa @growing_up_italian yet? I met her first online and this week I met her in person! If you have been following her already, you know that she is marvelous. In one of our online conversations I mentioned to her that I wanted to learn how to make Pineapple Creme Brûlée and guess what? She thought me how!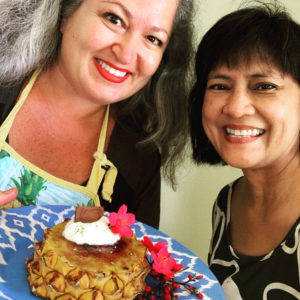 Not only did she teach me, but she also graciously allowed me to share what I learned with you through this blog. And so here it is … the blog post on how to make a Pineapple Creme Brûlée. Not just a regular pineapple, but a local kine … our famous Maui Gold Pineapple.  If you know Rosa, you know that she is passionate about using local ingredients and supporting local farmers and local businesses. Aside from Maui Gold, we also decided to use the Ku'ia Maui Chocolate for garnishing. Just a little note about Ku'ia Maui chocolate, they donate 100% of their profit to charity. Yes, 100%! And it's a great chocolate – one of the best in the world.  I will share about it on another blog, but for now, let's go back to our Pineapple Creme Brûlée. This recipe we are sharing below serves 4.
LOCAL KINE PINEAPPLE BRULEE
INGREDIENTS:
1 MAUI GOLD pineapple, ripe (if you are in the mainland, you can purchase fresh pineapple online at HawaiiPineappleStore.com )
1 heaping Cup of  half and half
3 large egg yolks
1/2 Cup granulated CANE sugar
1 heaping T cornstarch
Zest of a lime
1 t  Hawaiian vanilla (not imitation)
A pinch of salt
For Pineapple caramel:
1/2 C coconut sugar
A pinch of salt
1 t vanilla
To BRULEE:
1 blow torch
1/2 C granulated sugar
To garnish:
Whip Cream, Maui Chocolate, mint
DIRECTIONS:
Make sure you have all the ingredients ready and measured before you start.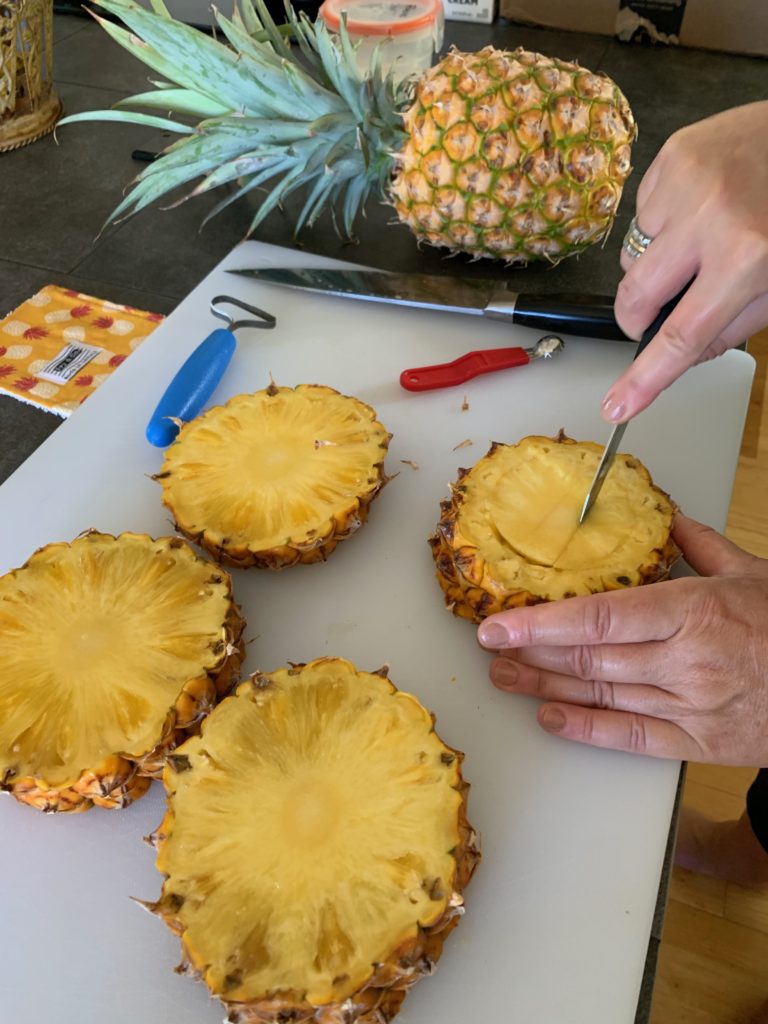 1~Remove ends of the pineapple
2~Slice the body of the pineapple into 4 even segments in the sense of the diameter
you will have 4 thick slices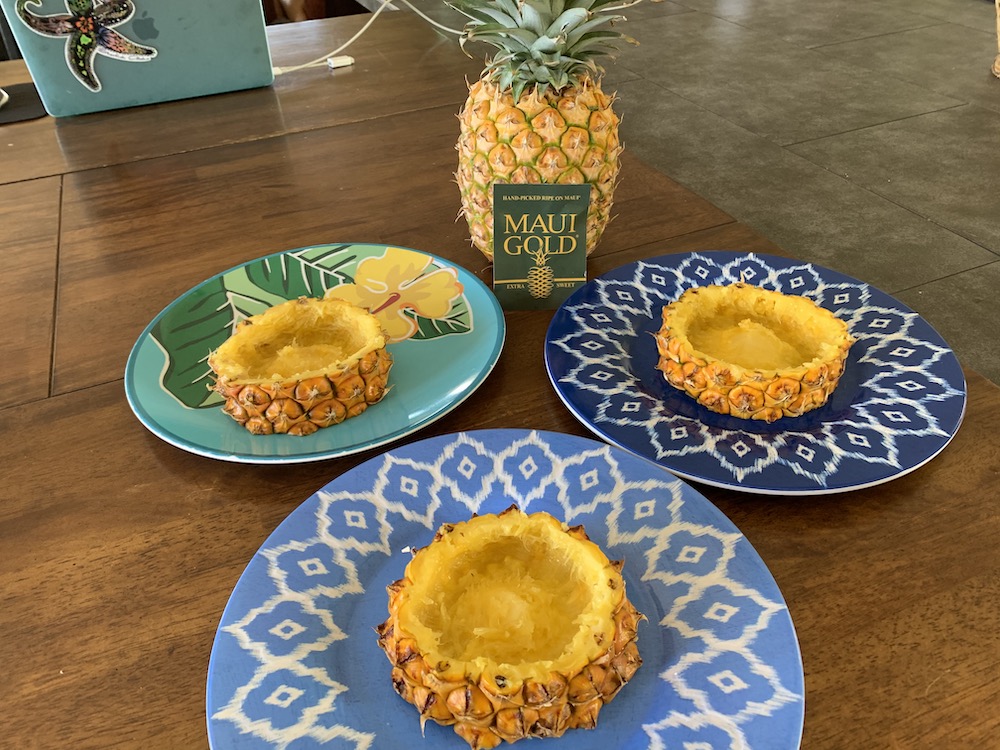 3~ Using a paring knife, or a melon baller or a grapefruit spoon, carve the slice, making sure not to punch any holes on the bottom. You should end up with 4 small "bowls" of pineapple. Set aside and freeze.
4~place all the pineapple you have removed in a small sauce pan with the brown sugar and, and salt. Stir and let caramelize, until all the juice has evaporated and the pineapple has a deep and rich caramel color. Transfer to a large plate to refrigerate, about 2 hours
5~make the cream: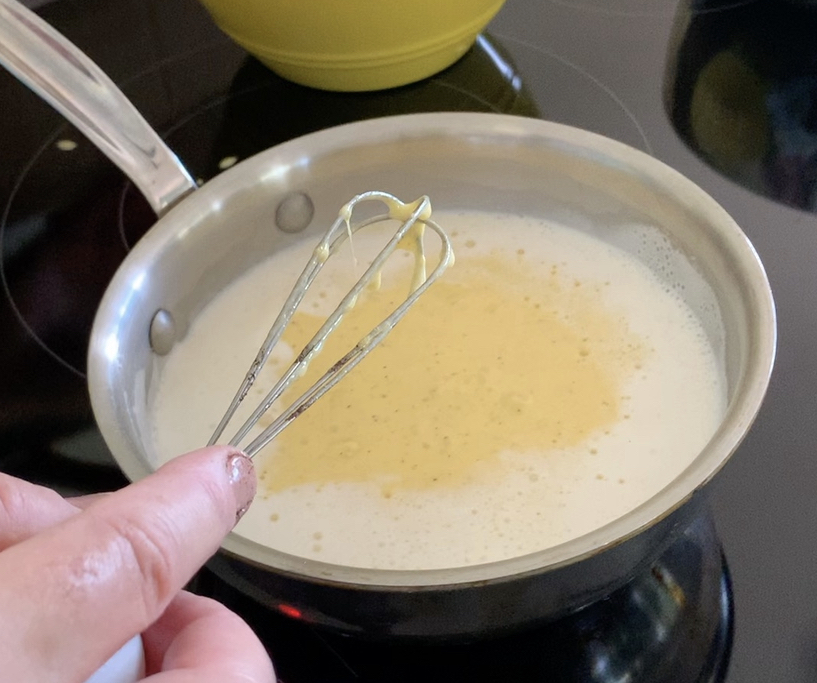 Bring the half and half and lime zest to a light boil, meanwhile mix the sugar, salt and cornstarch until self sifted. Add the egg yolks and beat with a whisk to incorporate some air until the milk starts to boil.
Dump all the egg mix into the mix and DO NOT stir. Wait for the boil to come back in full steam, THEN you can whisk vigorously until the sauce thickens. Let cook, stirring for about another minute.
Place into a container and let chill with clear plastic wrap on contact on the surface.
When cold will be noticeably thicker.
All these steps can be done ahead of time, the morning of service or the day before.
ASSEMBLY of the dish:
With a spoon spread the caramelized pineapple on the bottom of the pineapple boats/slices. Cover with the pastry cream and smooth the surface.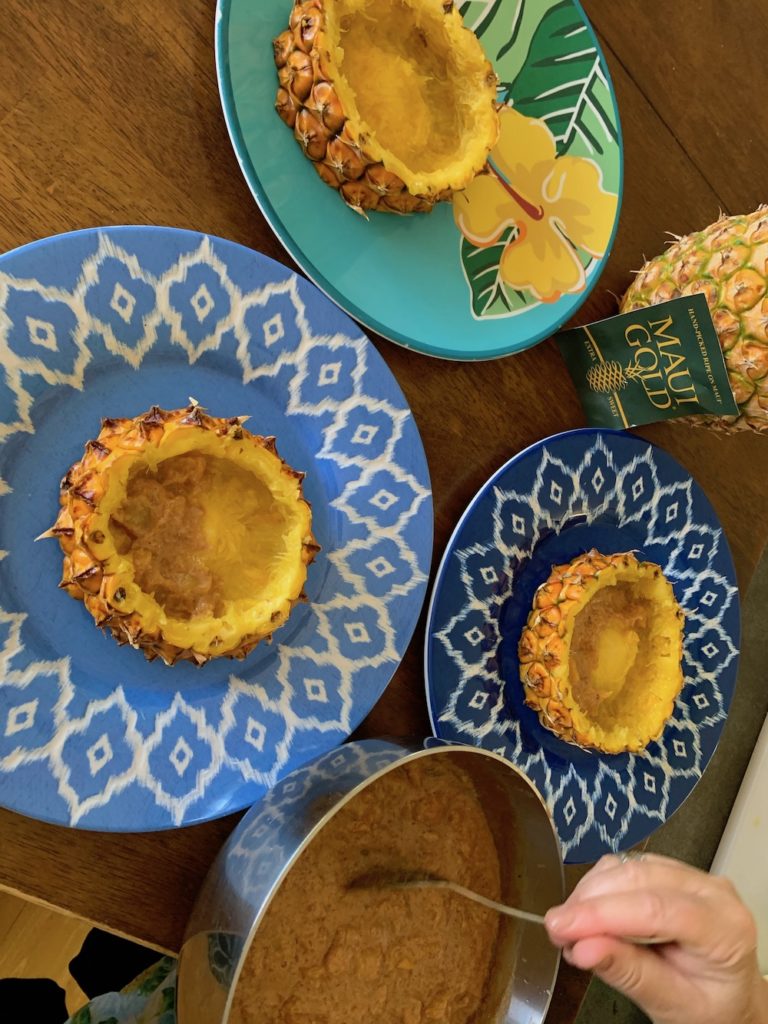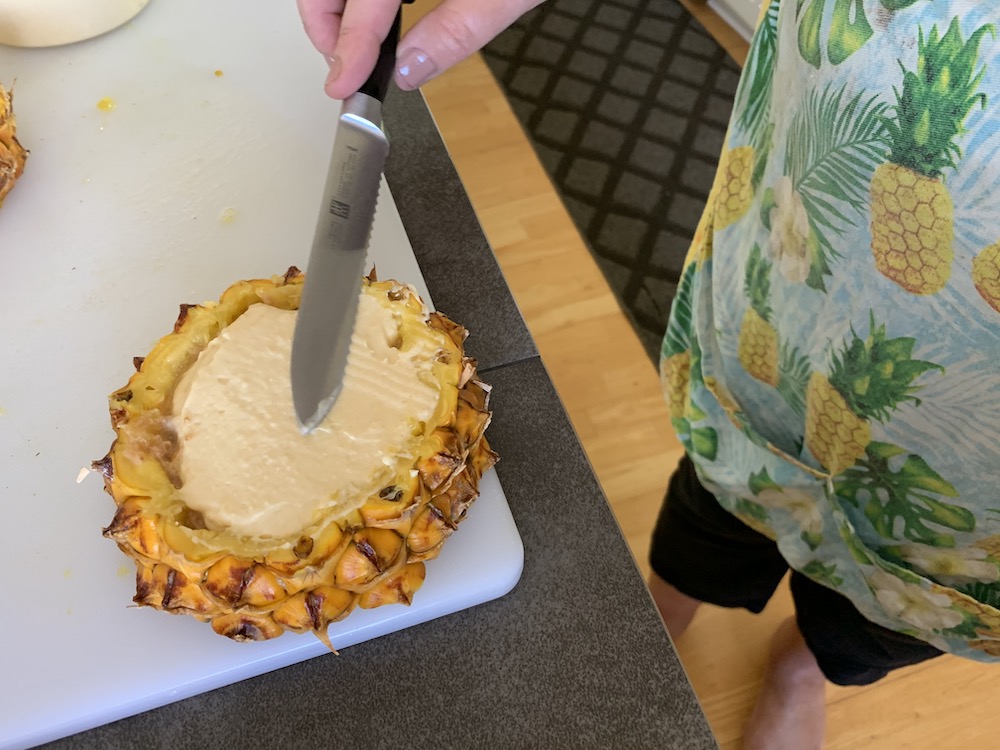 Dust the cream with sugar, enough to cover it, and immediately caramelize with the blow torch, until golden. (if you don't have food torch, you can purchase food torch at Amazon.com. They are not that expensive. I am surprised but glad to find out. I'd be buying one for me too!
View this post on Instagram
Refrigerate.
Repeat with remaining slices.
When ready to eat, garnish the slices with whipped cream, some more lime zest and Maui
chocolate.
Enjoy!!!
View this post on Instagram