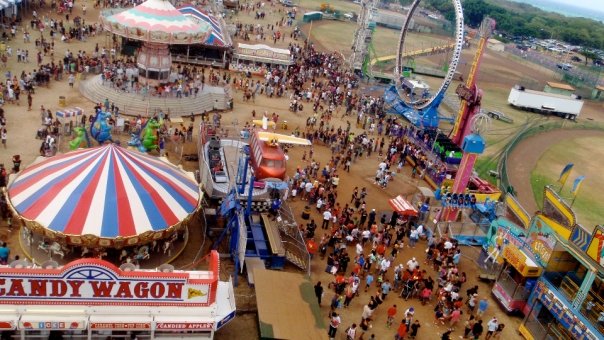 One of the many events that I look forward to on Maui is the annual County Maui Fair. I love the county fair! Perhaps it all goes back to how much I truly enjoyed the fairs when I was growing up. Fairs alway gives me warm memories of my brothers, my family and my friends. Maybe that's while I enjoy the Maui County fair so much. Of course it helps that the food there are all so ono and our kids, Hapa Boy and Hapa Girl have a blast with the rides when we go there. My husband is not so much of a fair guy. He drags his feet when he goes there. But once he is there, he enjoys it too, especially when he sees his friends there.
I do not even know where to begin sharing about all the wonderful things we did there yesterday. We stayed the whole day, from 10 AM to 6 PM! One of the many reasons we came on a Saturday is because of the "wrist bands". For $25 each, we purchased a wrist band for the kids (and the hubby) that enabled them to go on whatever rides they want without purchasing tickets. It's the way to go at the fair when it comes to the joy zone.
So without further adoo, let me share with you some of the photos I took from there.
The first ride that the Hapa kids went to is the Traffic Jam. It's not really a ride but more of an obstacle course. They enjoy the challenge when they were little kids. Now that they are older, it's not really a challenge anymore but more just for fun:
The next ride is the Music Machine. When I was growing up, we used to call this the caterpillar ride. Round and round it goes! I uploaded a video in YouTube if you are interested to see this photo in action.
At 11Am, we took a break from the rides and went to the Baldwin Gym to watch the Lego Building Competition as well as the Robotics competition.
After that, we headed back to the Fair grounds for grinds! We bought from our church's Youth Group booth the Mexican Baja Plate.
Oh so ono! Today is Sunday and the last day of the fair. If you going there today, I highly recommend that you buy the Mexican Baja plate from Hope Chapel Youth Group You won't be disappointed.
Back to the Joy Zone. Here are some more pics:
And not to forget, the Ag and Livestock Exhibits, the craft shows, the Better Living Booths. Will post more photos later or might just give you a link to my Flckr files once I uploaded them there.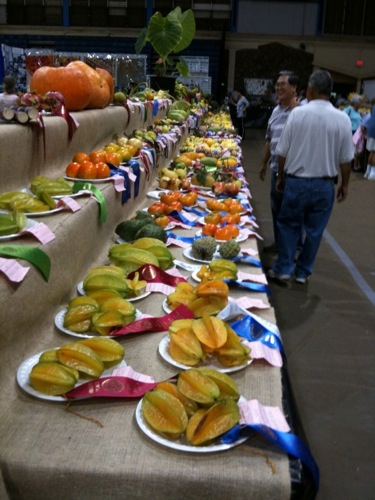 I also posted some bright colored photos on this post for my Weekly Winner post.
Lastly, last night I found an excellent video of the Maui County Fair 2009 on YouTube so I recommend you click here to go there. But before you go, please leave a comment and let me know if you also like County fairs or what not, ok?
* This post is being share at "Your Life, Your Blog" carnival hosted by Sarah at Real Life. Go there and check the linkies for more real life posts and sharings.