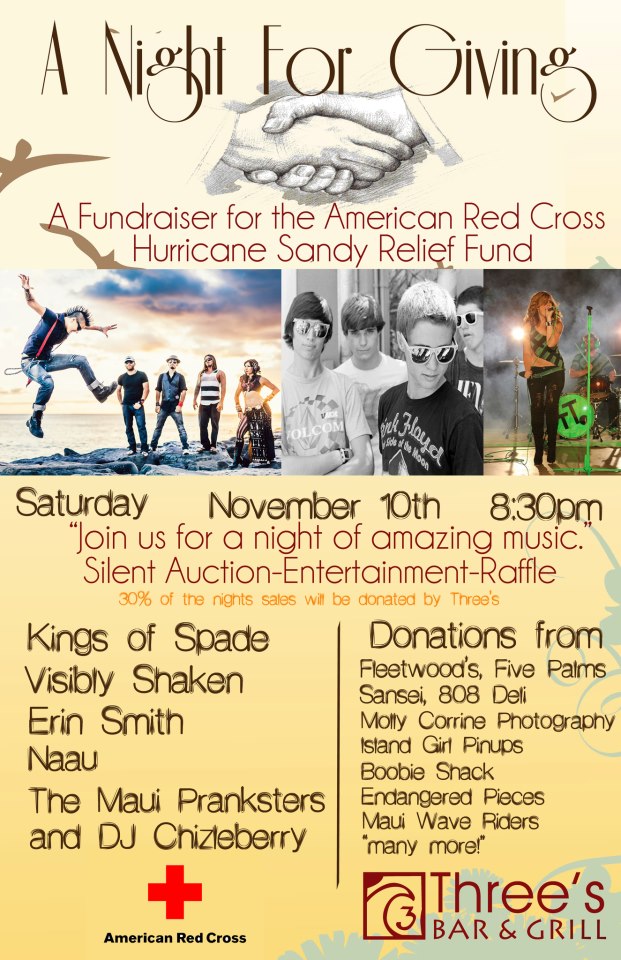 Election Day is almost over. Congratulations to President Obama for being re-elected! Congratulations to all the candidates who won.  Now it's time to get to work and put the do it to it.  There are a lot to be done. There is a great need out there…
The good news? The citizens are ready and willing to help.  Here is an example:
This Saturday, November 10, 2012 at  8:30pm until 2:00am a fundraising event is happening at Three's Bar and Grill, in support of the American Red Cross' recovery efforts for Hurricane Sandy.
The event is called "A Night For Giving". It is about helping our brothers and sisters on the East Coast who were affected by hurricane Sandy's devastation. This gathering features a vibrant lineup of Hawai'i talents, including the Kings of Spade, Visibly Shaken, Erin Smith, Naau, The Maui Pranksters, and DJ Chizleberry (Mike C). Three's Surf Lounge is ready to rock for the Red Cross!
Doors open at 8 p.m., with the jam-packed showcase blasting off at 8:30 p.m. There's no cover all night, and donations are welcomed at the door.
There will be a cool collection of silent auction items and raffles throughout the evening. Proceeds benefit the relief fund for Hurricane Sandy, along with 30% of Three's sales and 50% of Boobie Shack sales from the night.
A big "Mahalo" to the musicians for volunteering their performances and the Maui businesses for their donations, including Island Girl Pinups, Fleetwood's on Front, Five Palms, Molly Corrine Photography, Jewels of the Sea, 808 Deli, Sansei and Eskimo Candy.
Three's Bar and Grill  is thrilled to host this benevolent evening and appreciates everyone for pulling together to support this great cause.
Again, the stellar Hawai'i musicians that will perform on Saturday: Kings of Spade, Erin Smith, Visibly Shaken, Naau and The Maui Pranksters – sounds like it's gonna be a great night of entertainment in addition to a wonderful night of giving!
And remember, you can also donate $10 to recovery efforts by sending the text "REDCROSS" to 90999.
Please share this post around and invite your family and friends to join this endeavor.  Every little help counts!
P.S. Most of the info here are gathered from the announcement and invitation they posted on their Facebook Page.