My Maui Luau Experience During Pandemic
Are the Luau on Maui open? This is one of the frequently asked questions on my blog and social media channels since Maui's re-opening.  The short answer is YES. There are various Luau currently open and I am going to share with you my personal experience attending one of those Luau's.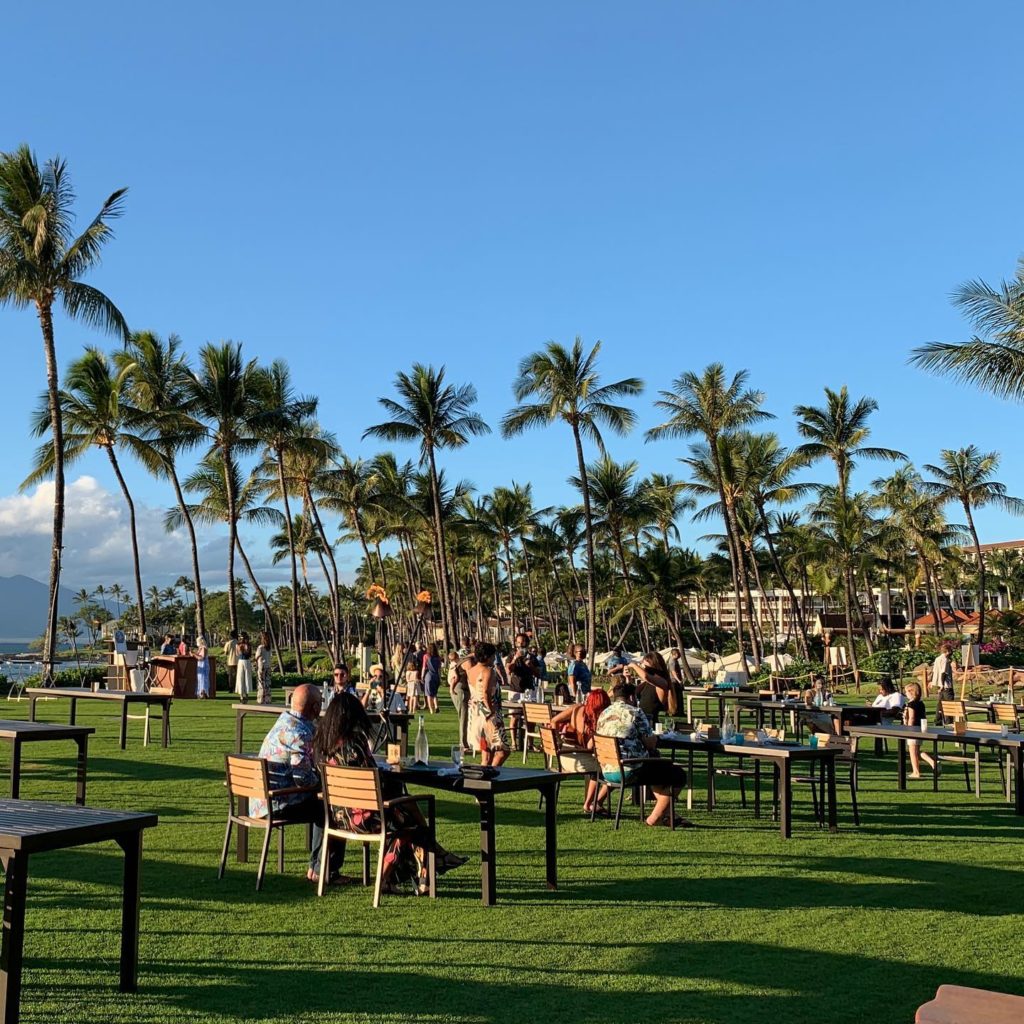 How safe do you think  attending a Luau is?  I was curious about that too.  That is why when Grand Wailea invited me to attend the Grand Luau, I accepted the invitation. I wanted to experience what it is like, so I can share with you a first hand experience of attending a Luau on Maui during a pandemic.  I am pleased to share that I felt safe during the luau and truly enjoyed the whole experience.
Highlights of My Grand Wailea Luau Experience
Here  are some of the highlights of that evening at the Grand Wailea Luau. These are also the reasons why I highly recommend attending.
Before I share the highlights, I want to mention that the Grand Wailea Luau is held every Friday at 5:30pm. A good news is that they have added a couple nights for the month of February. There will also be a show on Valentines Day, February 14, Sunday and on February 15, Monday.  At the end of this post I will share a live link where you can place your reservation.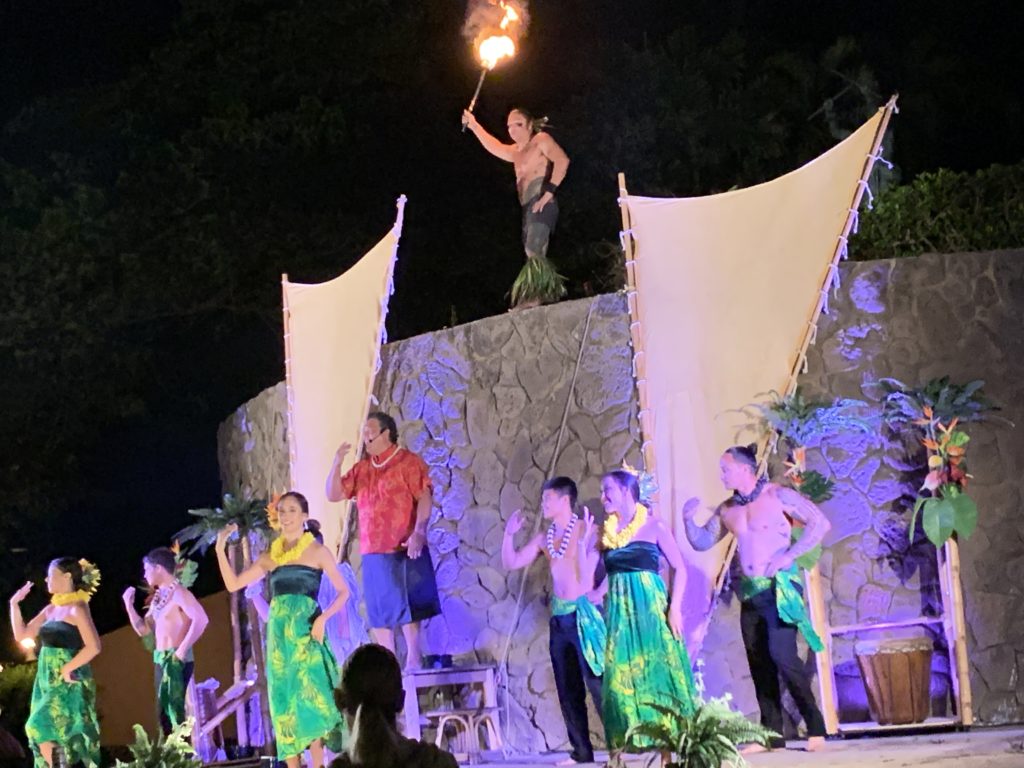 Now Let's move on to the highlights:
Location and Set-up
The luau ground is next to Wailea Beach. We enjoyed the beautiful blue ocean view as we arrived. The sound of the ocean waves were so relaxing.  We marveled at the gorgeous Maui sunset during sunset time.  Oh, it was picture perfect. (In case you didn't know, I love Maui Sunsets and this location is perfect sunset watching.)  Grand Wailea invested in new tables and chairs, no white lines needed. The tables and chairs  are spread apart for social distancing.  Your family/party will be seated together as comfortably as possible.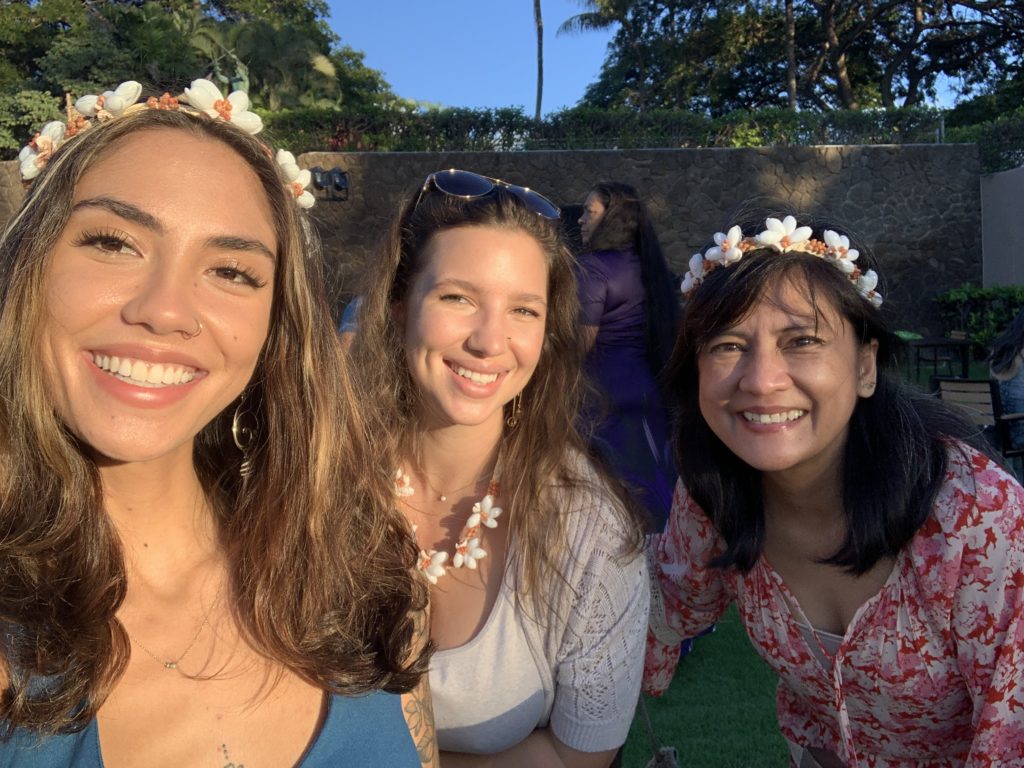 I attended with my daughter and a girlfriend of ours and there were only the three of us on our table.  I saw a table with just a couple, and I saw a table with a large group (max of 8 all belonging to the same family).  Having tables so far away from each other made for a great view of the show from every table too.
Safety Protocols In-Place and Implemented
This is the first time since pandemic hits that I attended an event or actually "dine in".  Needless to say, I am very cautious and safety is always my concern. At the Grand Wailea Luau, guests are required to follow all CDC, local and state guidelines. Guests must wear a mask at all times while on-site, unless seated at their physically distanced table and consuming food & beverage.  There were safety reminder signs strategically placed. Being in an open air setting helped a lot too. For those of you who are a bit hesitant about "dining in", this could be a first step to enjoying dining outside of your home or condo.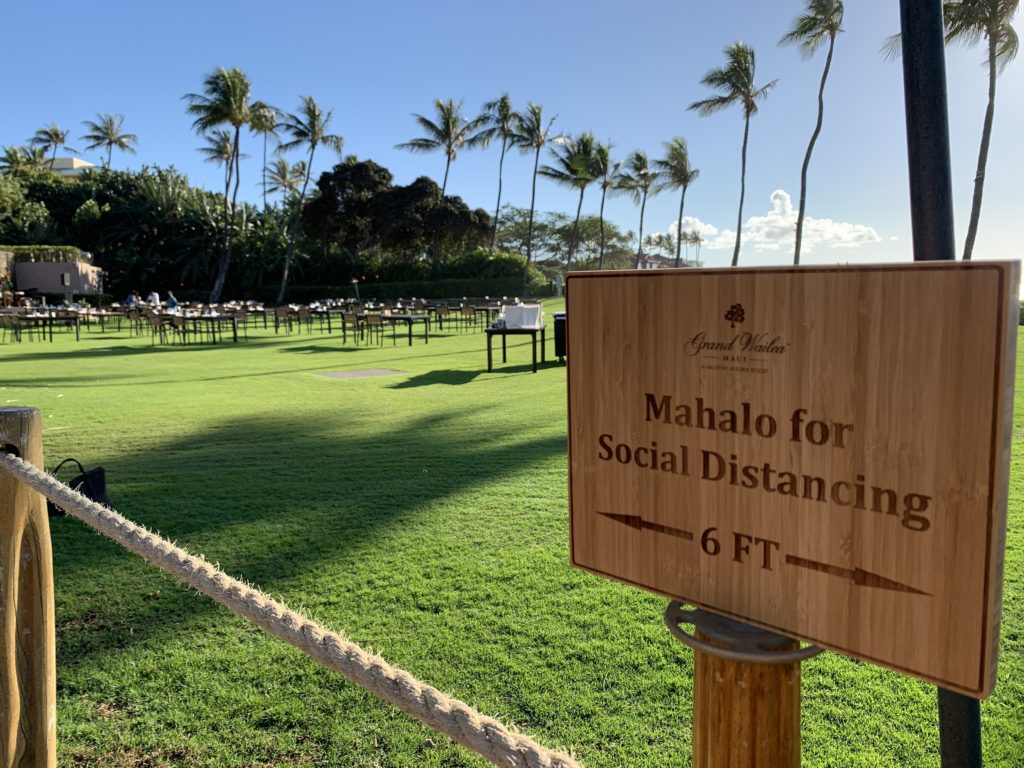 Excellent Service
We are greeted cheerfully upon entrance to the luau ground. We were offered a refreshing welcome drink. No lei offering and hugs during welcome though. Instead, the leis are placed in your chair which you can choose to wear or not to wear. I love that the leis were more custom made than simply all floral leis. I noticed a variety of leis.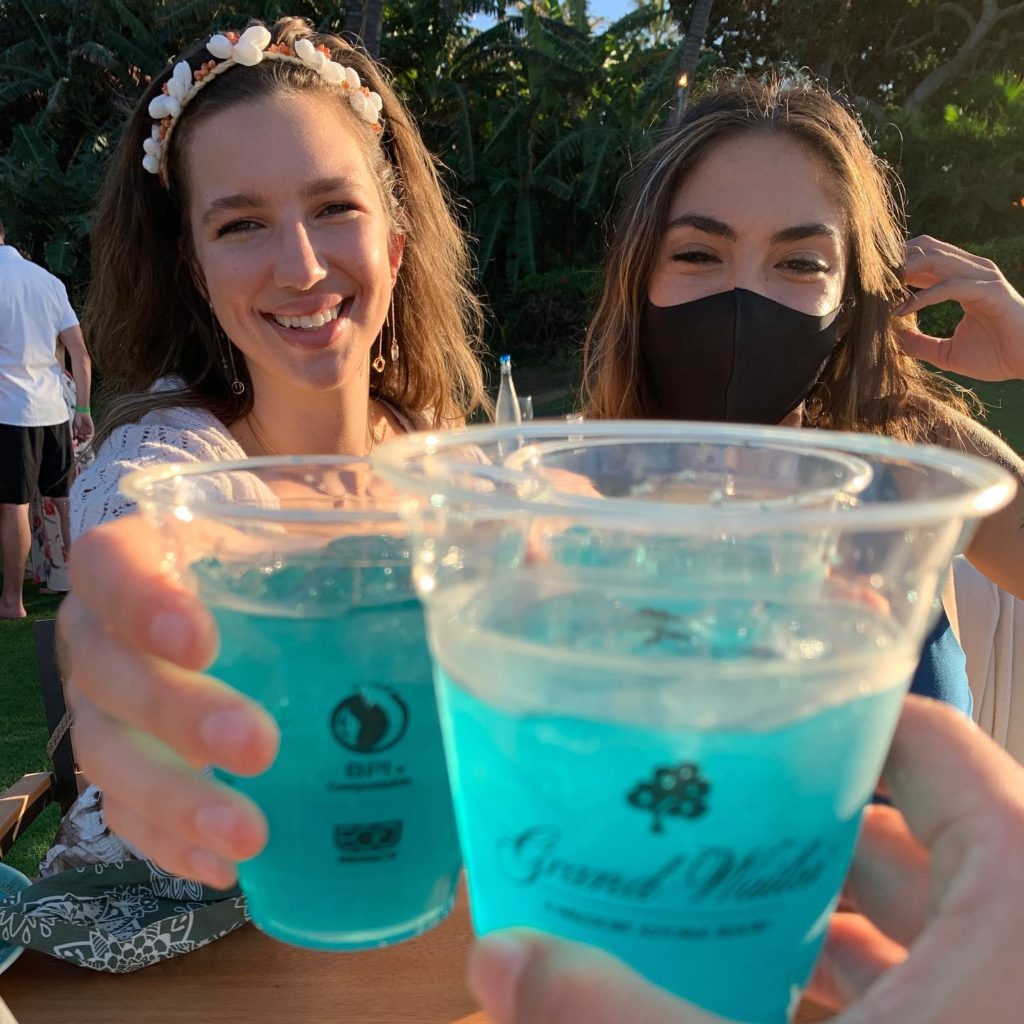 Ours was made of shell and we could wear them around our neck or on our head like a haku lei. We did both during the night. The bars are open, and you can go up to them, but table service is also there for drinks and all your food.  No more serve your self buffets. Instead, for each table a server is assigned. I forgot the name of our server (my bad) but she was wonderful!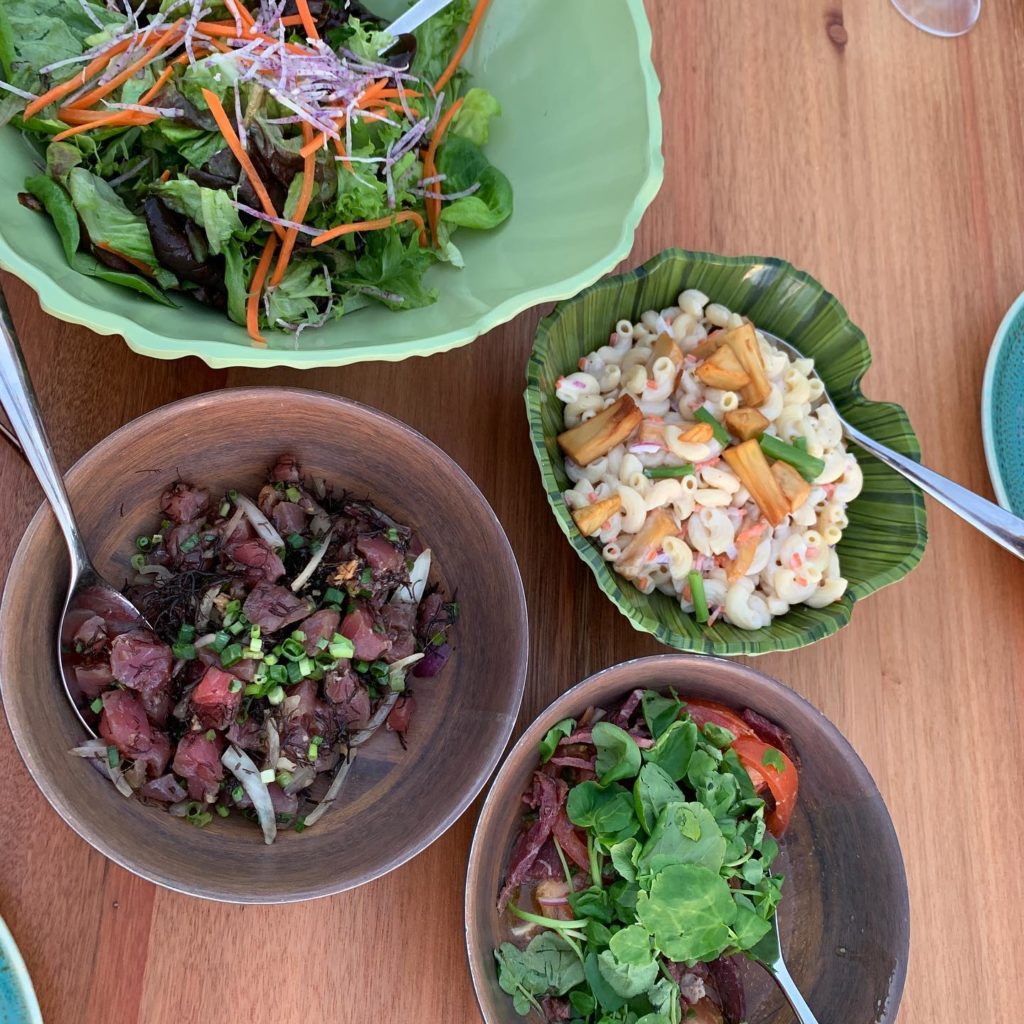 Instead of the food being served all at once, it was they paced it. We can enjoy eating while watching the show. It was casual and not rushed.  The food is served "Ohana style". I will share more about the food in the next section. Before I do that, I just want to mention that the manager and staff of the luau go above and beyond for their guests. They serve with Aloha.  For example, we noticed that they brought  clean towels (for warming up) to some guests who were cold and forgot to bring sweaters or jackets. That was very nice of them to do so.
Ono Luau Cuisine 
In case you don't know yet, the word "ono" means delicious in Hawaiian.  Yes, the food was delicious. Keep in mind that these are Polynesian cuisine they will be serving so be ready to try some which may not be familiar to you (if it's your first time visitor from the mainland.)  For example, the macaroni salad was served with Ulu (breadfruit) and though it is not a usual combination, when I tried it, it actually was one of the best macaroni salads I have had! The servers bring bowls and platters to your table. It's Ohana style. Then you can dish from the bowl or platter to your plate. We served more than enough for the three of us and they said we can ask for more if we want more.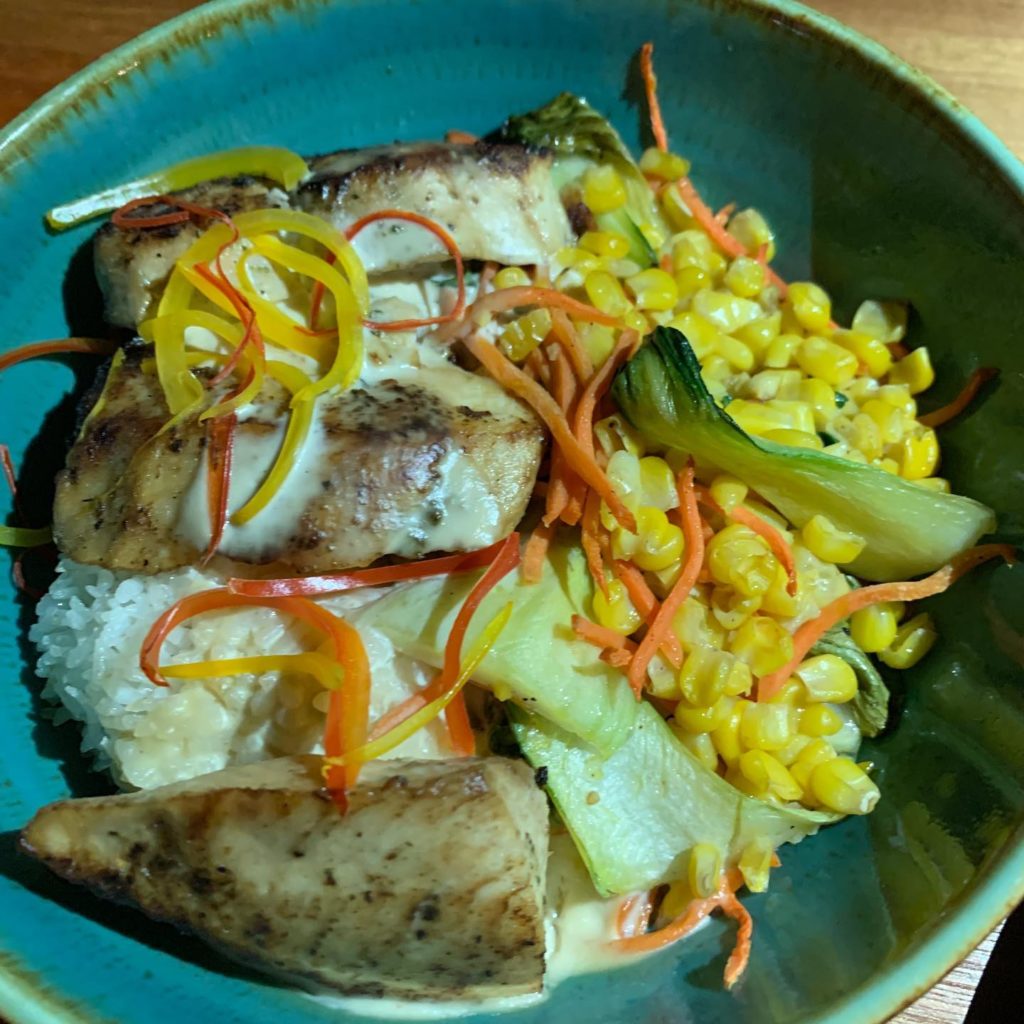 Joyful Entertainment 
The music, the hula, and everything else in the show was wonderful. They have specially designed story and music presentation with more personalized involvement from guests. They have special presentations that are not usually included on other famous luau shows in the island: Aerial Hula, Hula in 40 foot parachute, a mermaid on stage performance and last but not the least, the Fire Dance! Instead of describing the shows, I took photos and videos to share. You will find many of them on my Instagram account @amauiblog. Here is a playlist of #shorts videos on YouTube for a sneak peek.
Reserve Your Seats Now
Wrapping up this post, I want to remind you that  the Grand Wailea Luau is held very Friday at 5:30pm. A good news is that they have added a couple nights for the month of February.:There will also be a show on Valentines Day, February 14, Sunday and on February 15, Monday.   You can make your reservations here at Activity Authority (it is an affiliate link so I get a little commission when you make your reservations here, at no additional cost to you) or you may also book direct at the Grand Wailea here. (No commission for me on that link).