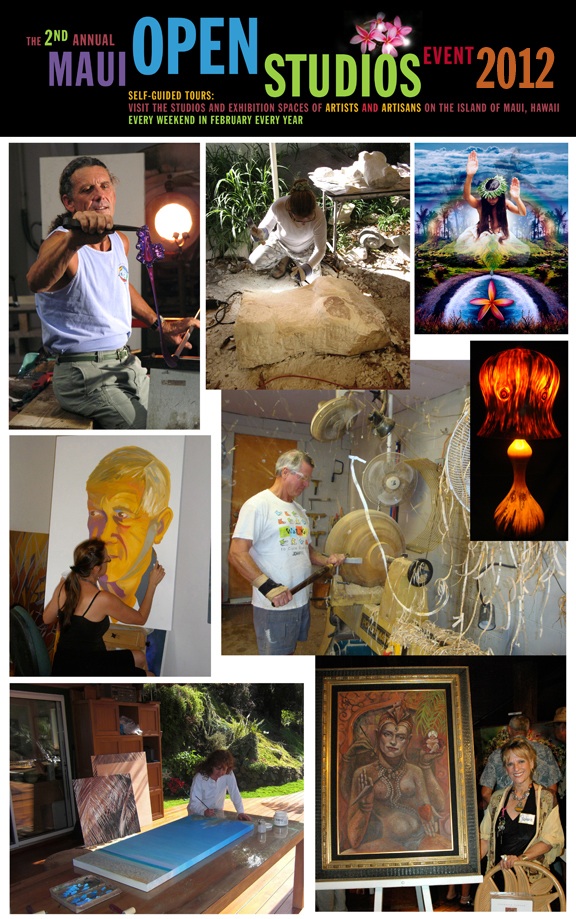 Remember the Maui Open Studios I attended last year? I can't believe that's been almost a year ago.  The organizer, Carolyn Quan, is planning the next event and I thought I'd help her promote this wonderful art event on Maui. Because of Maui Open Studio, artists on Maui can now experience what artists on the mainland have had the opportunity to experience for almost 40 years and it's a great community event as well.
Maui Open Studios are self-guided tours of artist studios and exhibition spaces which offers the art-buying and art-loving public a rare opportunity to meet the artists in person, talk story with them, learn about their creative processes and purchase artwork directly from them. Many artists serve refreshments and do live demonstrations of their techniques.
The inaugural event in February 2011 was a huge success with 111 registered artists and over 6,000 individual studio visits made. The second Annual Maui Open Studios Event is being planned so artists care encouraged to register now at Maui Open Studios website. (Deadline is November 1st 2011)
The Hui No'eau Visual Arts Center is a major sponsor of the event and hosts several Maui Open Studio artists as well as open their jewelry, ceramics and print making studios to the public during the event for demonstrations given by some of their resident artists.
Please visit http://www.MauiOpenStudios.com for more information.