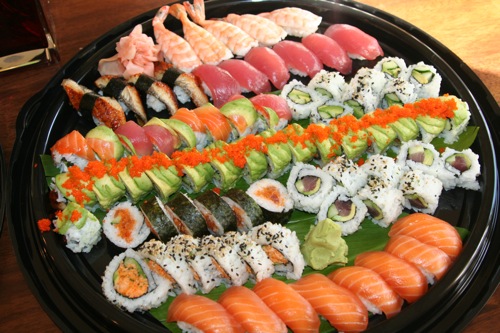 One of my favorite events in my kids' school back when they were in elementary school is the day they call "Culture Day".  On that day, the children celebrate the culture of their ethnic backgrounds. It's fun for them to trace what their ethnic backgrounds are and it's very common to have a mixture of two or more cultures.  For example, my kids are half American (English & German), half Filipino.  They are known as Hapa kids (which in essence means half and half).  One feature of this Culture Day is potluck.  Kids will bring a dish that's from their ethnic origin and share it with everyone. I love this! What a great way to connect the kids with their culture and keep the tradition going.
Like what I said, I love the Cultural Day Potluck. It's like taking the trip all over the world!  Listed below are some food from various cultures that have been infused into Maui's food culture. I thought it would be good to have a list here for those who are vsiting  on Maui and are curious about these ethnic food.
 
HAWAIIAN
Ahi: yellowfin tuna, mostly grilled but there are other ways to cook it too.
Laulau: pork, butterfish, beef or chicken wrapped in taro leaf and steamed in an imu (underground oven).
Haupia: coconut pudding, one of my favorites!
Long Rice: cellophane noodles made from mungbean flour; Cook with chicken, it's my daughter's favorite soup – the chicken long rice.
Poi: staple starch of the Hawaiian diet, made from boiled taro root, boiled and pounded. They feed this babies and kids a lot but adults love them too.
Poke: raw fish with seaweed and sesame oil. Variated is Tako poke which is made with (tako) octupus instead of fish.
Taro: a tuberous vegetable used to make poi
 FILIPINO
Adobo – pork or chicken in a vinegar and garlic sauce. Most Caucasians like this.
Pancit: egg or rice noodles 'n stuff. There are a lot of variations – pancit canton, pancit bihon, pancit loglog, sotanghon, etc.
Lumpia: appetizer similar to spring roll. Some are fresh (like that on the photo) some are fried.  It can be made of vegetable or ground meet (lumpia shanghai) or banana (turon).
Pinakbet: okra, string beans, tomatoes, shrimp paste simmered with fish or pork. Oh so nutritious.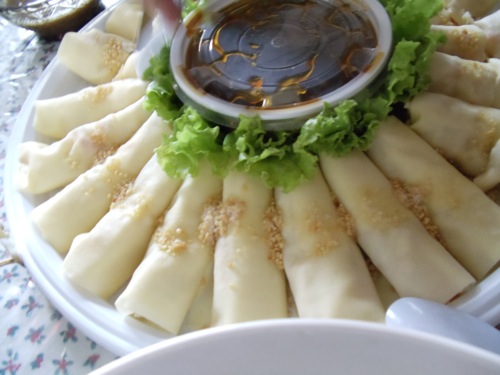 JAPANESE 
Edamame: whole boiled soybeans. Great healthy snack.
Maki-sushi: sushi items rolled up in seaweed
Furikake: a flavoring accent of seaweed, salt, sesame
Saimin: noodle soup. a lot of variation on this.
Sashimi: thin slices of very fresh salt water fish
Manju: sweet bean paste buns
Shumai: small steamed dumplings
Sashimi: thin slices of very fresh salt water fish
Tempura: vegetables, meat, or seafood quick-fried in light egg batter
KOREAN
Kim Chee: heavily seasoned pickled vegetables
Kal Bi: barbecued short ribs marinated in a shoyu and sesame blend
PORTUGUESE
Caldeirada: seafood stew
Caldo Verde: kale and potato soup
Feijao: beans
THAI
Satay: beef, pork, or chicken on skewers with peanut sauce
Tom Yum: spicy lemongrass soup with shrimp and meat
VIETNAMESE
Pho – beef noddle soup with sprouts, herbs, chilis and lime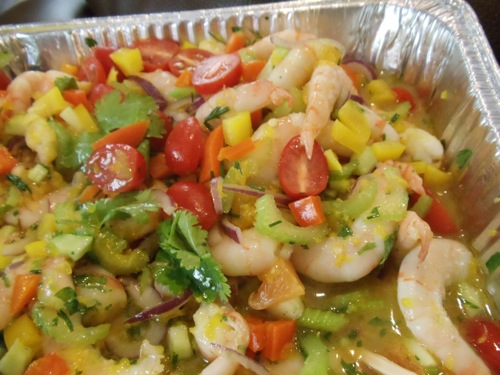 The list above is not comprehensive at all.  Those are just the ones common on Maui that has somehow got integrated in Maui's food culture.  There's a lot more cultures wih fine cuisine to be represented, Italian, Mexican, Indian, French, an so on. Please feel free to dd some of your favorite ethnic food in the comment section below.
On this Blog Action Day 2011, I want to encourage everyone to keep on teaching our kids about culture and food.  With the busyness of our daily lives, it's so tempting to feed our kids the fastfood kind of food. However, it must not be so.  Let us take time to nuture the culture and keep the cultural food tradition going.