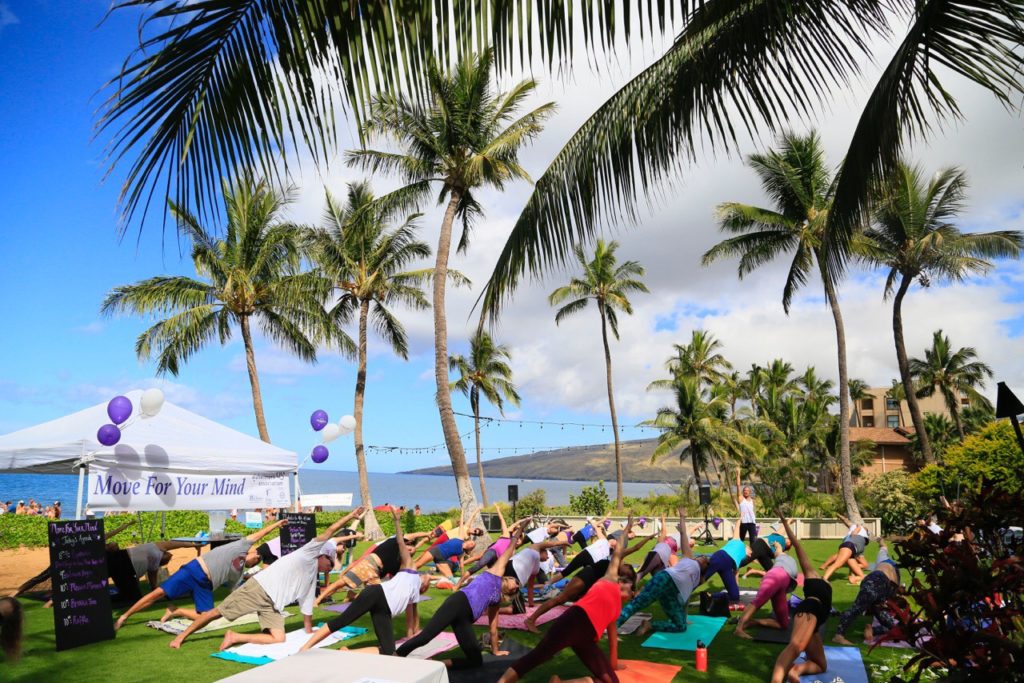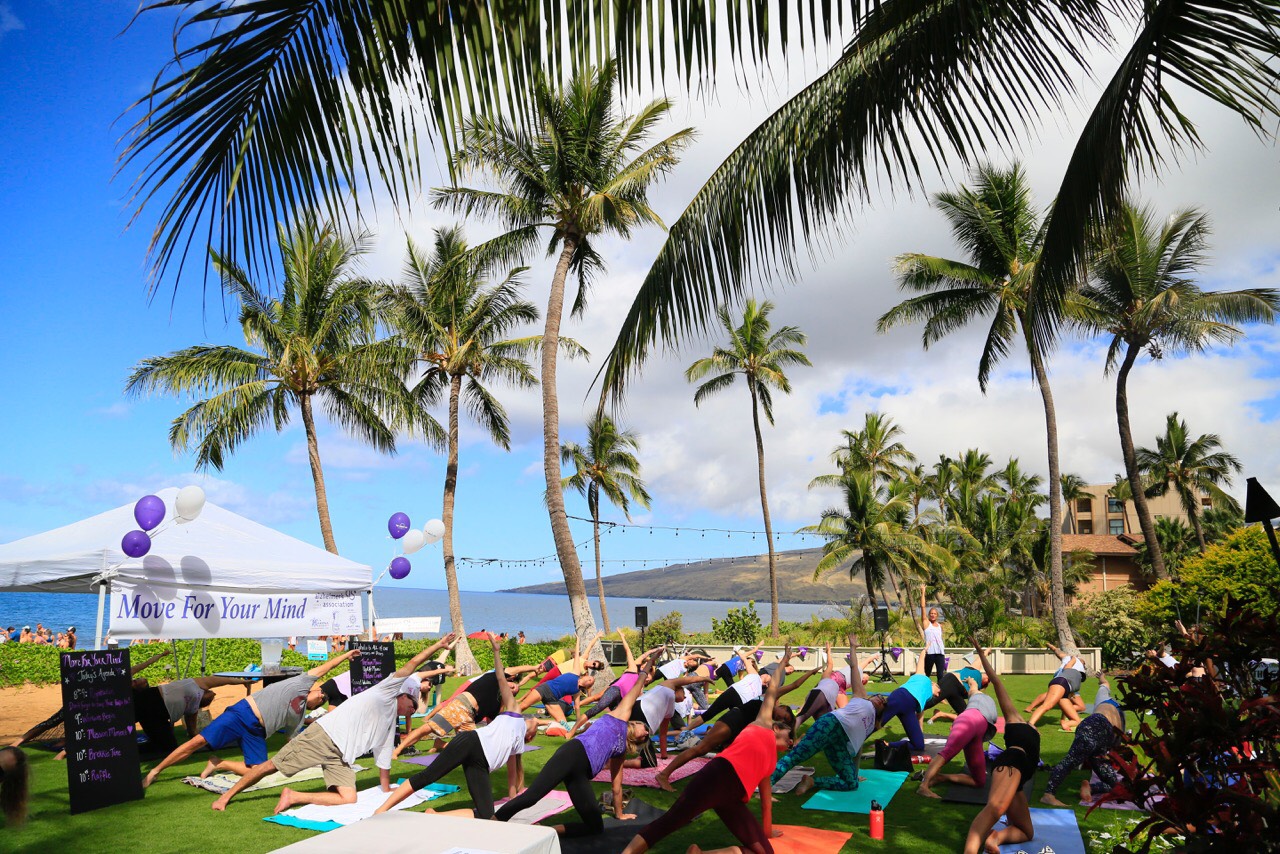 Live in the moment. Be present. Practice mindfulness. These are philosophies many of us strive to do every single day. What if, there came a day when you couldn't remember what moment you were in? Your mind couldn't be mindful. Words were incomprehensible. You find yourself lost and confused. It is hard to fathom, unless you have personally experienced Alzheimer's through someone you love. The Notebook, one of the greatest love stories written by Nicholas Sparks and Lisa Genova's novel Still Alice both are New York Times bestsellers turned into a major motion picture because Alzheimer's is real, raw, emotional and affecting 5.5 million Americans today. Keep in mind, that number only represents America.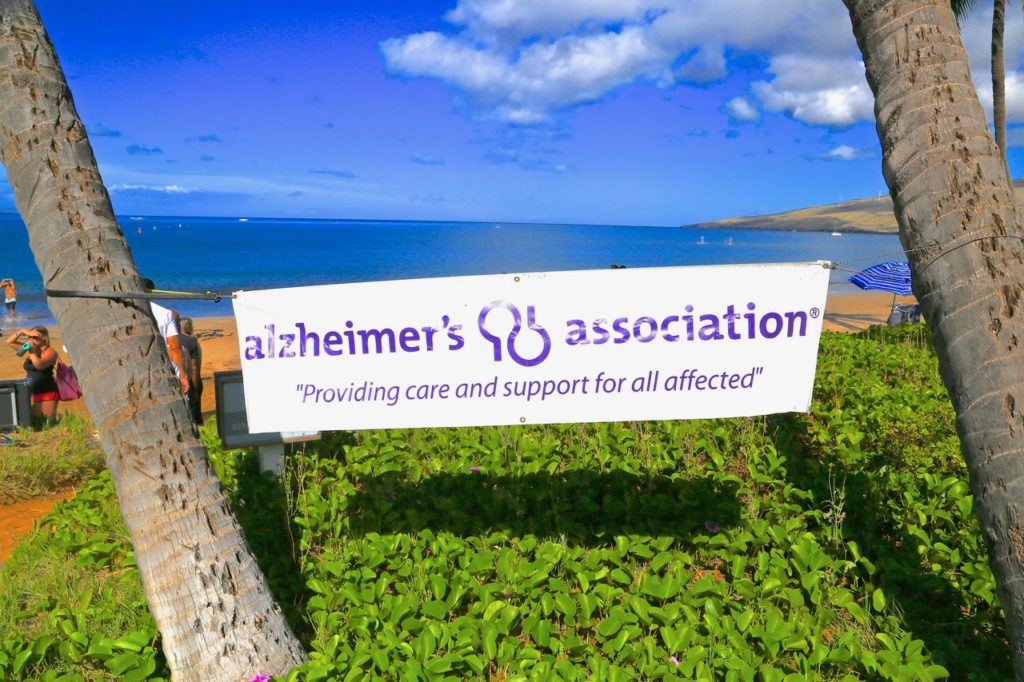 June is Alzheimer's & Brain Awareness Month and on Sunday, June 4, 2017 over 90 residents of Maui participated in the Move for Your Mind event put on in partnership with the Aloha Chapter of Alzheimer's Association, Brekkie Bowls, Uplift Maui and Makena CrossFit. That day 90% of the participants raised their hand acknowledging that someone close to them has been affected by Alzheimer's. Handful of plumerias were tossed into the ocean with a dedication to those currently living through the disease and those lost. The event was part of the Alzheimer's Association national campaign for The Longest Day, where individuals and teams do what they love to help fundraise and bring awareness to Alzheimer's disease.
Hollie Petrus, owner of Brekkie Bowls and the event organizer, put together an agenda of wellness featuring either an hour long yoga or crossfit class, delicious acai bowls, raffles and plenty of opportunity for connection. With her bright smile and a colorful haku as if it were a halo, she welcomed everyone at 8:30am in the morning to Sugar Beach Events, an oceanfront private venue in Kihei. Hollie firmly believes that "with a healthy lifestyle and nourishing our bodies properly we can help prevent terrible diseases from developing. Move for Your Mind creates an awareness for the things we can do, staying active and eating healthy, being that there is no cure today for Alzheimer's."
The race for a world without Alzheimer's is on full force. Ever since Dr. Alois Alzheimer, a German doctor, presented the first case back in 1906, doctors and researchers have advanced medicines and technologies to study the brain, but still have yet to fully understand the cause or find a cure for Alzheimer's and dementia. The Alzheimer's Association continues to fund up and coming treatment strategies and advocate for federal and private funding to bring research concepts to reality.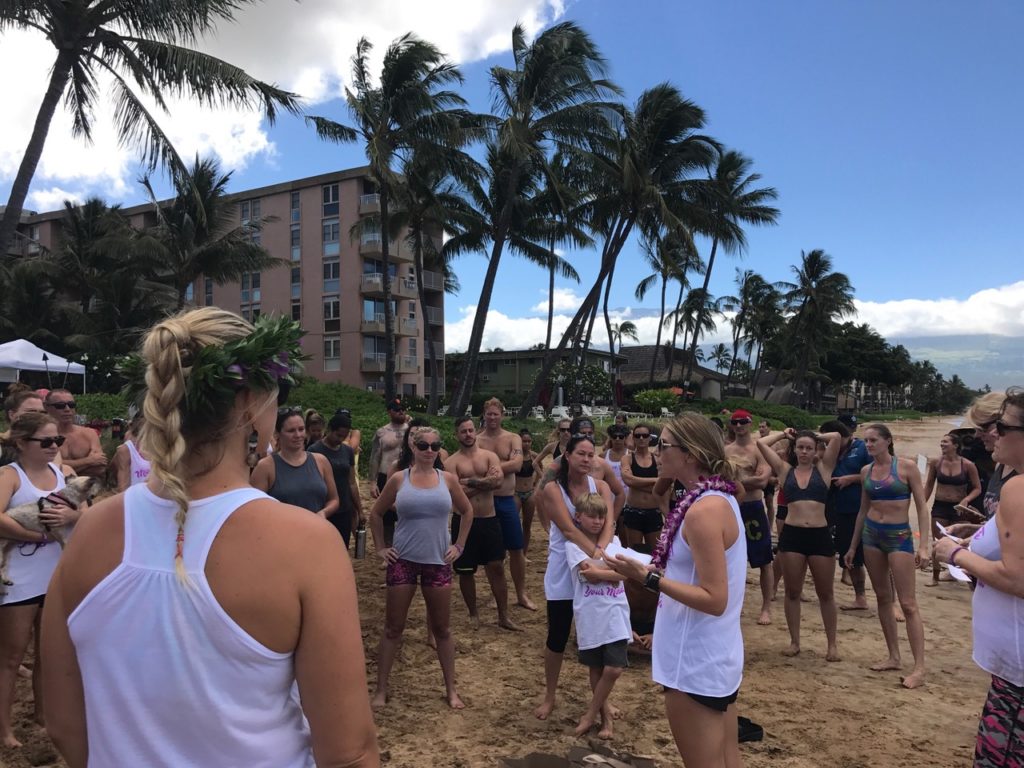 Lynsey Capone-Smith, the Maui County Program Specialist for the Alzheimer's Association shared at the event that family and friends of those affected need to know "they are not alone in this fight, that there are other people they can lean on to understand what it's like to deal with Alzheimer's."
Lynsey, who serves Maui, Molokai and Lanai, provides counseling services for families, support services for those living with the early stages of Alzheimer's and helps families with community resources like in-home health care. Lynsey voiced, "After a family will go with mom to the doctor, the doctor will be like here is the diagnosis, here is the medication, and good luck. So that's when they'll call me and ask 'What am I dealing with?' 'What am I supposed to do?'"
One of the hardest parts of having someone you love with Alzheimer's is seeing the behavioral changes as the disease progresses. The Aloha Chapter educates and helps families with understanding those changes in behaviors and what happens when the person you love can no longer communicate effectively. They work through strategies for families to deal, cope and be proactive.
"It was challenging to see my father care for his dad, who didn't recognize him, who could no longer go to the bathroom on this own, or understand how to pull his pants down to go to the bathroom," Lynsey shares. "From that moment, seeing what my family dealt with, I decided to go to college and study human services, social services and then I went on to grad school and went into gerontology and focused on Alzheimer's and dementia care. So it's not just a 'Oh what a great cause,' it has been a personal journey getting to this point and being able to be a part of a wonderful organization."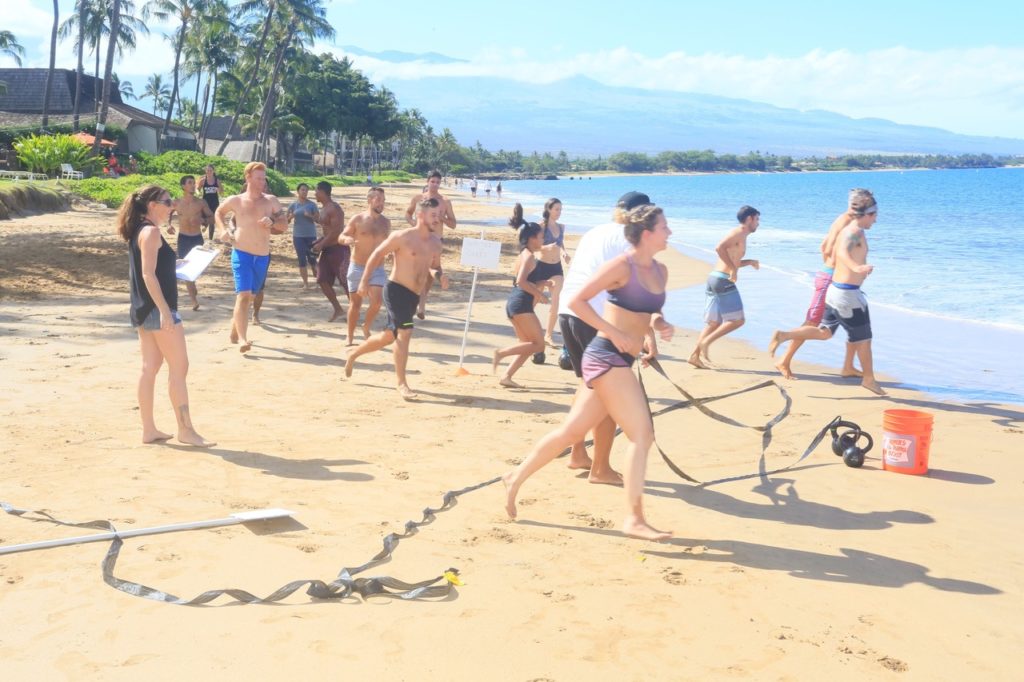 By 9am the sun was beaming, and across the lawn and down by the ocean, sand was being kicked in the air behind participants while Makena CrossFit Head Coaches Paul Romero and Andrea Nicholls pushed them to a whole other level of fitness. Weight lifting, sprinting, back peddling lunges and marathon style swimming in the ocean were just some of the exercises during the hour long class. The group's energy was just as fierce as their bodies.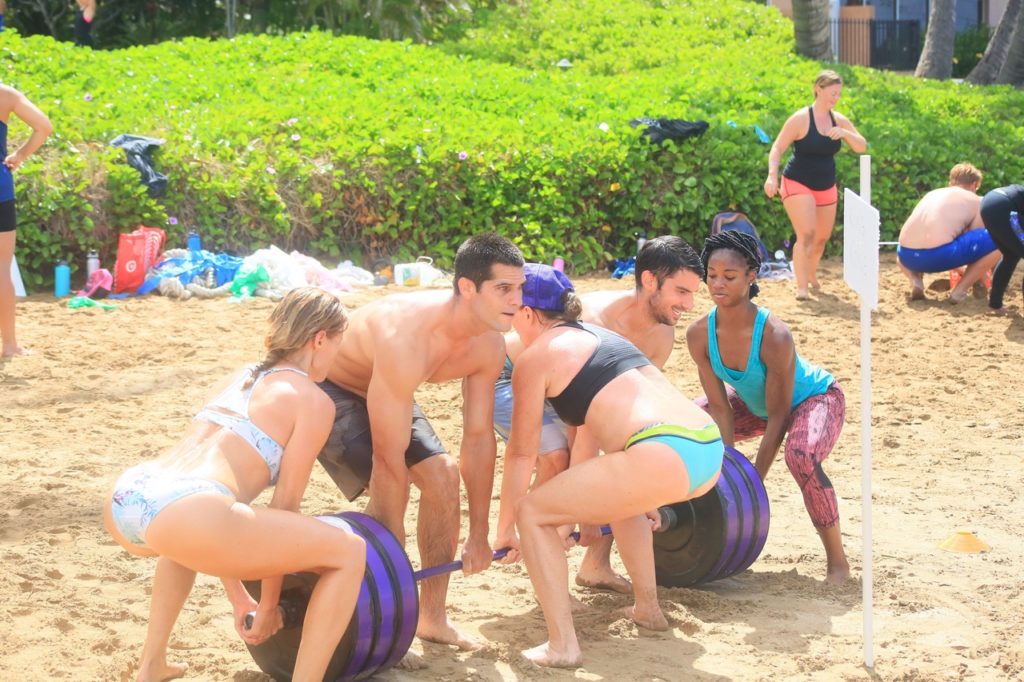 Uplift Maui Founder Andrea Fors (aka Dre) was drawn to the cause for personal reasons and showed up in full spirit to lead a heartfelt yoga class for those looking for another way to push themselves physically. She began by asking participants to start in a comfortable seated position on their yoga mat for a breathing meditation, then moved everyone through a gentle, yet invigorating practice.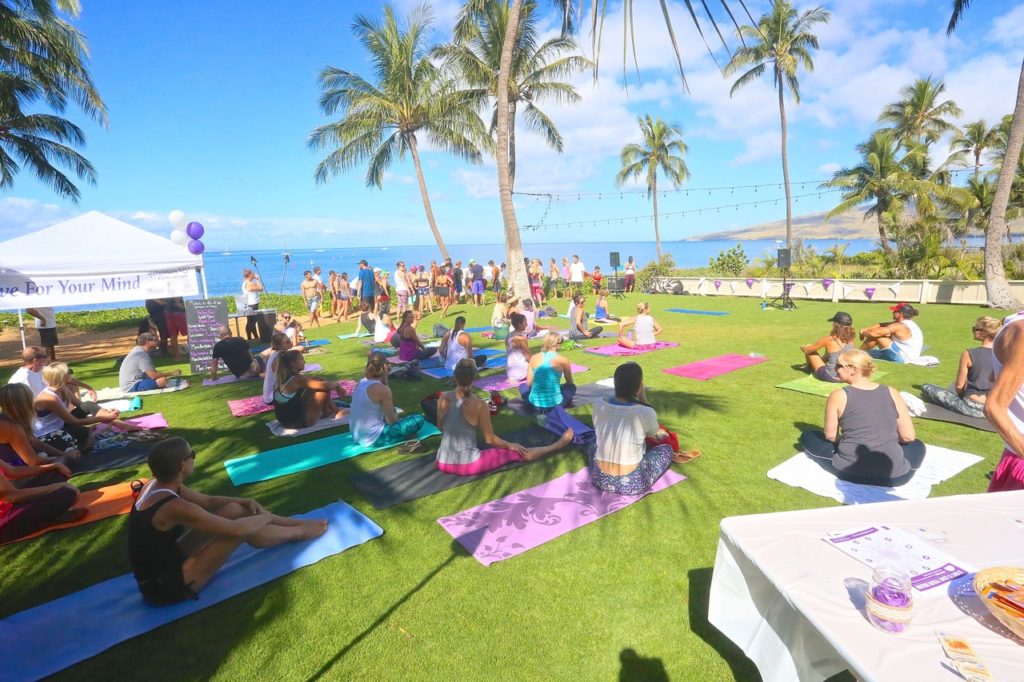 "Teaching yoga and practicing yoga it is one of the best ways to help reduce the effects of Alzheimer's," Dre said. "Not only does it reduce stress and inflammation in the brain, it calms the nervous system, brings oxygen to the blood, and stimulates memory, coordination and balance. You're constantly involving the body mind connection."
Alzheimer's Association estimates last year that 15.9 million family and friends provided 18.2 billion hours of unpaid assistance, a contribution to the nation valued at $230.1 billion. How can one put a monetary value on providing care to their loved ones? It's not something most would even think about, but in the cause for awareness it helps paint the picture of how many people are affected. One quarter of Alzheimer caregivers taking care of their aging parent and their young children.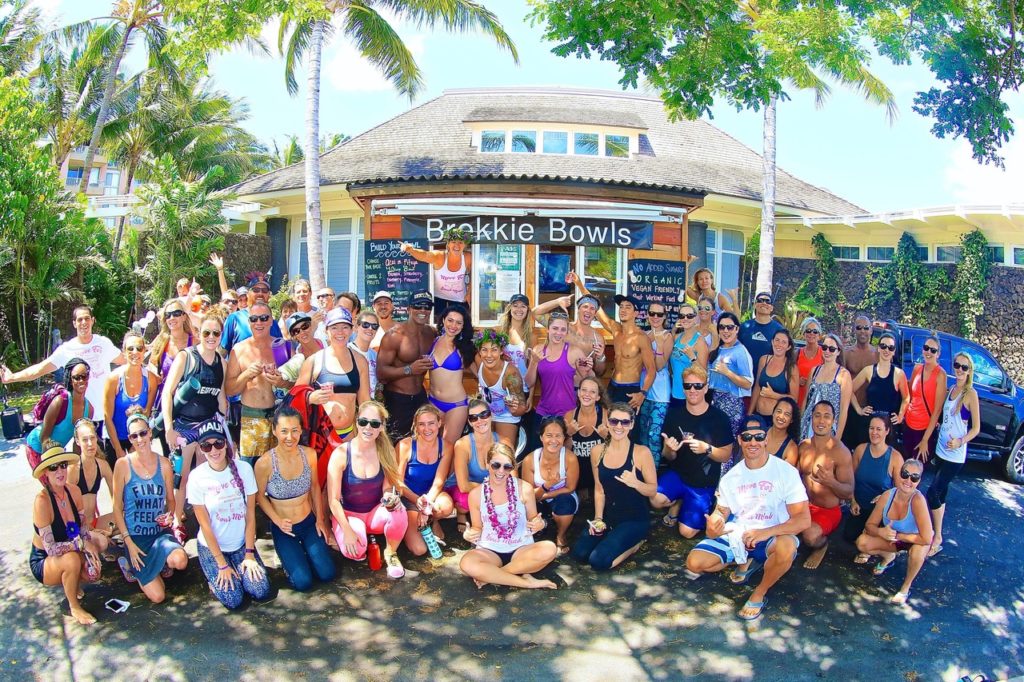 "I had a grandmother that had Alzheimer's and I saw her decline when I was five or six years old. My last memories was she didn't even remember me. That was really hard," Dre reflects. "I see sometimes that my Dad is showing signs, and it's a very scary thing to see. Awareness to the disease is really important."
To learn the signs for early onset Alzheimer's and dementia or to find your local resource in Hawai'i please visit: http://www.alz.org/hawaii/
*****
This post was written by Jeannine Bourque. Jeannine is a previous spa manager, now turned wellness advocate and writer looking to inspire those in our community to make conscious choices for their health and families. Watch out for her new website www.theseekingroot.com
PHOTO CREDIT : Duwe's fine diving & photography 
*****
Would appreciate your support by liking and sharing this post to create awareness about Alzheimers and support our desire to find cure.  Mahalo! – Liza