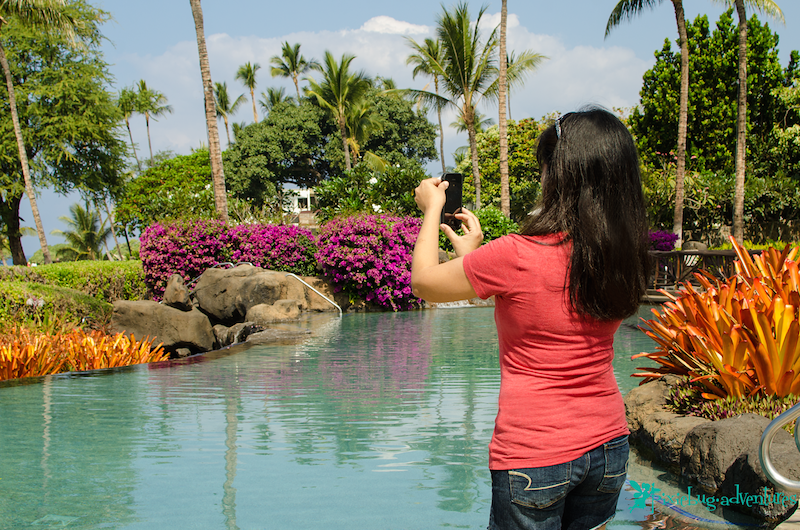 Would you like to stay in a luxurious villa for a week in the beautiful town called Wailea on Maui?
"Yes, please!" was my answer.
And my guess is "yes please" will be your answer too. Or, maybe an even more emphatic yes … one that includes some colorful language or words that might not fit my G rated post. You know what I mean 😉
But yeah, whatever … the point is … yes, yes, yes … a vacation on Maui is always a great idea, and add luxury to the mix, the result is heavenly!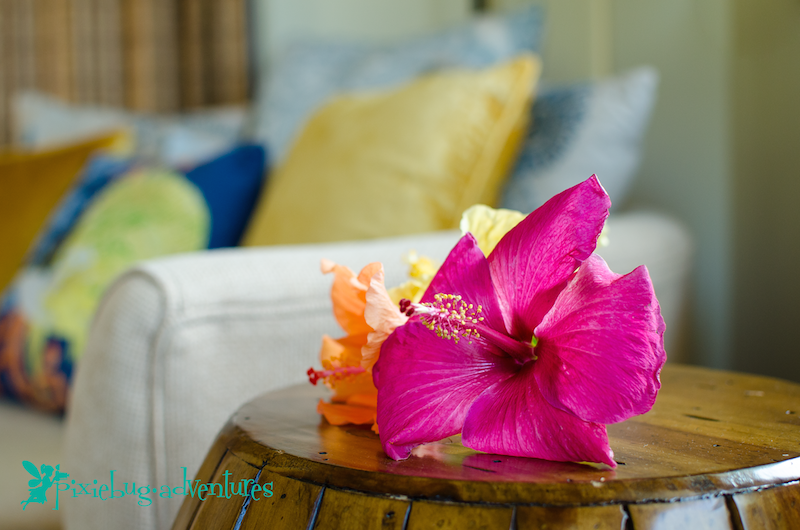 I have been living on Maui since 1994. I am very grateful to call this island paradise my home. In 2008 I started blogging about Maui to share the many wonderful and unique experiences I have living here.
One question often asked is "So where do you go for a vacation?"  Valid question. Living in an island that is a popular vacation destination,  so really, where do we go for vacation?
The answer to that varies and is worth a separate blog post. However, there's one we often do, and that one is called "staycation."
Last week my family and I were invited to experience a luxurious vacation via Luxury Retreats. That's when I said yes to  staycation!  It was fabulous and relaxing, something I needed so it was actually perfect timing when the invitation came.
I would love to share with you about this vacation …
…  for you to experience it with me through the blog and
… to inspire you to plan your own Maui vacation 🙂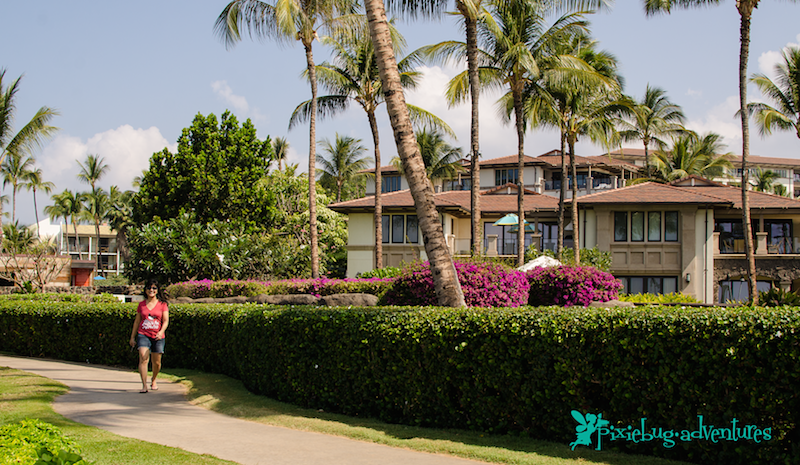 For the sake of focus, I am going to share only from my point of view.  My family had a wonderful time with our staycation but I will only write about my own personal insights and reflections.
Moving forward…. where did we stay and how was it?
We stayed in this gorgeous villa, named Lani Kai, which is located in the destination resort known as Wailea Beach Villa. This resort was named #1 Resort in Hawaii by Conde Nast Travel Magazine's Reader Choice award in 2014. I can see why. This place is remarkable and the customer service, excellent. I especially love all the tropical flowers and foliage in the area.  The swimming pool next to the beach is another favorite spot.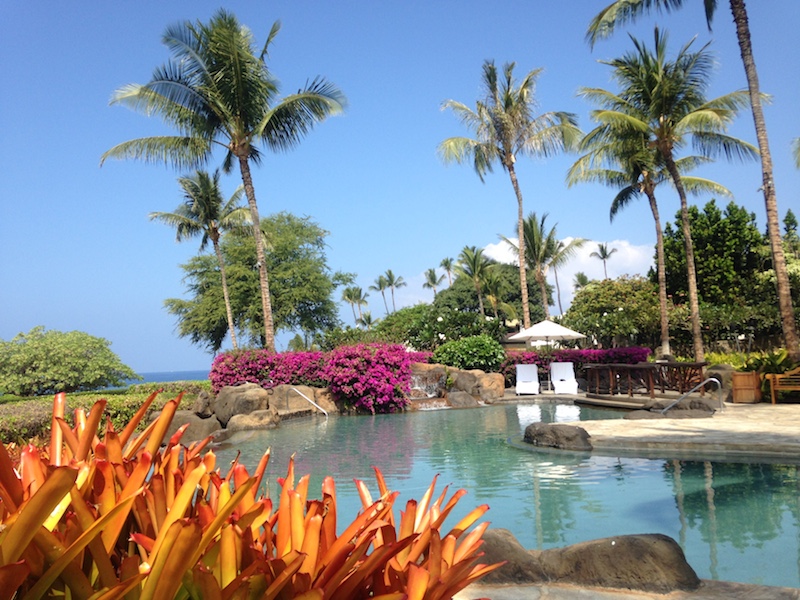 When planning a vacation to Maui, "where to stay" is one of the major decision you have to make. A question often asked is "should we stay in the hotel to should be rent a home or condo?"
If you are coming with your family or group of close friends, I highly recommend staying in a condo, a villa or a vacation house through Luxury Retreats … it will feel more like home away from home, and still enjoy the amenities and services of a hotel. Take a look at these photos of the living/dining  area on Lani Kai. Beautiful, isn't it?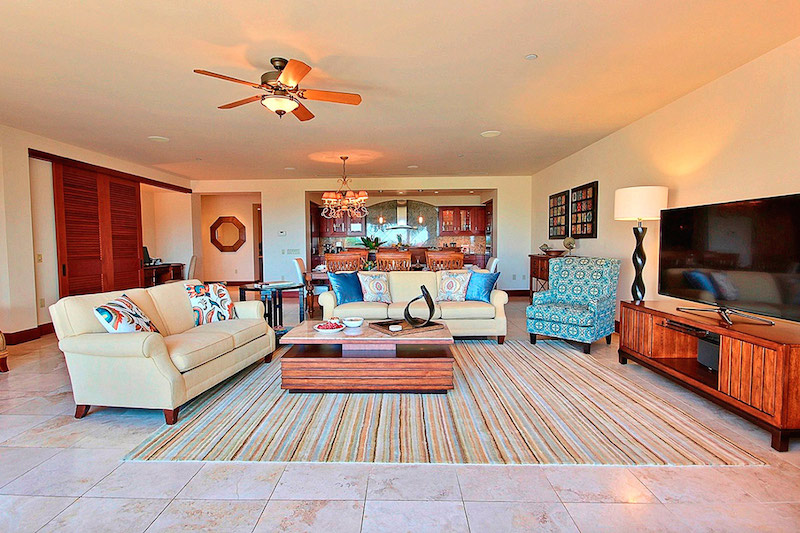 Lani Kai Villa is equipped with high end appliances, equipment, utensils, beach gears (beach chairs, googles, etc.) and everything we need to make our stay very comfortable and enjoyable. Expresso Maker? yes they have it! Baking dishes? Yes. Wine glasses? All kinds!  I think you get what I am trying to say.  The unit had television in the living room and each bedroom but I didn't use it.  Why watch TV when we can be out enjoying nature, right?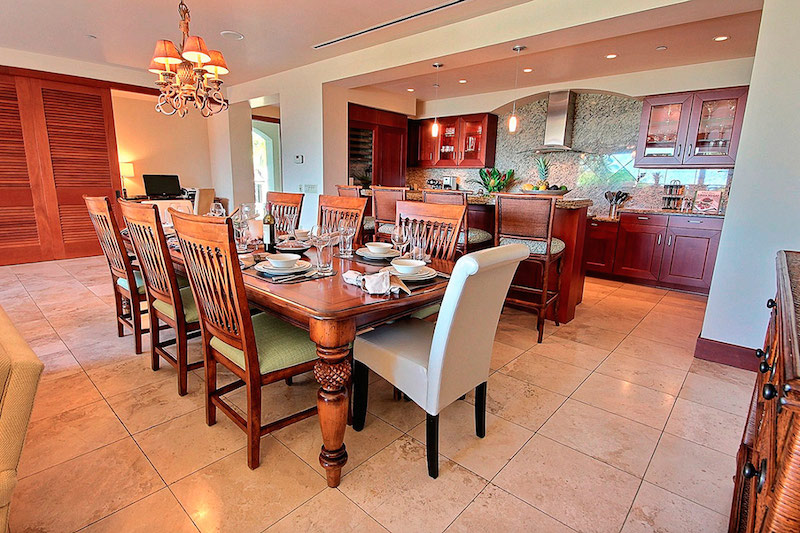 When we arrived at the resort, we were greeted by the property manager, Lisa. She was very professional and friendly at the same time. She showed us around and helped us get to know more about Lani Kai and Wailea Beach Villas.
All throughout our stay, she was available to assist.  Grocery Shopping? No worries, she can do that for you or she can have someone do it for you. Want to do a Luau Reservation but not sure which one? I can contact her and she can assist or direct me to the right person to assist. Do not want to dine out but do not want to cook as well? Luxury Retreats can assist with the finding the personal chef that will fit your need. I did not avail of the grocery shopping services and chef services, but it's very nice to know that they are available when we need or want it.
Relax, Refresh, Rejuvenate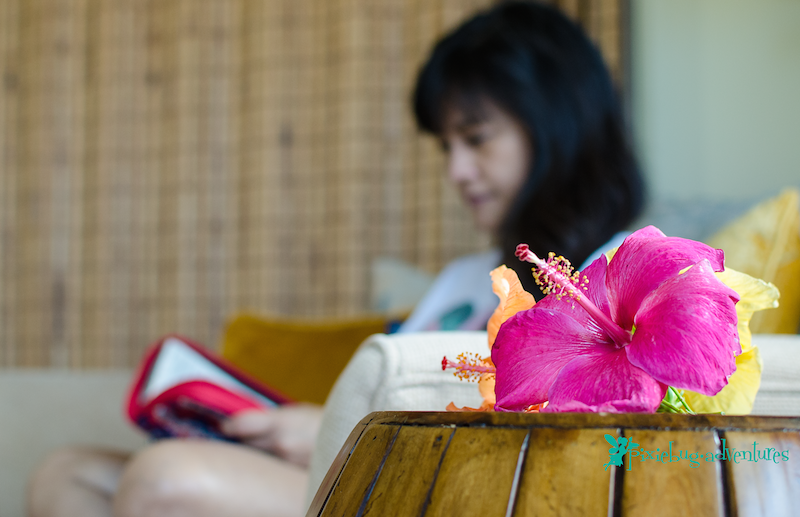 My main goal on this vacation is to have a personal retreat; to relax, refresh and rejuvenate. I believe that a good retreat has  tremendous benefits to our body and soul. I purposely did not plan a lot of activities. Instead, I did a lot of walking, reflecting, reading and soaking in the tub. It was what I needed and wanted.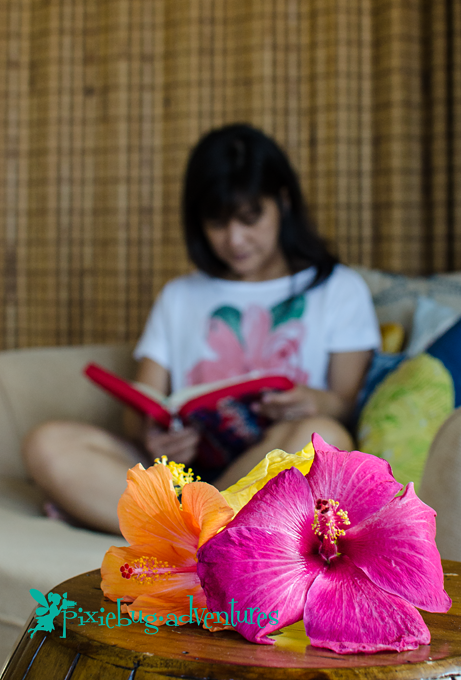 The thing about relaxing, refreshing and rejuvenating in this crazy busy world of ours is that we have to be intentional about it.  It is very easy to get caught in a rat race, or a rut, even for us who live this paradise called Maui. Take time … plan and take the time to renew yourself. We all need relaxation.  All work and no play will make us dull.
On a side note, I want to thank my friend June of Pixiebug Adventures for taking some of the photos I used on this post. It's kinda hard to take a selfie when I am supposed to be reading, so it's nice that she did take my pic. The colorful hibiscus are some of my favorite blooms on Maui. I am glad they were included in the photos :). Mahalo June!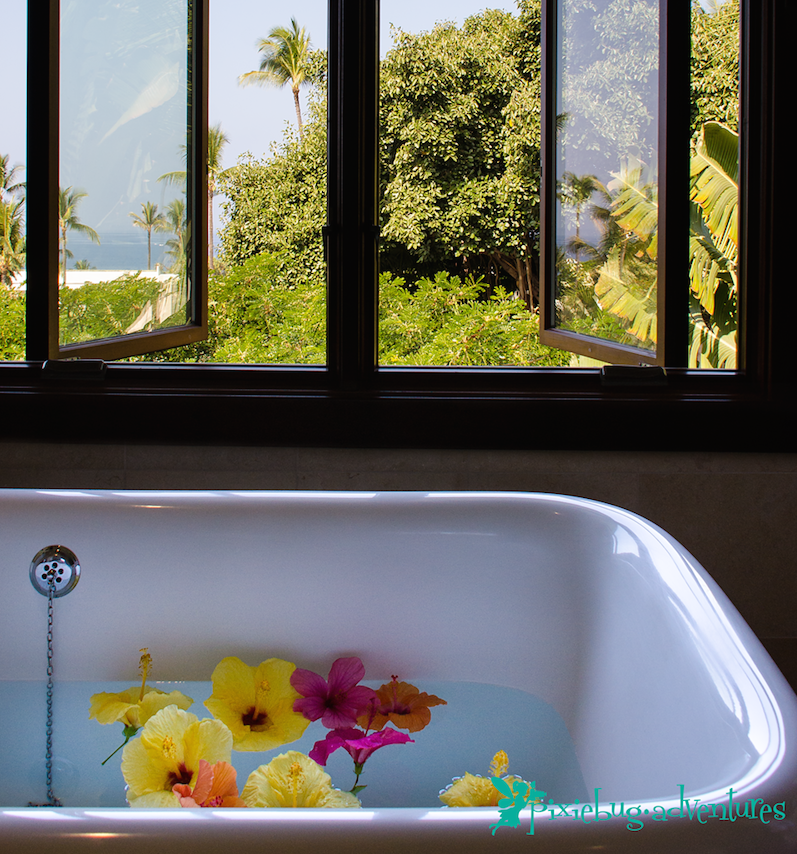 And oh, the baths were heavenly!  As you can see in the photo, the classic bath tub is next to window with a view.  I brought with me bath salts and enjoyed  warm baths with varieties of scents and flavors …  so soothing for  my tired muscles and a feast for my senses. Aroma therapy at its best!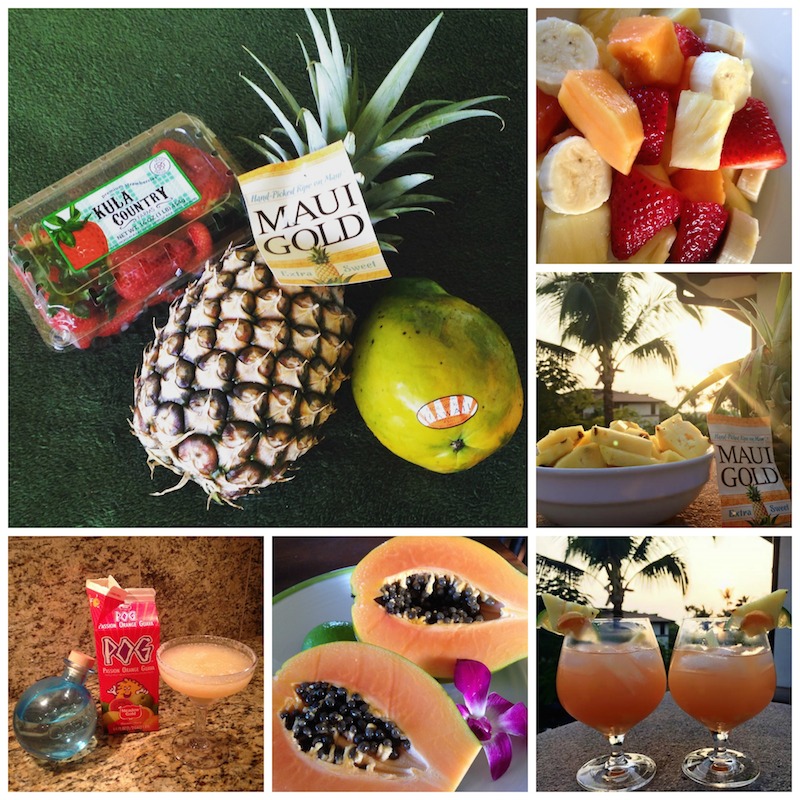 Aside from indulging myself with a these low key activities that kept me calm and peaceful, I also ate healthy.  Lots of fresh fruit and vegetables. Lucky for us, there are an abundance of fresh fruit and vegetables selection and on Maui. I may have snuck a few glasses of POG, pogarita and wine in between but let's just say that POG, pogarita and wine are healthy as well, shall we? 🙂
When you come visit Maui on summer, there will be an abundance of mangoes. Instead of POGarita you will be making MANGOrita. There is also that Lilikoi Mai Tai that you should try.  Wait … I think I am getting carried away with the cocktails sharing. I will write a local cocktail post next time.
Back to eating, I also indulged in seafood –  grilled shrimp with veggies, poke bowls, sashimi, yummy!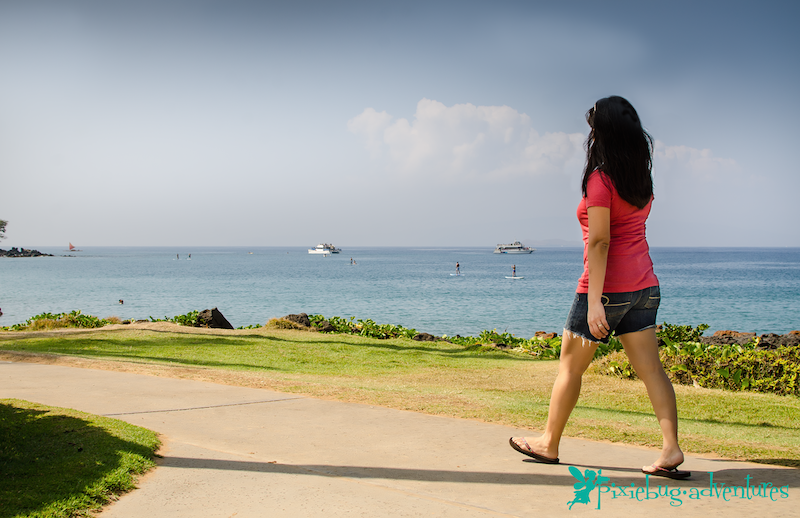 Earlier I mentioned walking. The Wailea Walk Path is perfect for this!  There were mornings when I wore running shoes did my walk/run/walk routine. Other times I just wore my slippers which took it off when walking down the beach …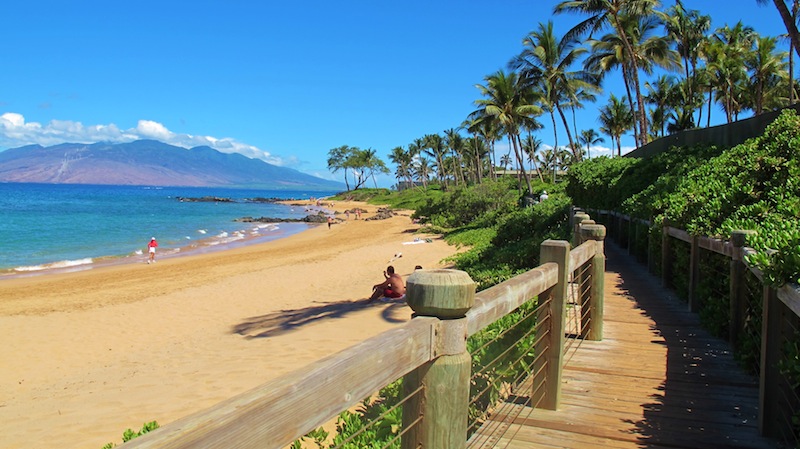 Waking barefoot on the soft sandy beach is very soothing. Walking on the edge of the shore where your the ocean water splashes on your feet as they come back and forth the sea … it feels like it's washing some of my stresses away …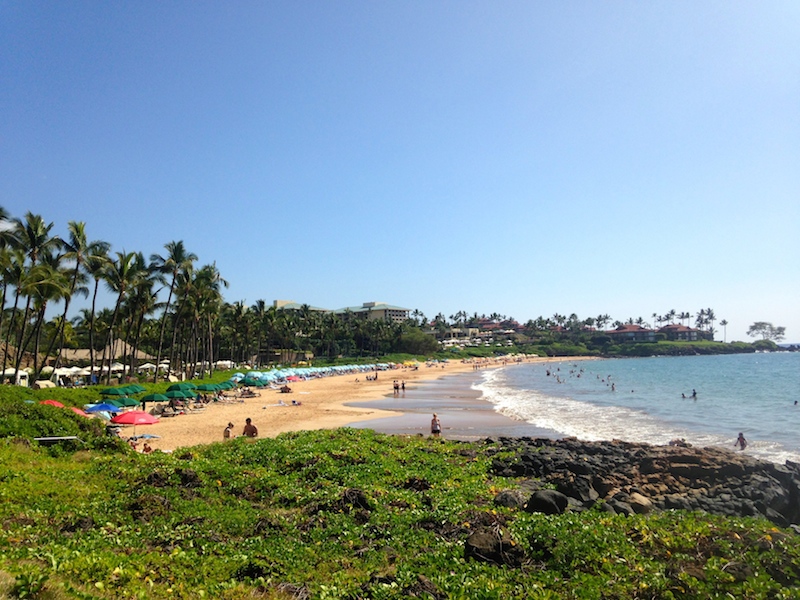 About Luxury Retreats
Our Maui vacation was booked through Luxury Retreats. Let me share a little bit more about them. Luxury Retreats is the world's leading luxury vacation rental company, offering over 3,000 homes in 95 destinations.  A global team of passionate travel enthusiasts and partners handpick and personally inspect each property, ensuring that guests are offered only the very best.  Luxury Retreats provides complimentary concierge services and access to its 24Seven guest support team, as well as dedicated villa specialists to help guests find the perfect villa – all without charging membership fees.
Luxury Retreats offers a curated portfolio of 87 villas in Maui, each of which has been put through a rigorous 100-point inspection process to ensure the highest standards of excellence and reliability.  For more information, visit www.LuxuryRetreats.com.
About Maui and What To Do on Maui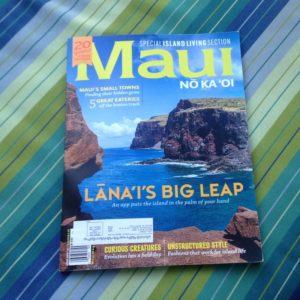 Maui No Ka Oi – that is the Hawaiian phrase we often use about Maui. It means "Maui Is The Best". Truly, it is!
In this March-April issue of Maui No Ka Oi, I was interviewed as one of the local experts on Maui's small towns. Check it out on this Maui No Ka Oi link if you're interested.
The kind of vacation I had may not be your style. I know. I live here so I have pretty much done all the "must do's" on Maui that you read on travel magazines. That's why I didn't do much on my staycation. I planned it that way.
However, I want to share with you some of the "To Do's On Maui" … especially to you who will be vacationing on Maui for the first time. This is just a quick run through and not an in-depth review. I just want to give you an idea of things to do on Maui, many of these are my favorites.
You can't do them all in one visit … pick the top 5 that you'd want to do and enjoy! I initially was thinking of adding photos for each activities I will mention but that will make this post so crowded. Instead, at the end of this blog post you will see/watch a great video that will show many of what I am talking about as "to do on Maui".
Water Activities – there are plenty of things to do with the ocean, for the "beginners" to the "professionals".  Take your pick, whatever interests you or suits you:  swimming, snorkeling, kayaking, canoe sailing, stand up paddling, body surfing, windsurfing, kiteboarding, scuba diving, snuba diving, parasailing and body boarding.
Visit Haleakala – Watching the sunrise is a famous activity but if you are not an early riser, watching the sunset from the Haleakala Summit is spectacular as well.
Drive to Hana – This is a whole day activity, and other even prefer to stay there overnight so they are not rushing back. That's what I would recommend too. The journey on the Road to Hana in itself is an enjoyable as you so watch the scenic route. Enjoy water falls you'd see on the side of the road. Stop over Keanae Peninsula and eat Aunty Sandy's banana bread while there,  visit Wainapanapa Black Sands Beach on the way, Jump the Seven Sacred Pools and Hike the Bamboo Forrest.
Country Farm Tour And Farmers Market Tours – There are many beautiful and interesting farms to visit, like the Alii Kula Lavender Farm, the Kula Country Farm, Ocean Vodka Farm, Surfing Dairy Farm, Dragon Fruit Farm and Chocolate Farm and Coffee Plantations.
Whale Watch, Charter A Boat or Submarine Tour – Whale Season on Maui is from December to April, sometimes first whales sightings are early (as early as October) and sometimes the Humpback Whales nag around longer and we still see whales in May.  Whale Season is a high visitors season. Many come over to Maui to see these gentle giant creatures on the sea. My friend Jenney wrote a

blog post about Humpback Whales

 with some interesting facts. Go to

 Maui Blog and read it

.  If for some reason your schedule does not allow you o visit on a Whale Season, don't fret.  There are still a lot to enjoy. One thing to do is to ride a submarine and enjoy the underwater cruise.
Hiking – Hiking the Haleakala Crater and Bamboo Forrest are two of my favorite things to do on Maui. But there are more … more gorgeous hiking places such as Iao valley, Makawao Rain Forrest and Poli poll. Check out this 

Hiking Trails

 and 

Hiking Guides

 posts on Luxury Retreats Blog.
Zip Lining – Some of you might already be shaking your head saying , no, no no. Zip Lining is not for me. What I will say is, give it a try. It's an awesome experience! I am not the dare devil type but one day I decided to try zip lining and I was hooked. I loved it! You might love it too.
Golfing – I am not a golfer so I won't be the expert to recommend this activity to you.  However, I do know that we have some of the best Golf Courses here on Maui that are known worldwide.  Check out this link on Maui Information Guide for the 

list of Golf Courses 

available on Maui.
Casual Dining and Fine Dining – Mama's Fish House for Fine Dining; Ululani Shave Ice for a must try.  There are an abundance of places to eat from fine dining to casual and local style eateries.
Visit the Small Towns, Stroll and Shop. – Visit Lahaina Town, Paia Town,  Makawao Town. Kihei Town. And to tour around towns in a fun way, rent one of the the 

Maui Roadsters classic cars

.
The Spa … Must visit a Spa and Get A Massage. Have you tried the "Pohaku Massage" (Hot Stone) ot the "Lomi lomi" (to knead, to rub, or soothe; to work in and out, as the paws of a contented cat."
Biking – Cycling or Motor Bike.  Cycling down Haleakala is a famous activity here on Maui. A biker friend told me that biking to and down Haleakala Mountain on the bucket list of many bikers around the world.
Attend Events – There are a variety of events you can choose from that will satisfy your passion.  You can check out 

Maui No Ka Oi 

list for a start.  Maui Film Festival, Maui Brewers Festival, Maui Agricultural Festival, Celebration of Arts, and Aloha Festival are just some of the annual festivals you might want to check out.
Go to the Beach – You've come to enjoy the paradise. Take sometime to sit on the shore, or sit on a beach share, or lay down, or walk barefoot. But whatever you do … come to the beach and enjoy it.  In south Kihei, my favorites are Keawakapu Beach, Kamaole Beaches  I, II and III, Ulua Beach, Big Beach, and last but not the least, Waliea Beach! And while you are there, stay for the sunset.
Watch Maui Sunset – No explanation needed. Just do and see. You will thank me for it.
In closing, I am sharing with you this video of beautiful Maui and hoping that you come visit one of these days …hopefully soon!
Drone Maui in 4K / HI FOCUSED cinematography from HI FOCUSED on Vimeo.
Disclosure:  Even though our stay in Lani Kai was complimentary via Luxury Retreats, the story, opinion and recommendations expressed on this blog post are my own and not directed by them. I shared my experience on my own perspective and recommendations were based on my experience.  Mahalo!