Aloha! We are Pam and Gary Zeemin and we are the owners of Turtle Tracks. We are originally from Oregon, but we've been visiting Maui for 25 years and it's always felt like home to us. Our background is in Insurance and we have 3 children and 5 grandchildren, with number 6 on the way! Our dream has always included retiring to Maui someday, but we decided, "Why wait for retirement? Someday is still years away!"

A few years ago we were on a trip and there was a service that offered rides in golf carts. That got us thinking about how a similar service could benefit the Maui community.  We thought about how much fun it would be to have an open air, cost-effective way to get around while on the island instead of getting in and out of a hot rental car.  And with that, the idea of our business was born.

We researched electric vehicles and loved how eco friendly they are. We thought these could be an environmentally friendly and fun way to transport people to their destination. And we were right!  We wanted to offer something that would be a positive addition to the community, but would also be in line with the efforts to preserve the beauty and natural state of the island.  We settled on our vehicles because they run on battery power, and can hold 6 passengers at a time.  We started with 2 vehicles but hope to expand our fleet to 6 or 8 vehicles quickly.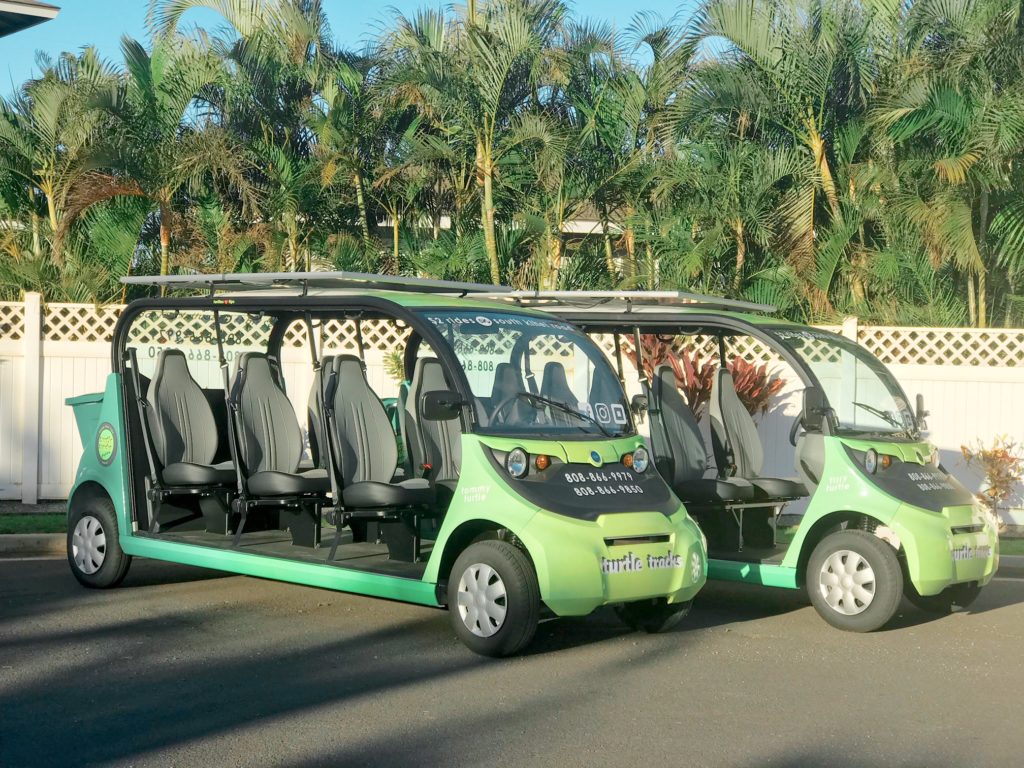 We chose the name Turtle Tracks because the beautiful, magical sea turtles have always been one of our favorite parts of visiting Maui.  We feel so lucky that we are building our dreams in such a beautiful place, and we look forward to giving back to the Maui community in a variety of different ways.  
We are currently running 12pm-7pm most days, and should be able to expand that to 10am-8pm soon.  We accept phone calls or text messages for riders wishing to be picked up, and we always welcome someone waving us down for a ride too!  Our contact numbers are 808-866-9850 and 808-866-9979. We are on social media at Turtle Tracks Maui, and we update our customers frequently on hours, promotions and other information about our business.  Please follow us, we would love to connect!  We can also be reached at turtletracksmaui@gmail.com. 
.
*** MAHALO Pam for being our guest blogger here at A Maui Blog. I am very excited to try riding on Turtle Track. I think it a creative way to help Maui community!  Limited to South Maui right now but it may expand depending on how this goes –  so let's support them.  🙂