When the press release went out yesterday from Alexander & Baldwin announcing transition of Hawaii Commercial and Sugar Company to Diversified Farm model, the news went out on the internet like "wild fire".  Many articles about this "Sugar shut down" had been shared on Facebook hundreds of times, viewed tens of thousands time, and several bloggers and journalists wrote about it right away.
 The sentiments are varied – from some people being so sad, to some fully rejoicing. And where do I stand on this broad spectrum?  I must admit I am on the "sad face" arena.  My first thought went out to the employees and their families who will be losing their job.  My second thought went to Maui's landscape … how it won't be as "green" in the surroundings where there were once sugar cane fields, once they stopped planting sugar cane.
As I was browsing the internet reading what Maui people are saying about the "breaking news" …  I stumbled upon a Facebook post by my friend (a talented artist) Maggie T. Sutrov. Her post was so heart felt and I think worth sharing that I messaged her to ask her permission for me to include her musing on this post. She said yes:
I will miss that color green. I grew up looking down the mountain at it. I drove past the green stalks blown diagonally anytime I left Upcountry. I savored the tones and familiar divisions of the fields every time I have flown home and had the good fortune of a window seat. Watching a mushroom cloud envelop a perfect view on a pristine day is also a memory deeply imprinted on me.  I remember how the Pu'unene mill smelled strangely like green beans to me as a child.  
Sugar has long left its thumbprint on every part of Hawaiian life. The businessmen who overthrew Queen Liliuokalani wanted to bypass the tariff the US placed on foreign sugar imports. So many of the cultures represented in Hawaii came to work the fields. Tunnels were drilled through mountains to bring the water of the rainforest to the central Maui fields.  If you erased the names Alexander and Baldwin from the minds of Maui people, so many places would be nameless.  Sugar has left its imprint, even if the color will fade with the last harvest. 
Sugar was not sustainable. It held on for so long because of the very depth of its history. I wish for the the diversified agriculture plan to be successful, a patchwork of new hues contributing to the sustainability of life and living on this special island.
And here are the links to some of the blog posts and news articles I have read.  I thought I should share the links so you can read them too.
Farewell Sugar, Now What, Maui?
HC&S to Shut Down All Maui Sugarcane Operations!
Hawaii News: HC&S Announces 100's of Lay-off's End of of Maui sugar operations by late 2016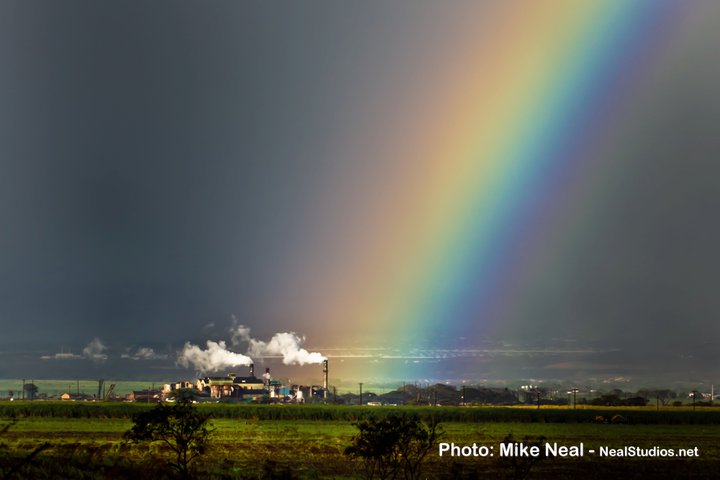 I know I need to wrap this post up nicely but I think I'd just end it here, just like this, with a photo of the Sugar Mill at the end of the rainbow. We'll see how the year goes and maybe I'll write another post about this at the end of 2016.  Aloha …
Note: Photos are linked to the source. Credits are named in the caption. Mahalo for your permission.