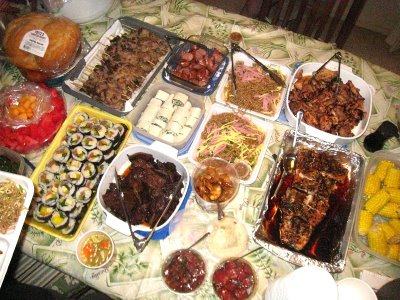 Potluck. According to Webster Dictionary, and Wikipedia, "a potluck is a gathering of people where each person is expected to bring a dish of food to be shared among the group.".  There are other definitions there but this is what I had in mind when I searched the meaning of potluck.
For several days now I had been meaning to write a blog post. Â So many things are happening, so many stories to tell. Â But I could not find an uninterrupted, Â focused time, long enough for me to write a coherent blog post. Â My mind flies from one thought to another. Thus, no posts for several days.
Then the other day we attended a potluck and I thought, "that's it – I'd make a potluck post".  Not  exactly related to what the definition above is of potluck, but my thought is to share a variety of stories on one post – thus potluck. I will also link up to other blogs and websites.  Bear with me as I start this weekly posting of a potluck post.  This one is the first, let's see how it goes.  AND if you want to join me and copy me, that is great.  Just a post a potluck post in your blog and leave the URL / link in the comment section and readers will find you too 🙂 So here it goes:
1. Maui Trailblazer – the other week I introduced you to the awesome Trailblazer blog. I encouraged you to leav a comment for a chance to win the book. So I thought I should announce who is the winner of the book is. Tada!!! it's ROBERT!
2. Derick Sebastian Ukulele CD – I also said I will give away a CD from Derick. The winner is AUNTIE E!
3. Maui Things – Notice that nice little logo on my sidebar that says Maui Things? Â When you click on that it will take you to this online store that sells a lot of cool stuff from Maui. Many are items that you can not buy elsewhere online – only there at Maui Things. So check it out. I am actually going to order a Deluxe Tea Basket for my mother in law. I will let you know how that goes. I think it will be pretty good. Â They boast about their green shipping and I think that is wonderful.
4. Â In case you don't know yet, I also blog at Maui Real Estate and Development Blog (MREAD) and Lahaina Dot Com. Recently I talked about the June Report of Maui Real Estate at MREAD and shared my "riding the Maui Bus" story at Lahaina.com
5. You think I have way too many blogs? I actually am thinking of starting another one for my son's school. I can't talk much a out it yet because I have not met with the principal yet, but it would be something to help the school with it's finances, as well as communication. We'll see if this happens.
6. Not to forget Twitter. If you really really want to know what's going on here with me on Maui, you should sign up for a Twitter account and follow @amauiblog . Â I spend way too much time there but it's worth it. I have met many friends. It's also educational and entertaining – but you've got to know how to "work with it". Â I am thinking of giving a free workshop on blogging and twittering for the local business owners here on Maui. Â I had been wanting to do this for a long time now. I need help with the organization because my plate is already full. Anyone willing to help?
7. Speaking of plate being full, I actually squeezed another one in there. I joined a group to participate in HANA RELAY. I know. I've lost my mind. I am training hard. More about this later. It's worth a post of it's own.
I think this is good for now. Â Thank you Kay for letting me use your potluck photo. Mahalo.