I can't believe it's already Friday again! But I'll take it. In fact, I am happy it is Friday. Let's say I am pleasantly surprised! How about you? How did your week go?
Random Thoughts
This blog post is going to be a bit of random. It will be free flow. Whatever comes to my mind, I will type.
Remember that in my previous post I shared with you that I submitted my revisions to my formatter? Well, the folks at FormattedBooks.com are so good, I got it back right away. I am soooo excited! This planner is going to be published soon.  Did I already tell you I am soooo excited? Oh yes I did. And I really am!
Lot of things are happening on Maui.  the "Round About" road construction is Kihei is making progress. I heard half of it is done but I have not driven through it yet. This weekend I will. I will let you know how it is.
Most of you already know that the Five Palms in Mana Kai, next to Keawakapu Beach in Kihei closed this year.  Rumor has it that they were asked to commit to million of dollars renovation, and since they can't (or won't), they had to give up their lease (or lease was terminated, or not renewed).  I heard that the owner of Monkeypod and Merrimans in Kapalua is taking over.  I am guessing it will be a Merriman's on the Southside. It will be an oceanfront fine dining. I will let you know more how it goes….
Photos and Iphone 14 Pro
I need to schedule a professional photo shoot. I really need some good photos to send out with my Press Releases once my book "Maui Now And Beyond" comes out.  Yes that book coming out soon is the 2nd edition of Maui 2021 and Beyond. I took the year out of the title for obvious reasons.  Any, back to professionally taken photos. When i launched my first book, i didn't have good photos because I didn't have the budget to pay professional photographers.  But this time, I will break with the bucks and pay for a professional photographer to take a photo of me, and Maui.
Speaking of photos, I am planning to buy an Iphone 14 Pro. It will be my gift to myself when I launch my Maui Vacation Planner and Journal.  Basically I will use the income from that book and reinvest it to my "social media and book writing side gig".  I really need a good camera to shoot photos and videos on Instagram and Youtube.  On my 50th bday, my hubby gifted my an Iphone XR, which was a jump from the Iphone 6 i was using at that time. the improvement on the photos and videos I shared were evident. So now I can't wait to share photos and videos with you using an IPhone 14 Pro. Please pray that the "Maui Vacation Planner and Journal" will be a success.  I had put a lot fo thoughts and work into it. I'm excited to share them with you.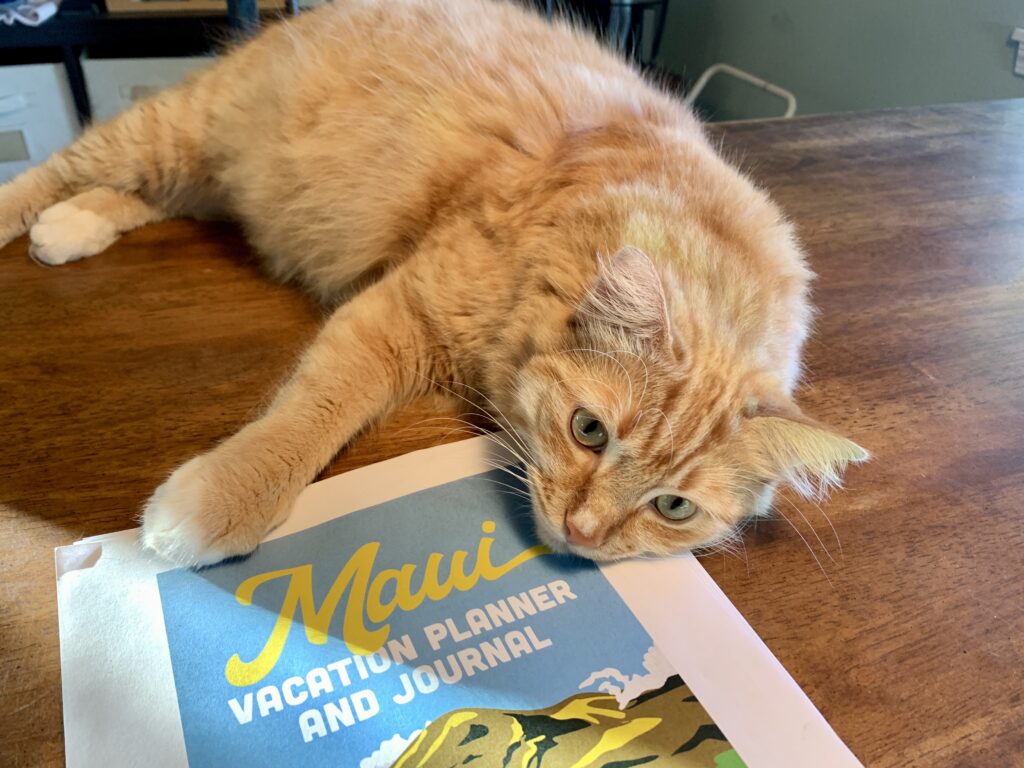 Pets on Maui
Our cats, Fred and George, are super cute! I have hundreds of photos of them on my phone. Are you a Cat Lover? Want me to share some photos here on my next post?
Now for my dog lover friends, here's my good news. Looks like we are getting another Italian Greyhound!  Those of you who had been with me here on A Maui Blog for a long time knows about our Italian Greyhound Sonny. He is in doggy heaven now and we miss him dearly. Probably around December when we get our new Iggy. Stay tuned …
Work is very busy these days but I am so grateful for my work, the company I work for, and the people I work with.
I am going to the mainland to visit my 2 Young Adult kids. I am sooooo excited! I am sure I will share more about that trip as it gets closer.
It is 7am right now on Maui. the sun is out. It is so beautiful out there. Ok, let me take a photo right now and share with you here: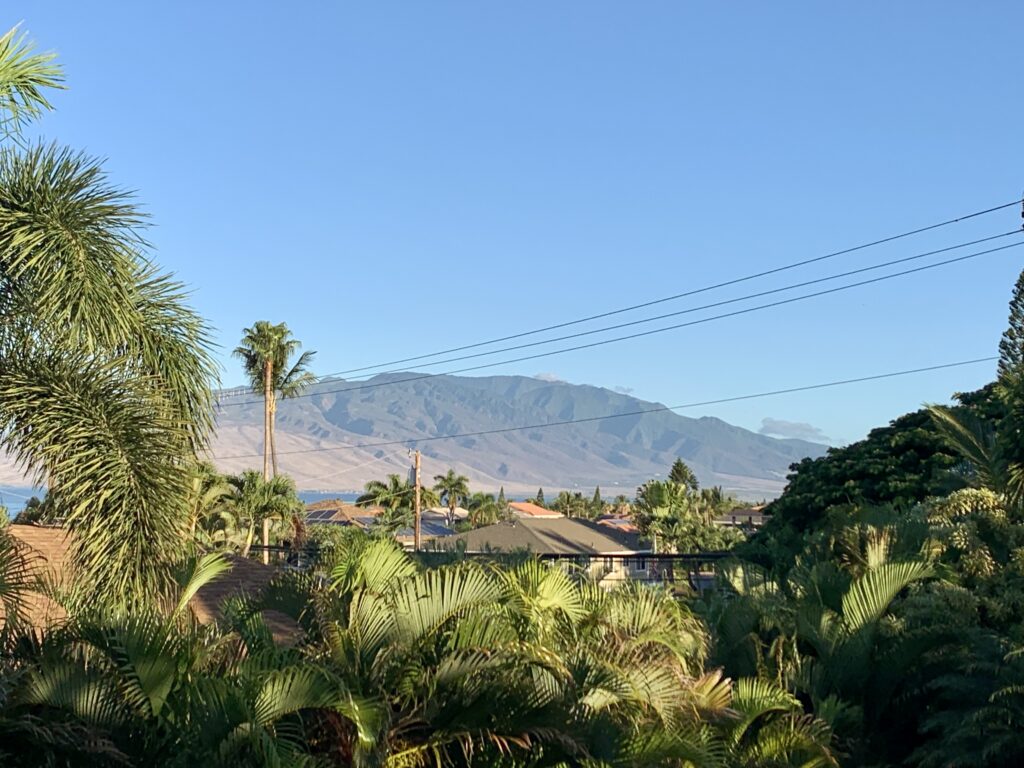 "Progress, not perfection", that is my encouragement for you today.  If you have any projects that you are working on and it seems like it is taking a very long time … just do a little at a time. Don't be discouraged. Ask for help if you need help.
Until next time. A hui hou!
Liza