SEABURY HALL CREATING HOPE FOR A BRIGHTER FUTURE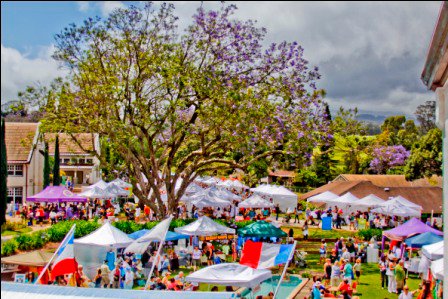 Come upcountry this weekend for Maui's favorite springtime event! Seabury Hall will celebrate its 41st annual Craft Fair from 9 a.m. – 4 p.m., on Saturday, May 10, 2014, on the Seabury Hall Campus in beautiful Upcountry Maui. The Craft Fair has been raising money for financial aid since 1973, giving hundreds of students the opportunity to pursue their dreams and hope for a brighter future.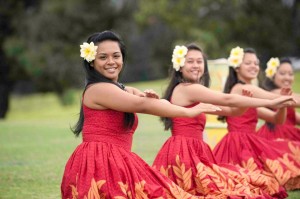 Always the day before Mother's Day, the Seabury Hall Craft Fair is a day for delighting your senses and having fun! With more than 100 of Hawaii's finest artists and crafters, live music by Maui entertainers, tantalizing food from some of Maui's most outstanding restaurants, bargains galore at the silent auction, a huge rummage sale, fresh flowers, potted plants booths, a giant waterslide, plus games and bouncy rides for the kids ensure good fun for all.
Crafter exhibits are at the heart of the event, and you'll find their tents scattered throughout much of the 11-acre campus. The juried craft show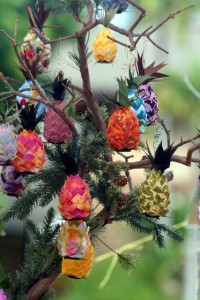 features the work of some of Hawaii's finest artisans and crafters – more than 100 in all – including woodworkers, traditional Hawaiian artists, jewelers, ceramists and weavers. It's a relaxed setting for locating a unique "Made on Maui" gift that Mom will cherish.
Restaurant Row will be brimming with delicious food items from some of Maui's most outstanding restaurants, with dishes ranging from local favorites to exotic fare of faraway places. The Cafe will feature homemade baked goods and treats, as well as fresh waffles with strawberries.
Kids love the keiki activities. Dress them in their swimsuits because it's impossible to resist the thrilling Keiki Waterslide. Pony and miniature pony rides and a petting zoo provide additional fun for youngsters. They can also create unique and special from-the-heart gifts and cards for mom at the "Make a Craft for Mom" booth.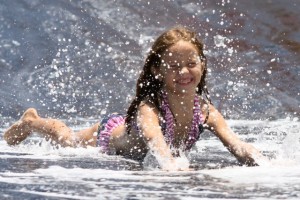 All proceeds from the fair support Seabury Hall's financial aid program. Over 35% of Seabury Hall students receive some form of financial help through this fund. Without it, a Seabury Hall education would not be a reality for some of these students.
"With the goal of ensuring that financial need doesn't get in the way of a Seabury Hall education, the parents, teachers and students work together for months in advance to prepare for the craft fair," said Headmaster Joe Schmidt. "Seabury Hall's Financial Aid Program provides deserving students an opportunity for a high-quality college preparatory education—which might otherwise be unobtainable for them—and also provide the school with a well-qualified student body reflecting a broad social and economic mix."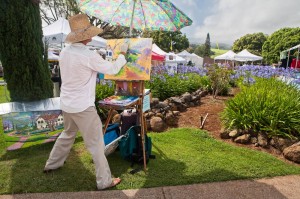 "The Seabury Hall Craft Fair has become a tradition for many Maui families, a way to extend Mother's Day into an entire weekend," says Gayle Hart, Seabury Hall's parent coordinator and Associate Director of Development. "People from all over the island enjoy coming upcountry to ooh and ahh over the beautiful flowering trees, and spend a fun day on the 11-acre campus, eating delicious food, enjoying live entertainment and checking out the fun activities and exhibits."
The Craft Fair is located on the Seabury Hall campus, at 480 Olinda Road, Makawao, Hawaii. Admission is $5 for adults. Children 12 and under are free. General parking is available at no charge, with premium parking for $10. Come and spend the day in beautiful upcountry Maui and bring the whole ohana.
To reach Seabury Hall, take Haleakala Highway to the traffic light at the intersection of Makawao Avenue. Turn left on Makawao Avenue and follow it into Makawao Town. At the four-way stop by Casanova's Restaurant and Polli's Restaurant, turn right onto Olinda Road. Go up the hill one mile. Free parking for the Seabury Hall Craft Fair is just past the entrance to the school on the left side of the road by the Oskie Rice Arena. For premium and handicap parking, follow the signs onto campus.
Information about the Seabury Hall Craft Fair can be found at www.seaburyhall.org For more information please call Gayle Hart at 572-7235.
About Seabury Hall: Seabury Hall is a non-profit private college preparatory school located on the island of Maui, Hawaii, and is affiliated with the Episcopal Church. It was founded in 1964, and serves middle and high school students. Seabury Hall was built upon sound principles of education that are current, relevant and future focused. Students are challenged to value excellence, perseverance, diversity, high personal standards and community. Seabury Hall is a designated Blue Ribbon School by the Department of Education. For more information about Seabury Hall please visit www.seaburyhall.org or call (808) 572-7235.
About the Guest Blogger: Nicole Shipman was born & raised in Hawaii and lives on Maui with her husband and their two daughters. She publishes the Maui Family Magazine and is the owner of Kuleana Productions. It's her passion to keep families connected and involved! Website: www.mauifamilymagazine.com and www.beahulagirl.com