This kind of footware has many names, you have to know how to call it depending on where you are and who you are talking to.  It is can be called FlipFlops, Sandals, Slippers. Now, if you want to sound like a Maui Local, call them Slippah or Slippahz.
If you  are visiting Maui and you don't own a pair of flip flops, I highly recommend that you buy a pair ahead of time and use it a little bit to break it in.  This way you will get used to it and you will enjoy using it better when you are on Maui.  Sure you will like to walk barefoot on the beach, but on your way there you would want to wear something comfortable for foot protection.
Here on Maui it is very common to buy them on the grocery stores such as Safeway and Longs.  Recently a new breed of slippers emerged.  They are more expensive but more comfortable, much more stylish and they last longer at least that's how it is in my own experience.  And sometimes I just want to wear a slipper that had some kind of personality, like that hibiscus slippahz on the photo above.
How about this new trend on Beach Weddings where brides wear these fancy slippers and it is so cool!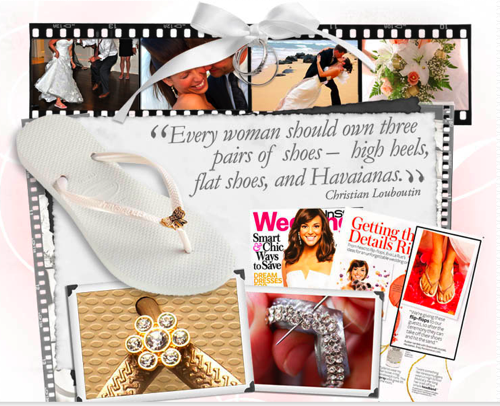 Here on Maui, I have attended many weddings where the bride uses some fancy bridal slippers and during the wedding ceremony.  Have you?
So why am I all of a sudden taking about slippahz? Because I was introduced to this Havaainas Fiip Flops and I want to get one. You guessed t right, I want that pair with the hibiscus design, because I really am fond hibiscus!  I don't  know where to buy them on Maui, but that's not a problem. I can order them at Havaianas Online store – and that's what I am going to do!
You want a chance to get pair too? You can Like Havaianas Facebook Page and they occassionally give out special prizes such a pair if Havaianas Slippahz.
OK, got to go for now.  I am off to get ready to watch my daughter in a musical play they are doing in school: Annie, Jr.  I'm sure I am going to write a blog post about that too 🙂