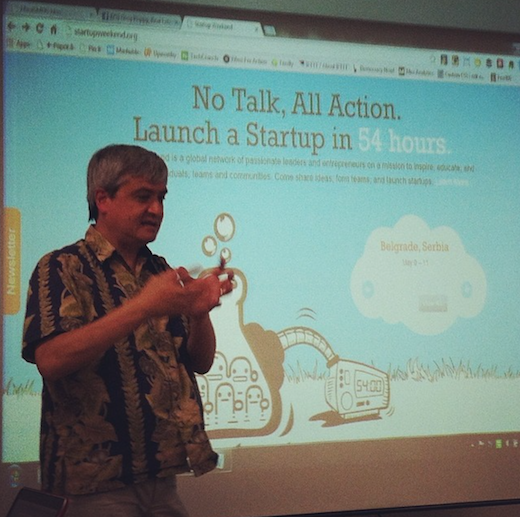 Ideas … I love ideas, and I have lots of them.  How about you? Do you find your self creating and inventing in your mind, forming business concepts that you think will work, if only …. or do you know people like us, who just are full of ideas?  What if I tell you you can have help getting those ideas out of your head and turn it into reality with the help of  skilled people who'd match your enthusiasm and passion?
Enter Start-up Weekend:
Startup Weekend is a global grassroots movement of active and empowered entrepreneurs who are learning the basics of founding startups and launching successful ventures. It is the largest community of passionate entrepreneurs with over 1800 past events in 120 countries around the world in 2014. All Startup Weekend events follow the same basic model: anyone is welcome to pitch their startup idea and receive feedback from their peers. Teams organically form around the top ideas (as determined by popular vote) and then it's a 54 hour frenzy of business model creation, coding, designing, and market validation. The weekends culminate with presentations in front of local entrepreneurial leaders with another opportunity for critical feedback.
Start up weekend had come to Maui. This is our chance to showcase our Maui entrepreneurs, so if you are one of the idea people I was talking about, I invite you to sign up…. or if you know any, get them to sign up! Maui represent!  http://www.eventbrite.com/e/maui-startup-weekend-may-2014-tickets-10981326443
Still not sure what this is about? Check out this   Startup Weekend video from Startup Weekend Honolulu  last year:
I realize I am a bit late sharing this, but it is not too late.  Startup Weekend on Maui starts on May 16th and you can still register here http://www.eventbrite.com/e/maui-startup-weekend-may-2014-tickets-10981326443.
Need more info? Visit their website at http://maui.startupweekend.org