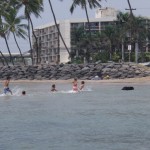 As a visitor to Maui, your first thought as to where to stay might be a hotel. But if you're traveling with family you could consider another option. Timeshare resorts are available all over the island in prime locations. Although generally for owners, it is possible to rent suites at these resorts.
Suite rentals are available for about the same price as you would pay at a comparable hotel. When you rent a hotel, the best you can hope for is adjoining rooms. Then you have to worry about whether your kids will answer the door in the middle of the night should a stranger come knocking You also don't have a central area to unwind in after a long day. With a resort, you'll have a home-like setting more closely resembling an apartment than a hotel. You'll even have a kitchen for preparing quick snacks or for breakfast before you head out for a day of fun.
When you fall in love with Hawaii, and you will, you'll probably want to return here often. But, because it's Hawaii, real estate is incredibly expensive. One way to afford vacationing here year after year is to buy timeshares which are far less expensive than a second home. And by vacationing here in a rental, you will have tried before you buy and will know what suits you best.