(Note: Aloha Friday question at the bottom of this post. )
Remember the first time we went to Ulupalakua? It was a Sunday Drive too. I posted some photos here. Well, there's another Ulupalakua Sunday Drive happening this weekend and we wouldn't want to miss it. This time it is focused on celebrating the arrival of holidays, Maui-style, and it is called Ulupalakua Sparkles.
Details of the event is found on Maui Weekly (click here). Fine wine, delicious food, fine music, tropical flowers, wonderful atmosphere – what more can we ask for? I highly recommend that you go to this event.
Why am I recommending this event? Because it is indeed a great way to break away from the hustle and bustle of the holiday season, and to go there to enjoy the scenic ride and the country atmosphere. The long drive is so worth it. The celebration and the festivities are icing on the cake.
When my kids and I went there for Ulupalakua Cares, we had a blast! One of our favorite places was the Ranch Store. Oh it was so much fun in there, not to mention that the food was so ono! The teriyaki burgers were heavenly, my son is looking forward to going back there just to eat that teri burger. Then I also like the Kings Cottage Tasting Room where we could taste the finest wine from Maui Winery.
So are you ready to go? click here one more time for details. See you there!
******
ALOHA FRIDAY: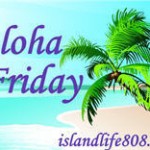 It's Aloha friday once again. You know the drill. If not, go to "An Island Life" blog for details. And go there to participate too. As we are getting ready for Christmas, I would like to know what "special drink" do you usually serve with your Christmas meal? For us we like either warm apple cider or sparkling apple cider. How about you?