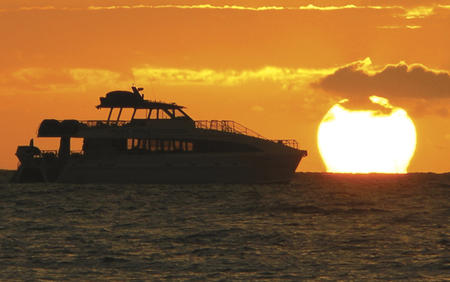 I had been getting some inquiries from readers asking about where to eat on Thanksgiving on Maui. I also noticed that the number 1 search word on Google that makes people arrive to my site these past few weeks is "Thanksgiving on Maui".  I wrote a post last year gathering a lot of information on where to eat on Maui on Thanksgiving and it went high up the Google list and people still click this year.   Well, this post is not about Google and search engine optimization. It's really about Thanksgiving on Maui.
I did a little bit of gathering this year and posted  at Aloha Luxury Properties blog.
One that I highly recommend for the visitors to celebrate Thanksgiving on Maui is to do a Special Thanksgiving Dinner Cruise.  OhanaFun.net has all the details, and you make your reservations there too. Here's the link:  (the photo above is from their website)
Thanks to Jen Russo of Maui Dish Blog (Maui Time) and for Carla of Maui Ocean View for doing the task of gathering the "Where to Eat on Maui on Thanksgiving" information, I decided to just provide you their links instead of me re-doing the list:
Maui Dish : http://mauidish.com/maui-restaurant-reviews/thanksgiving-on-maui-where-to-go-and-what-to-eat-2012/
Maui Ocean View : http://mauioceanviewcondo.blogspot.com/2012/11/thanksgiving-dinner-on-maui.html
This coming week is going to be very busy so this might be my last post until Thanksgiving.  I want to wish you all a HAPPY THANKSGVING  now in case I don't "see you" again on or before that.
HAPPY THANKSGIVING TO YOU. Thank you for being a part of A Maui Blog Ohana 🙂 Aloha!