The Color Run Maui 2014 –  it was a blast!  The Color Run is also known as the Happiest 5k, and I would say it truly is.
I first heard about it when they held the the first ever Color Run on Hawaii on Oahu. I wanted so much to join but it was cost prohibitive since aside from the race fee I would have to buy a round trip airline ticket.  Back them I stated messaging the Color Run requesting for them to come to Maui. I was so excited when first saw their announcement that they are coming to Maui!  I has a feeling it will be a sold out event, and it was!
I can go on and on about the excitement of the anticipation of this fun event and how festive it was when it was finally time for us to pick up the race packets. But let's move to the day of the event itself.  My daughter, and friend and I arrived at the UH-Maui Parking lot at 5:30 am! We wanted to secure a parking lot close to the  race start and finish so we made it a point to get there early. And sure enough there were already a lot of people by the arrive. The festive atmosphere is in the air. I was glad to see many friends there, like my friend Lisa who nicely remind me not to post her photo on Facebook 🙂 . I also saw friends from work, like Mitch Tempo and his family. It was the place to be!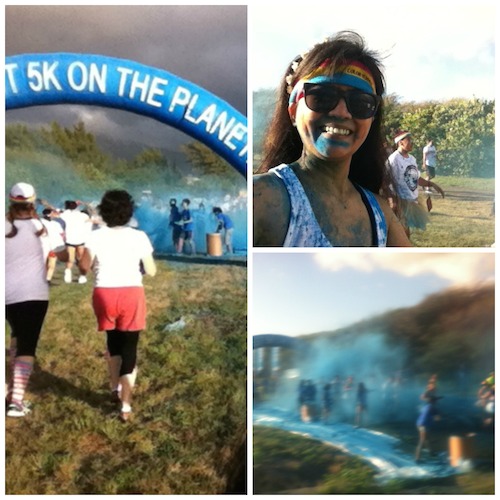 The race started promptly at 7am. Thousands of people were there. I heard the total color runners count was 7,000. Seven thousand runner – wow, that is a lot!  At the end of this post you will see a video I embedded taken during this event and you'll get a sense of how big this was.
The first color blast station was BLUE.  We ended looking like surf after that.  Well, not quite.  It depends on how much you really wanted to have the colors in you. Some had more, some had less. It was quite a treat going through the blue dusts, it being the first of the 4 color stations to go through.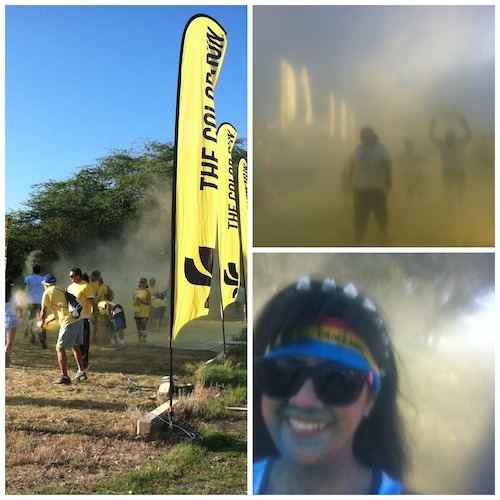 The second color blast is YELLOW. I was hoping to get a lot of colors on the white rose headband I was wearing but it didn't. I should have wet the headband earlier I was told. But anyway, it was fun going through the yellow dust as well.  After the yellow station was the water station.  The water cups were so colorful and music was blasting in the background.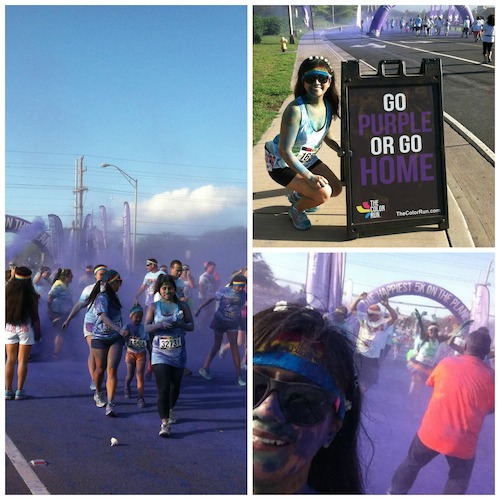 Next blast was PURPLE.  Since purple is one of my favorite colors, I hang in there for a little while.  We saw several professional photographers taking photos at the purple station and this morning . At the purple station I ran into my friend Angela, and John & Megan. Needless to say here were a lot of  "taking photos and posting on Instagram going on" – selfies, groupies,  many are taking go pros video as well.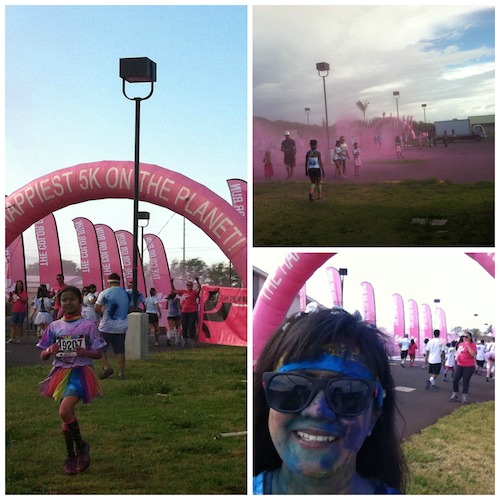 After purple comes PINK!  I was a little late coming in the pink station as I stayed longer in purple. By the time I went on pink, they were short of the pink dust and were squirting pink liquid goos. Yep, I got the goo.  It was at pink that I noticed the many multi-colored tutus in the race. Lots of them and they are  beautiful to look at.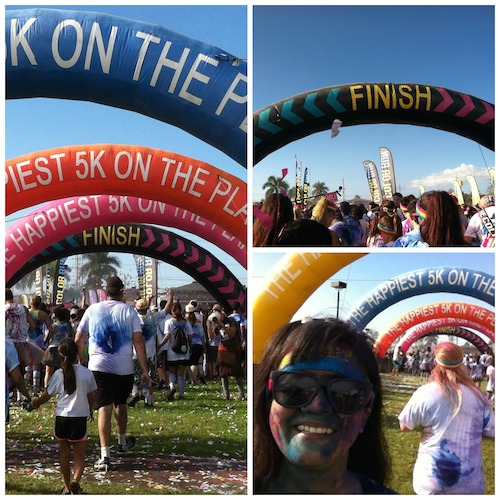 And finally, the finish line.  Oh the rainbow … yes those were inflatable rainbows but nevertheless pretty fun to go through. The colorful confetti added even more colors to the already colored filled atmosphere.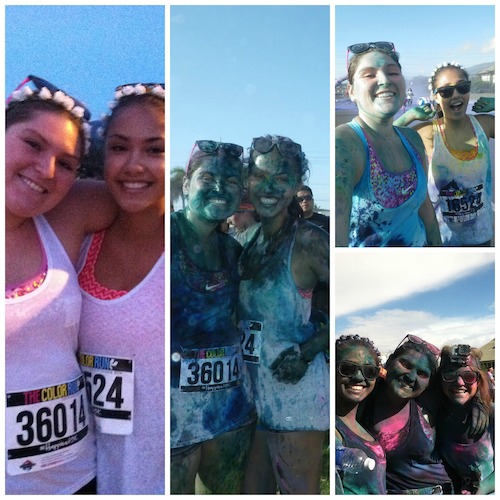 This Color Run Maui event is no ordinary 5K.  It really is more for fun than for physical fitness but it can a good start to a physical fitness regime as well.  As one of the posts I read from a Color Runner, he said he probably wouldn't have run any 5K had it not been for The Maui Color Run.  I truly hope they do it again next year. I am pretty sure they will sell out even if they double the numbers of participants.  Before I forget, I would like to say thank you to all the Sponsors and Volunteers. This was a huge undertaking and wouldn't have been possible without sponsors and volunteers.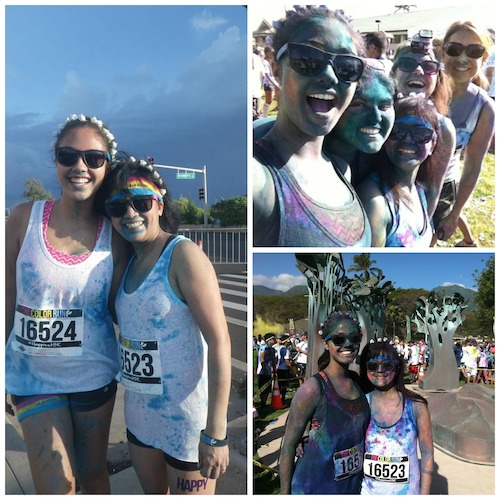 As I mentioned earlier, this Color Run Maui is really a fun run for family and friends and I am glad I was able to share with "crazy" moments with my daughter Noelle and with friends too.
Now for the action packed video, watch this by EpiCapture Productions. (note: the embedded video is on a playlist so you'd see some great underwater shots too after the Color Run Maui 🙂 )