Happy New Year! I can't believe we're already half way in January 2021. How are you all doing in this new year? I am excited to share with you our first blog post for 2021. It's about mindfulness and appreciation  of the beauty around us. Our guest blogger, my friend Kenny Ward, shared with us where we can …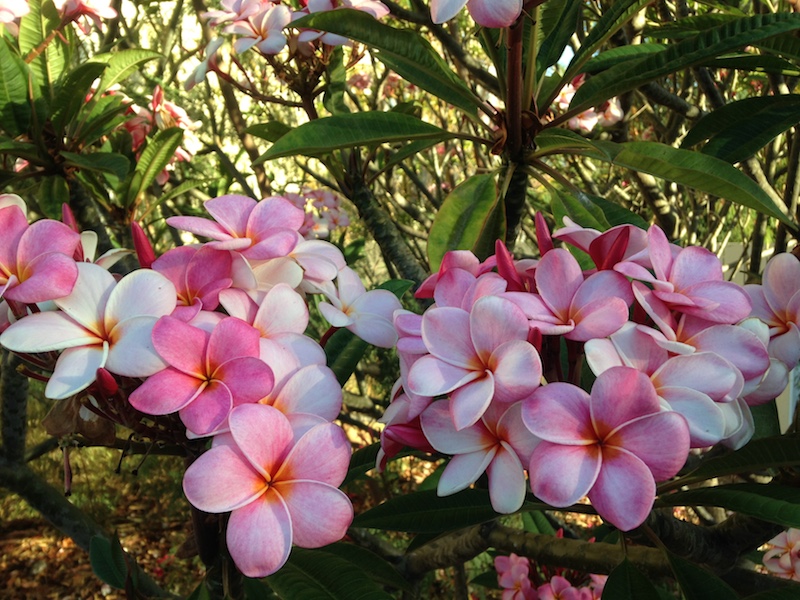 Stop and Smell The Flowers on Maui
No matter where you turn, Maui has something beautiful to offer.  Whether it's the miles of pristine beaches or the endless waterfalls along the Road to Hana, there is something peaceful and awe-inspiring at every turn.  Many people travel or move to Maui with the desire of taking time to slow down, feel peaceful, and embody the idea of "stopping to smell the flowers".  In this post, I want to share some of my favorite places to do just that…literally! 
If you're reading this and feel like you need a quick three-minute break to appreciate some of Maui's floral delights virtually, I encourage you to check out this music video for "New Year's Day" by my band, The Other Realm   
We filmed parts of this video at one of Maui's famed sunflower fields and filmed the rest at Poli Poli State Park, just above the Ali'i Kula Lavender Farm.  I hope you will bring you some sunshine and allow you a moment to relax! 
Without further adieu, here are my Top 5 places to stop and smell the flowers on the beautiful island of Maui.
5.) Ali'i Kula Lavender Farm (Kula)
I consider Ali'i Kula Lavender Farm (known to many as simply "The Lavender Farm") to be one of Maui's most peaceful hidden gems.  The spot is certainly popular, but it is easy to feel like you're in your own little corner of the world on a visit to the sprawling grounds.  Visitors can stop into the farm's small gift shop and cafe for lavender tea and scones to enjoy while they meander the fragrant fields and gardens.  In my experience, there is always some varietal of lavender in bloom, but the peak time to see the fields is in mid-summer.  According to the Ali'i Kula Team, the majority of the plants bloom in July and August.  The farm also has a large tropical garden to explore, complete with one of Hawaii's most sought-after plants: protea.  The garden's collection of protea is just as alluring as the fields of lavender, and there are numerous bushes with a wide range of colorful blooms to appreciate.  A trip to the Lavender Farm is certainly relaxing, and if you're looking for the full experience, you may want to participate in one of the farm's interactive tours.  On certain tours, you may even be permitted to harvest your own bouquet of lavender to take home a fragrant keepsake and a reminder of your relaxing stroll through the grounds. 
4.) The Garden of Eden Arboretum and Botanical Garden (Haiku)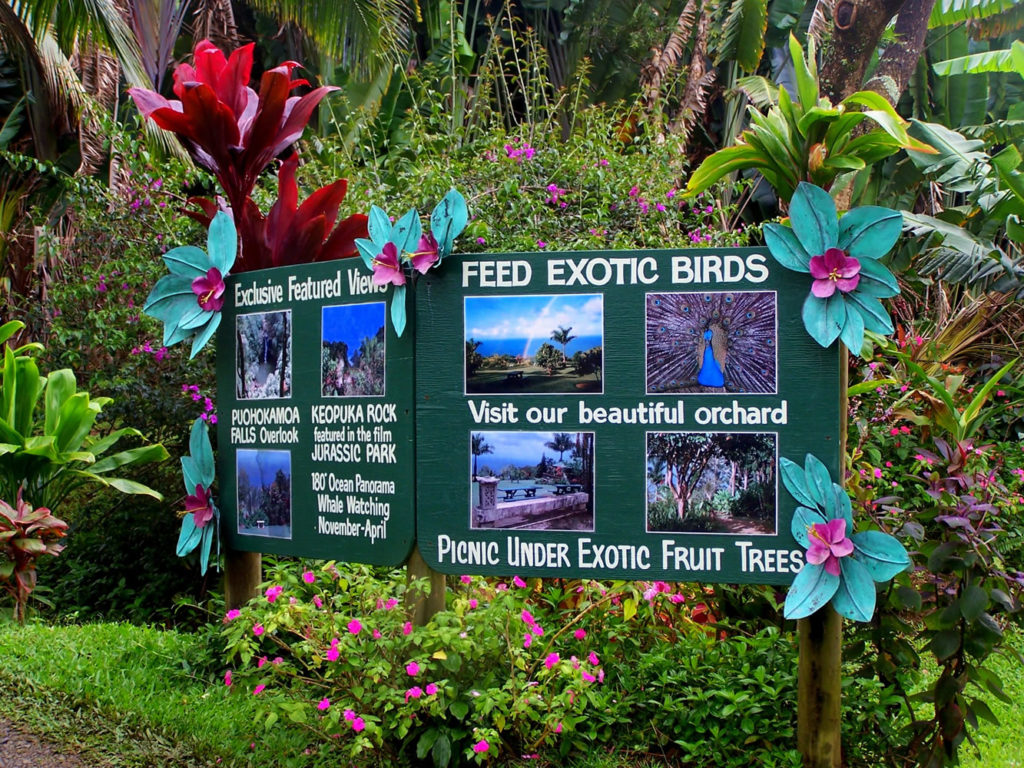 Located along the Road to Hana, The Garden of Eden is one of Maui's most beautiful, sprawling arboretums.  With countless trails weaving through 26 acres of lush gardens, there is plenty to see at the Garden of Eden.  The trails will bring visitors to waterfall overlooks, bamboo thickets, and up-close-and-personal with ancient Hawaiian stone structures.  Of course, we can't forget the wide variety of plant-life to see.  A 100-year old mango tree, an anthurium garden, and rows of ti plants and fruiting trees like banana and guava are just the start of the beautiful plants that visitors can enjoy.  I always recommend a stop at the Garden of Eden when driving the Road to Hana.  It's the perfect place to stretch your legs for an hour or so in a relaxing setting…the perfect reset in the middle of a sometimes-stressful drive!  The Garden of Eden also has a small cafe with plenty of tasty options, so this can be a perfect place to grab lunch in the middle of your journey to Hana.
3.) 3rd Day Nursery (Kula)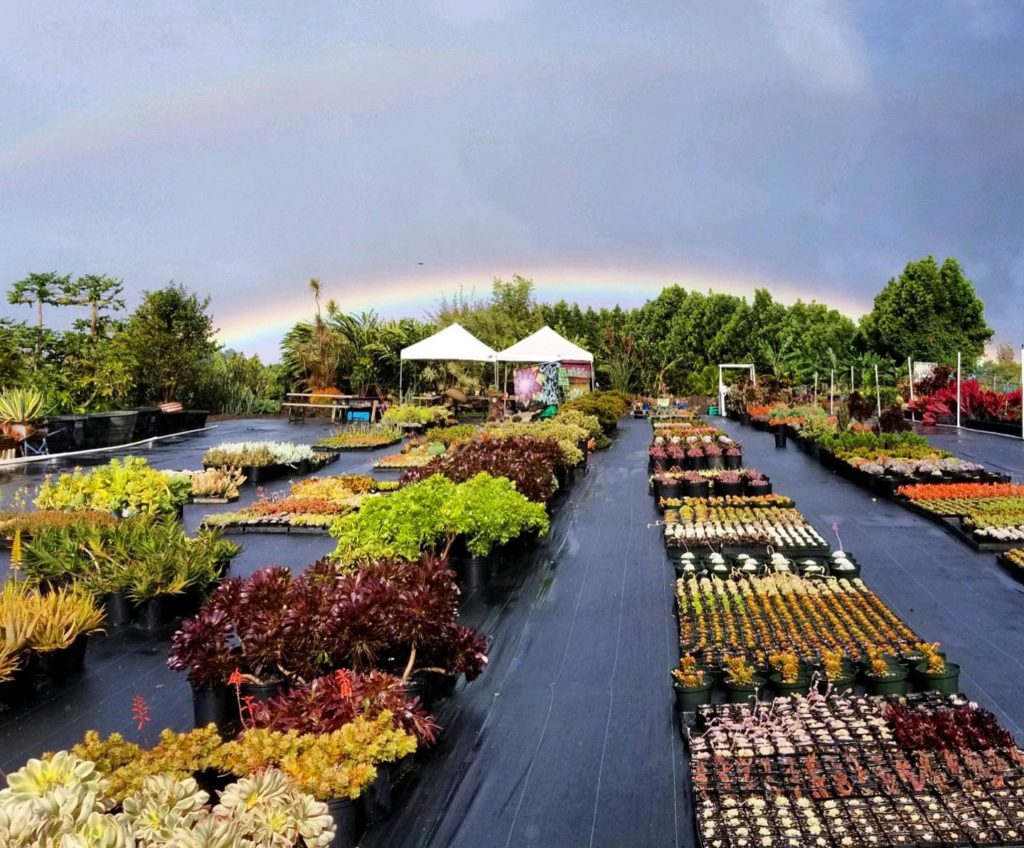 Succulents may not have much in terms of fragrance, but they certainly are beautiful.  A visit to 3rd Day Nursery is a succulent fan's dream, with rows and rows of gorgeous succulents, tropical plants, and arrangements.  From the bushes of monstera, plumeria, and bougainvillea, to the rows of succulents, ti plants, and banana trees, 3rd Day Nursery has plenty to appreciate.  The nursery's array of succulents, cacti, and rare tropical plants are sure to inspire you, and the geometric patterns in many of the succulents will make your jaw drop.  With such a variety, I have joked that a visit to 3rd Day is like walking into an "I Spy" game; no matter how many times you visit, you'll always find something new and beautiful upon your next visit.  When you stop by, the staff may even share some bananas, starfruit, or limes that are grown all over the property.  Lastly, if you're lucky, you may even get to meet 3rd Day's unofficial mascots: two friendly boxer dogs named Ziggy and Moe!  This quiet, breezy nursery is a great pit-stop during a trip to upcountry Maui.  
2.) Haleakala National Park (Kula)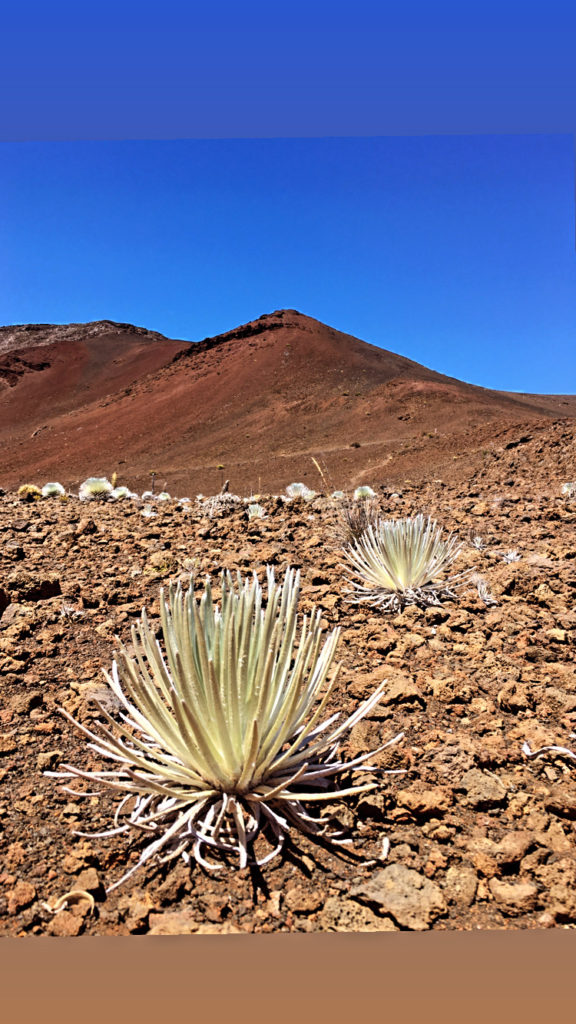 At first glance, Haleakala National Park's summit district is vast and beautiful, but not necessarily filled with florals.  While you won't find traditional tropical plants, there is one very special plant that you'll want to keep an eye out for: the silversword.  This silvery, spiky plant is exceptionally rare and is technically a member of the daisy family.  The reason silverswords and Haleakala are on this list is that a visit to the Haleakala Crater may well be your only chance to see this rare endemic species.  The silversword is a very finicky plant, and can only be found on Haleakala, Mauna Kea, and Mauna Loa.  When you see the silverswords, be mindful that these gorgeous plants are critically endangered and cannot survive outside of this habitat, so please do not touch or harvest them!   A short hike along the Sliding Sands trail will bring you past many of these beautiful plants, and if you're lucky, you may even find some that are in bloom.  A hike into the Crater to view some silverswords is a rewarding, relaxing, and peaceful experience that I always recommend.  Once on the trail, you'll find that the summit of Haleakala is one the quietest, most peaceful places you'll ever experience.  
1.) Maui Sunflower Field (Central Maui)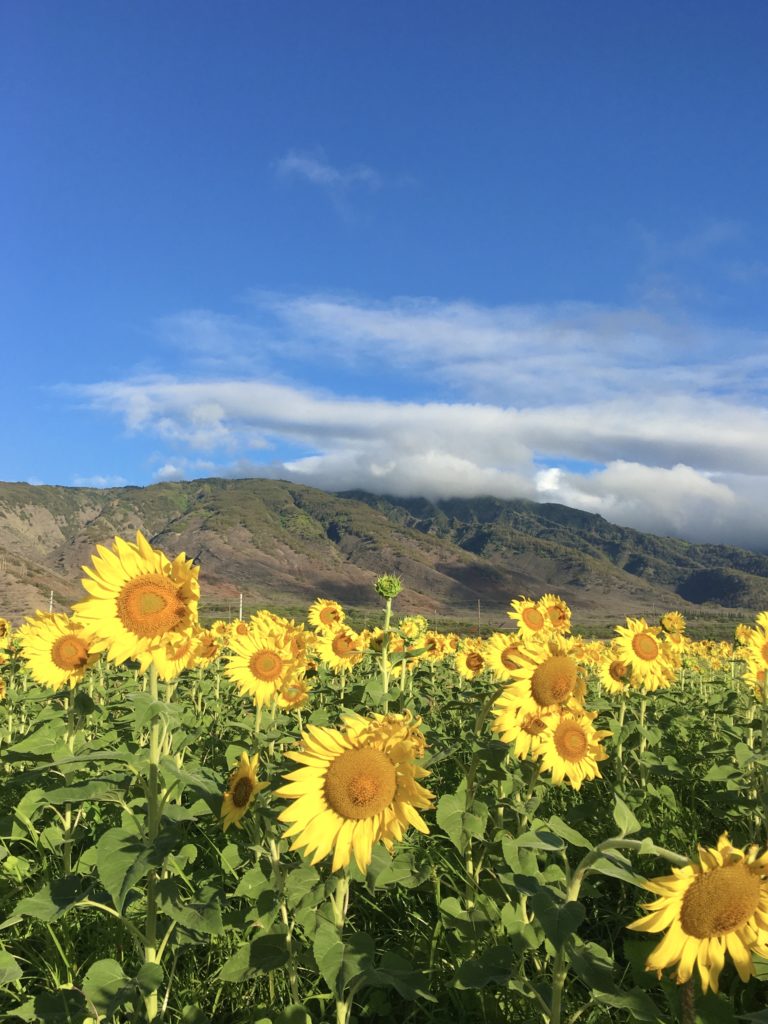 If you'd like to see a stunning field of sunflowers like the one in our music video, look no further than this spectacular field in Maui's central valley.  In recent years, the field has unintentionally become a popular roadside attraction and a sought-after backdrop as a Maui photo-op.  The gorgeous, sprawling field was initially planted by Pacific Biodiesel and is used for sustainable biodiesel production; however, once the sunflowers started blooming, passersby couldn't resist pulling off to appreciate their beauty.  While the field is technically privately owned, it sees countless visitors when the flowers are in bloom, which has helped raise awareness about the project's eco-friendly intentions.  If you decide to pull off for a quick photo-op, please be mindful that the field is located on a fairly busy highway.  Appreciate the field from afar, and be sure not to trample on or pick any of the sunflowers.  As beautiful as they are, we want to make sure that we are respectful to the owners of the field and to others who want to appreciate the stunning blooms.
Hibiscus, Plumerias All Around
In addition to the flowers and gardens listed above, I recognize that visitors to Maui are often searching for hibiscus and plumeria. These are flowers that can be seen all over the island, especially in beach and resort areas.  A few spots you may explore for some gorgeous, well-maintained hibiscus and plumeria are the grounds of the Grand Wailea, Fairmont Kealani, Kaanapali Beach Hotel, and other resorts.  Do be mindful of the flowers anywhere you visit.  As tempting as it may be to pick a few blooms, it is important to appreciate or take photos without touching.  We all love these beautiful blossoms, and we want to avoid harming them so that they are around for others to appreciate, too!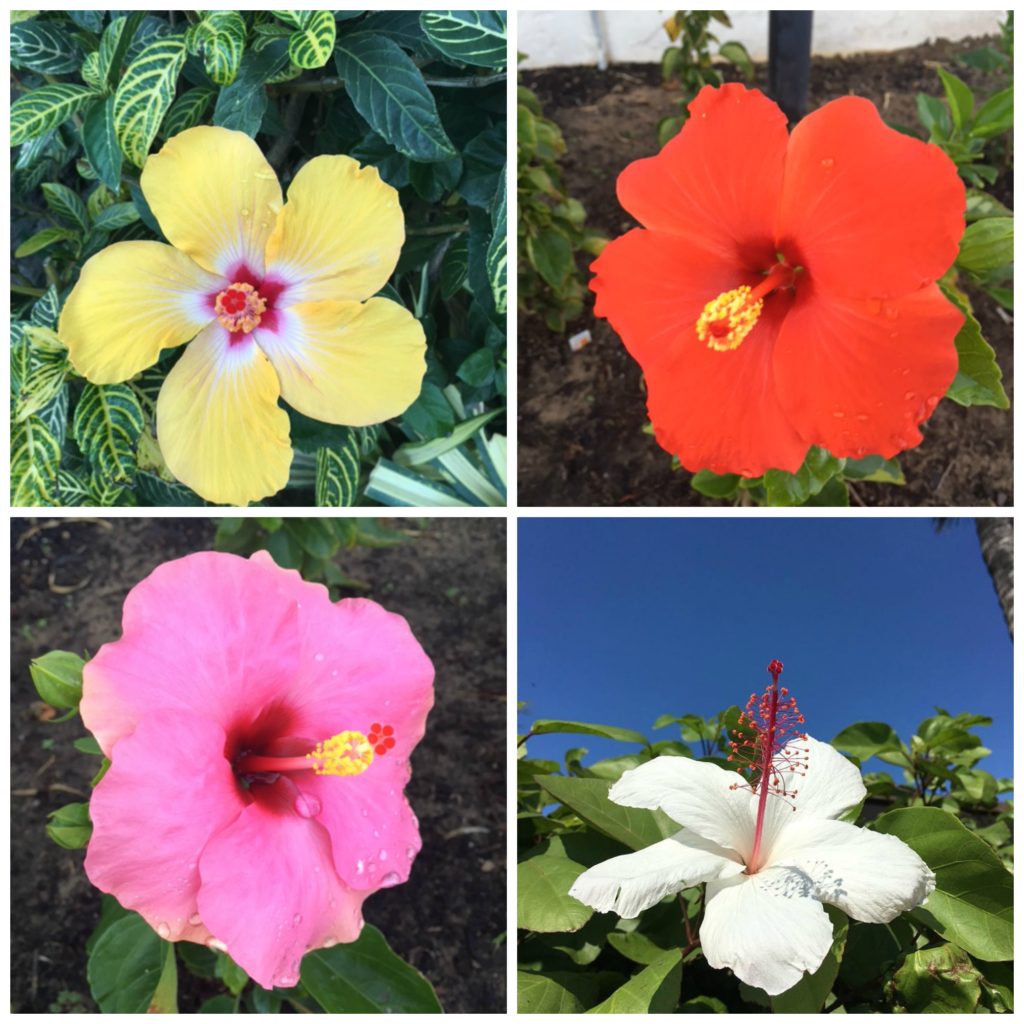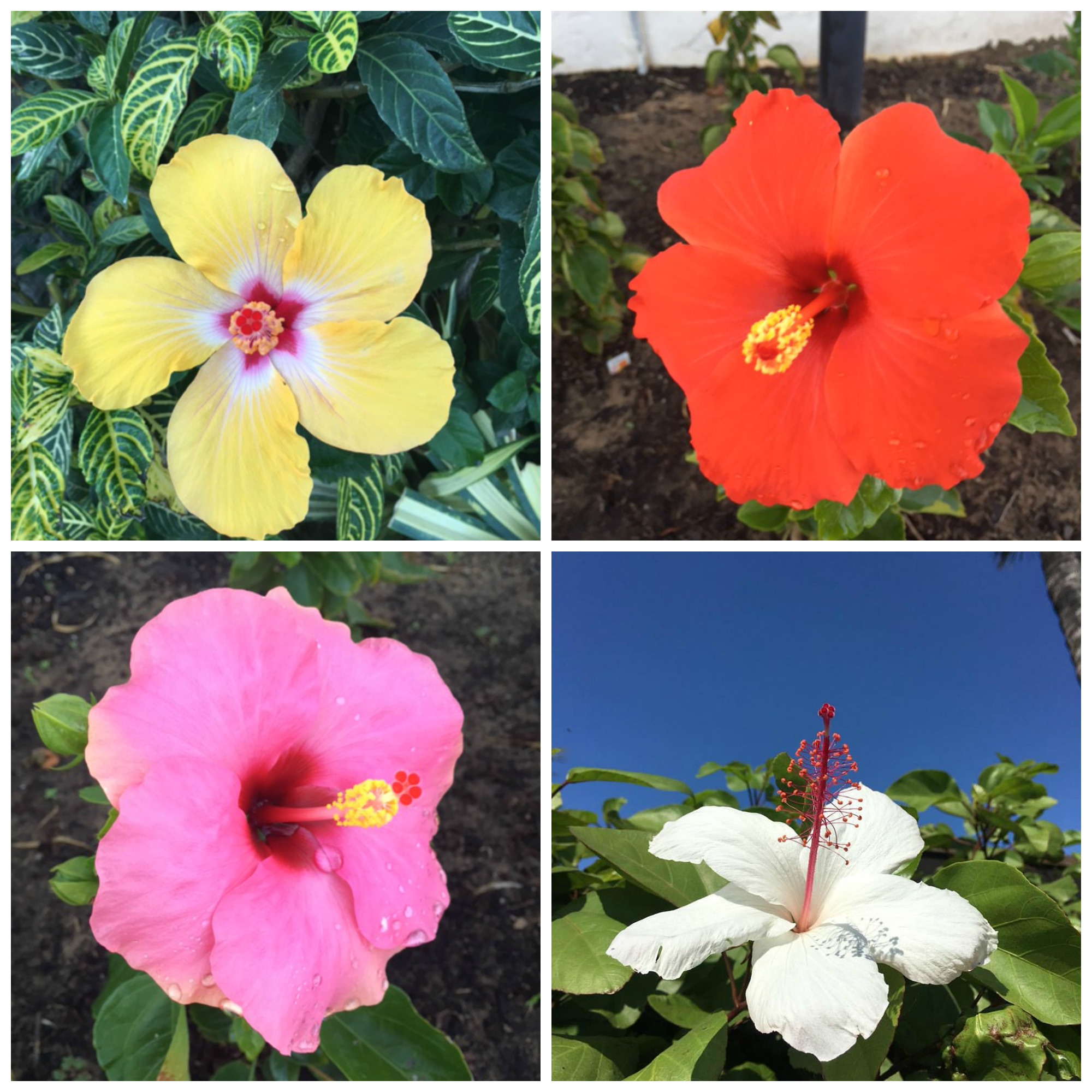 I hope you'll take the time to explore some of these beautiful spots, and if you'd like to learn more about our band, The Other Realm, check out our website, follow us on Instagram, or watch some of our videos on YouTube.  Thank you to A Maui Blog for letting us share some of the reasons we love Maui!