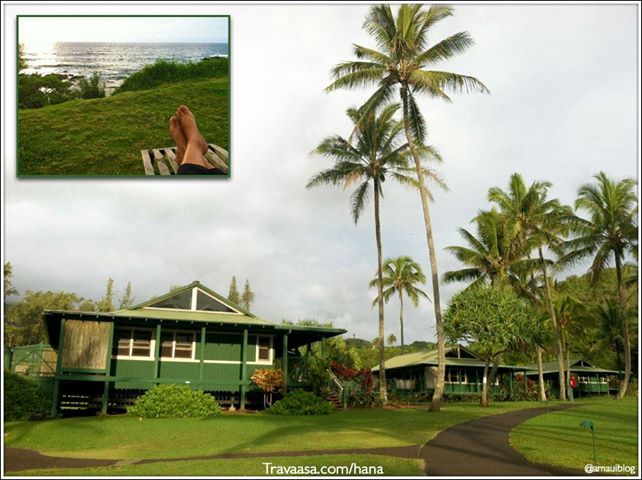 Many of you know that Hana is one of  my most favorite places in the world, and I absolutely love staying at Travaasa Hana when I go there. The photo above is by Maui Information Guide, taken from my last visit.   I was very excited when my friend Courtney of Maui Jungalow blog agreed to be our guest blogger and share with about her  perspective on her recent  Travaasa Hana visit. Here's what she says:
Hana, a place w/ no traffic lights and no night life to speak of. A place where people don't recognize Hollywood celebrities. A place where many go to bed at 8pm and wake up before the roosters. The place at the end of the world, for Maui at least.
In Hana, there used to be one hotel. A hotel at the end of the map. For wayfarers far off the beaten path who wanted a spot of luxury, or realized they had taken too long on the road to Hana and didn't want to drive all night to get back to their condo or hotel room. Or for those who wanted to soak in the goodness of Hana, encapsulate it in their bones, and wring out all the frenetic rushing around of daily life. For a year I wondered what happened to it. I thought the economic downturn had swallowed it up. No, it re-emerged more stylishly than ever as Travaasa Hana. It is still the only hotel in town.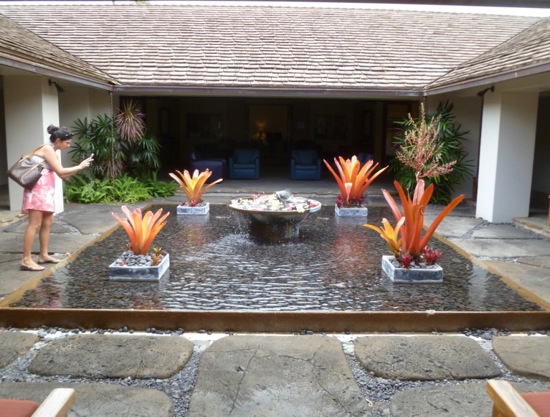 Spotted: Jill Mayo madly photographing everything at Travaasa Hana.
Travaasa Hana is not your typical resort wedding cake hotel. There is no sugar rush, but a more gradual sensation of fullness. It vibrates at a gentler frequency, just like the town of Hana .
This is post #3 in the Road to Hana series. If this is your first time reading, you may also want to read post #1 and post #2. Travaasa Hana was one of our major stops on the Road to Hana social media trip. The hotel had invited us to lunch and a tour of their grounds. Disclaimer: The hotel paid for lunch with the hope that we would share some positive social media coverage: instagram pics, tweets, blogging. Valley Isle Excursions provided transportation and a tour guide for the same reason, though the hotel stop was not a normal part of their tour.
Of course we were hungry. The Road to Hana always makes one hungry. All that driving, taking photos, waiting at one lane bridges, taking photos, visiting waterfalls, taking photos, stopping at banana bread and fruit stands, taking photos… get the picture? (my bad)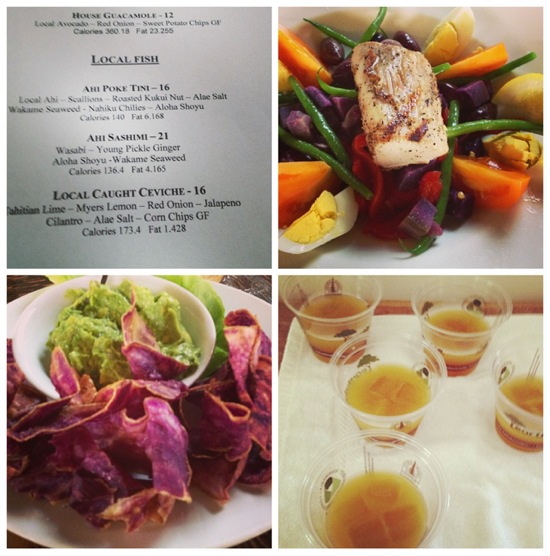 Clockwise from upper left: excerpt from the restaurant menu, ahi salade nicoise, mango noni juice coolers at the spa,sweet potato chips and guacamole from local avocados.
The most surprising thing I noticed on the menu was a Philly Cheesesteak! Someone did order that. It's a novelty item on Maui . The more expected dishes were locally grown sweet potato fries, fresh caught fish, Maui beef. I think everyone was happy with their meal, but I can only speak for my end of the table. Yes, we took photos.
Hubert, the events manager, was our gracious host and he shared some of the things that had changed, and stayed the same, with new management.
Travaasa Hana is a provocative name. Travaasa comes from the Sanskrit word provaasa (meaning journey) with the added "Tra" for travel to invoke a new meaning: "the journey beyond." We had a group "ooh" moment.
Travaaasa Hana has a sister hotel in, of all places, Austin, Texas. Roxanne Darling in our group, was the only person who had been to both hotels. Roxanne summed it up this way: "Travaasa is a lifestyle brand not a location brand. Not like a Hilton. Austin and Hana are two different locales reflecting their [respective] local cultures and local design. You would not expect the same experience in Austin as in Hana."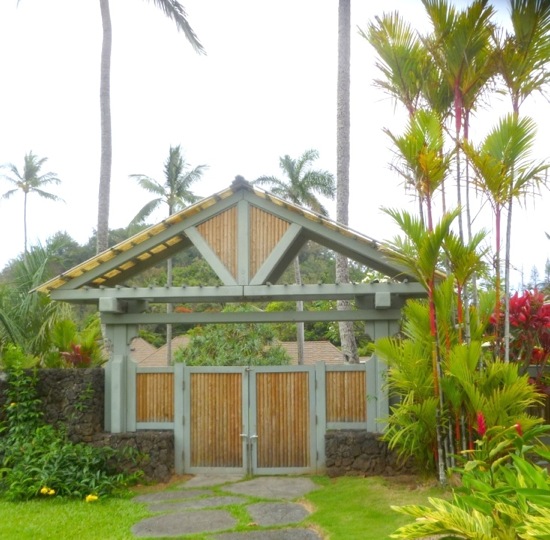 You wouldn't expect this gate or landscaping at Travaasa Austin.
A lot of renovation had taken place, and is still underway, with about another year left to go. In a lush, moist environment like Hana, exposed to ocean salt in the air, the grounds and building have to be constantly maintained and updated. Or there is the devil to pay.
The hotel is still one of the only places to work in East Maui . It may even be the largest employer, and its economic effects go far into the community. If you live in Hana and don't work at the hotel, well, you know someone who does. The hotel is involved with Hana nonprofit organizations and was preparing for a fundraising dinner for the Hana Youth Center and Mahele Farms that weekend. The hotel also has rental arrangements with three nonprofits at the town center, with the idea to keep the money in Hana.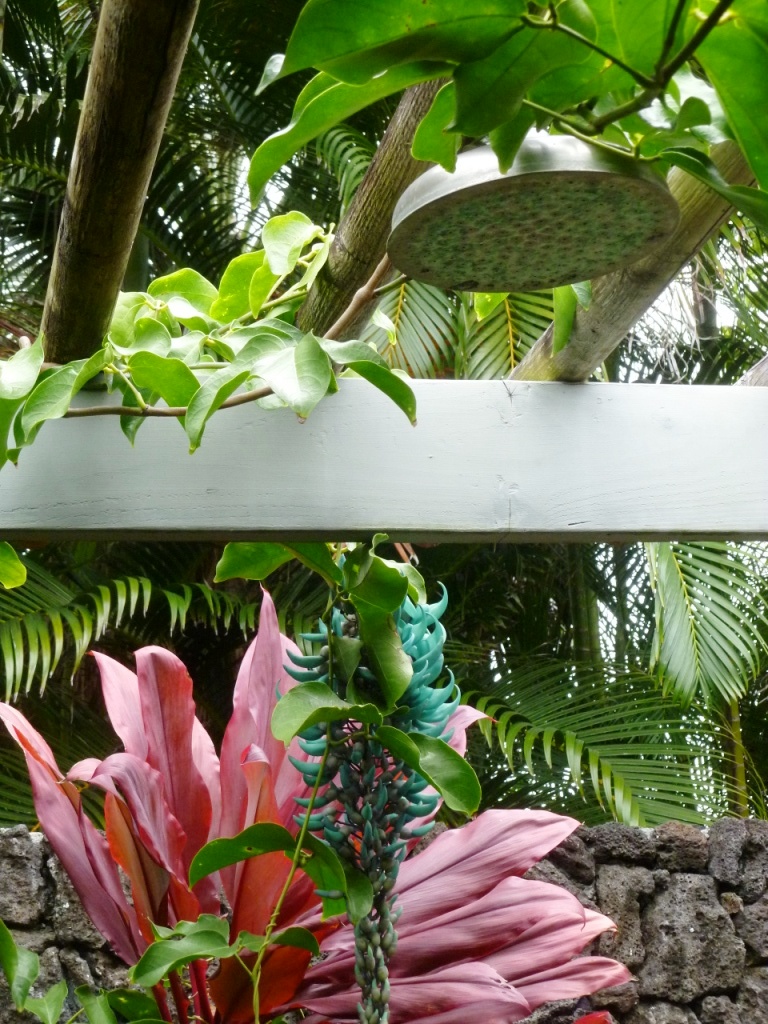 Outdoor shower for the spa building. Notice the bluish green jade vine dangling down and the red ti leaf plant.
Travaasa Hana has a retreat ambience. This means there is no cable, and no TV in the rooms. This is horrifying for some people, but the hotel is intended as a get-away and escape, not a bring-everything-with-you kind of place. It is not without modern technology, however. We practically ran to the numerous outlets to plug in smart phones and enjoyed the wifi in the restaurant, much appreciated after several miles of no coverage. Hubert mentioned that the hotel is debating some policies to maintain the retreat ambience, and darling Roxanne said her specialty is giving "unsolicited free advice" which she proceeded to give. After our animated discussion, we'll be curious to see what the hotel does.
Travaasa Hana has a split personality. One side of the street has hotel rooms, lobby, the restaurant, spa and other public areas. The beach side of the street has cottages, an infinity pool, and a no children policy for several months out of the year. Children are welcome 365 days a year in hotel rooms and throughout the main side of the hotel, but not in the more private cottage areas, except for a few weeks during spring break, summer and winter. Hubert explained that this is to keep one area of the hotel a retreat environment for most of the year.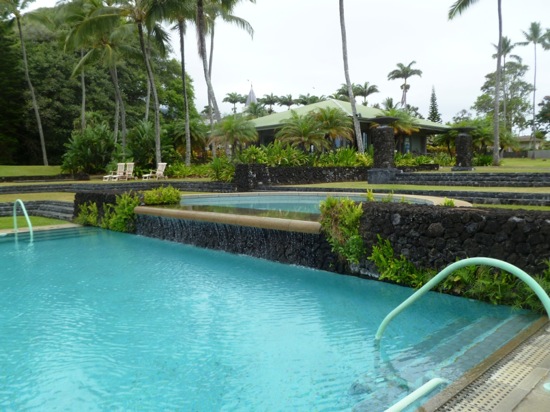 The more private "cottage" side of the resort with a large pool.
Occasionally celebrities turn up at Travaasa Hana. They are taut-lipped refugees from other resorts on Maui , using fake names, swaddled in multiple layers of fabric, sunglasses, hats, anything to hide and not be recognized. They are looking for the peace and solitude of Hana, and usually find it since most Hana residents hardly watch TV. After a couple of days, layers of excess clothing and accessories tend to fall away. Though rumor has it that Hana locals can spot a kickboxing champion miles away.
Travaasa Hana is the only resort in Hawaii as of this writing that has an all inclusive resort fee, meaning that one can pay a fixed price to include lodging, meals, and a daily spa treatment. There is even a watsu pool, the only one at a Maui resort, and still uncommon in Hawaii . Watsu, derived from "water shaiatsu" is not a massage, but a playful and soothing water therapy. It's quite enjoyable, though I've not experienced it in Hawaii . Other cultural activities include lei making, throw net fishing and for foodies, Hawaiian salt tasting of salt from Kaupo, West Maui, Molokai and other islands.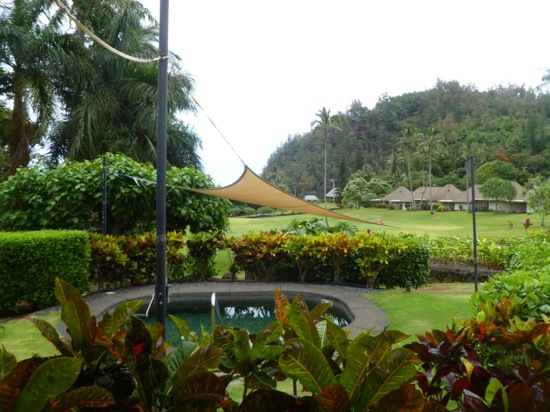 Watsu pool at the hotel's spa.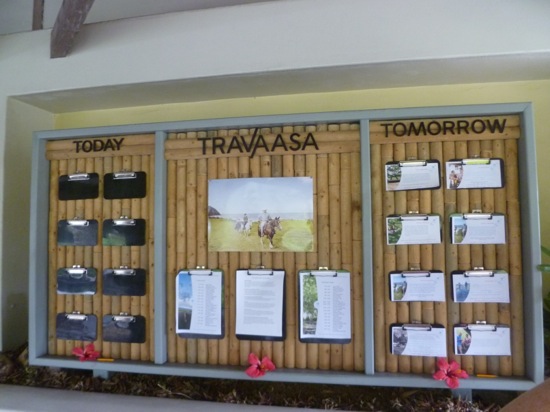 Sign ups for numerous cultural offerings and outings.
We took an extensive walk of the grounds and through the spa, where we had to switch to modulated, whispering "spa voices." The grounds have lots of native, medicinal and flowering plants. I almost laughed to see Hubert extol a noni tree, which is a highly beneficial medicinal tree with odiferous swollen (and super healthy) fruit that makes most people run away in terror. Monique at the spa offered us a noni and mango juice refresher that was surprisingly good. Couldn't even taste the noni. Hubert said the teens from the Hana Youth Center are making special drinks for their fundraising dinner with fresh squeezed noni juice, tangelo juice, local honey and sparkling water. He asserts it is quite tasty. Well, I'll try most anything.
After a lovely sojourn, our bus was ready to continue on the Road to Hana, to the area beyond Hana… Hopefully, the next post will be posted relatively soon. It may be another guest post, or back on Maui Jungalow.
Have you stayed at Travaasa Hana or the old Hotel Hana? What did you think? Let us know!
UPDATE: Courtney wrote another post on FIVE (5)  LESSONS ON THE ROAD TO HANA – I think you will really enjoy and learn. Check it out (the title is a live link – just click it and it will take you there 🙂 )